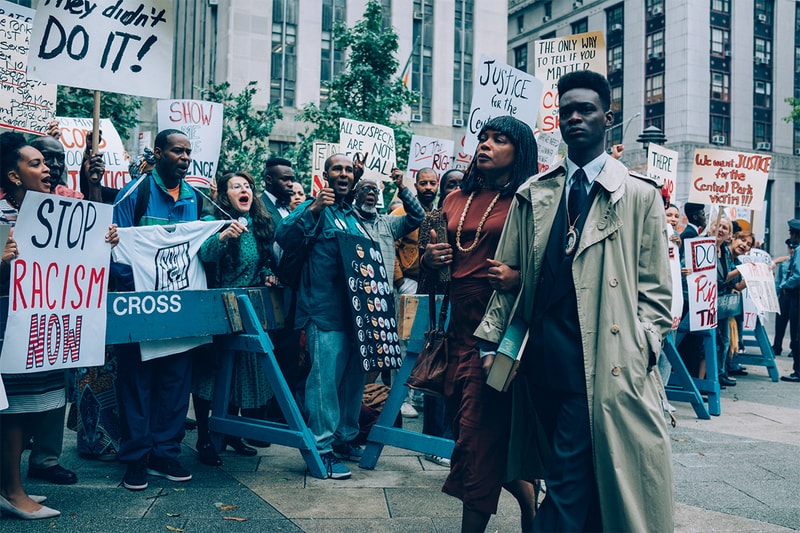 As the world continues to set its sights on the numerous anti-racism protests in the U.S., U.K. and other parts of the world, it's important to understand the Black Lives Matter movement and update oneself on the history of systemic racism as thoroughly as possible. This will allow us to remain informed, vocal and safe while helping the community and affecting change on an individual level.
While there are many sources that offer information, for those who prefer visual learning, watching films is a good start. With that in mind, HYPEBEAST has compiled a list of movies, documentaries and TV shows helmed by the likes of Ava DuVarnay, Spike Lee and Barry Jenkins that highlight the foundations of #BlackLivesMatter.
Just Mercy
Where to watch: Amazon Prime (Free to Stream)
Warner Bros. just announced that they have made Destin Daniel Cretton's Just Mercy available to stream for free. The legal drama is based on a true story and stars Michael B. Jordan, Jamie Foxx and Brie Larson. It follows the story of Harvard law graduate Bryan Stevenson (Jordan) as he appeals the death penalty sentence of Walter "Johnny D." McMillian (Foxx), an African-American man wrongfully convicted of murdering an 18-year-old white woman named Ronda Morrison. Stevenson attempts to maneuver through the flawed justice system that has unlawfully put McMillian behind bars for years simply due to the color of his skin.
13th
Where to watch: YouTube (Free to Stream), Netflix
A reference to Amendment XIII  of the United States Constitution, Ava DuVernay's documentary deeply explores the relationship of race, justice and the prison-industrial complex in America. 13th utilizes input from several activists, politicians, academics and other public figures who dissect the perpetuation of slavery even after the American Civil War as seen in the arrests of freedmen, the lynchings, disenfranchisement and Jim Crow era, the politicians' war on drugs that majorly targets people of color and mass incarceration.
I Am Not Your Negro
Where to watch: Hoopla (Free to Stream)
Taken from James Baldwin's unfinished manuscript entitled Remember This House, this documentary features narration from Samuel L. Jackson and narrates the lives of civil rights leaders such as Malcolm X, Martin Luther King, Jr. and Medgar Evans through Baldwin's eyes, along with his own observations of American history. I Am Not Your Negro is free to stream on Hoopla.
Toni Morrison: The Pieces I Am
Where to watch: Hoopla (Free to Stream)
This documentary examines the life, work and literary themes of the late novelist Toni Morrison, a Pulitzer Prize winner and the first ever African-American woman to win the Nobel Prize in Literature. The Pieces I Am features interviews from Morrison herself, along with appearances from Oprah Winfrey, Russell Banks, Angela Davis and Barack Obama.
When They See Us
Where to watch: Netflix
Ava DuVernay's Netflix miniseries recounts the real-life stories of Kevin Richardson, Anton McCray, Yusef Salaam, Raymond Santana Jr. and Korey Wise, the five suspects falsely prosecuted in the infamous Central Park jogger case of 1989. When They See Us examines how the group of teenagers — collectively known as the Exonerated Five — was illegally handled from the very start, beginning with the coerced statements they gave without a lawyer to the lack of evidence tying them to the crime. Richardson, McCray, Salaam and Santana Jr. were convicted as juveniles, however Wise, who was 16 years old at the time, was tried as an adult. The show was nominated for 11 Emmys, with Jharrel Jerome winning Outstanding Lead Actor in a Limited Series or Movie for his portrayal of Wise.
TIME: The Kalief Browder Story
Where to watch: Netflix
In May 2010, Kalief Browder, a 16-year-old African-American boy from the Bronx, was walking home from a party when he and his friend were apprehended by police responding to a 911 call. An officer told the high school kid that he was going to be taken to the precinct and will most likely be allowed to go home after. Browder was interrogated by police and a prosecutor, and was charged with robbery, grand larceny and assault. His probationary status barred his family from posting bail, and he was imprisoned in the notorious Rikers Island for three years awaiting trial. While inside, he sustained mental, physical and sexual abuse, and two years after his case was dropped and he was released, Browder committed suicide. JAY-Z's TIME criticizes the broken criminal justice system that can send a 16-year-old to jail who's awaiting trial for a backpack, all the while respecting the memory of Browder — a strong man who refused to feign guilt in order to get released. "If I just say that I did it, nothing's gonna be done about it…I had to fight," he says.
Rest in Power: The Trayvon Martin Story
Where to watch: Amazon
Another JAY-Z executive produced feature, Rest in Power focuses on 17-year-old Trayvon Martin who was shot in the heart by George Zimmerman, a neighborhood watch coordinator, in 2012. His death is credited as one of the events that spurred the Black Lives Matter movement, and the six-part documentary investigates "a story about race, politics, power, money and the U.S. criminal justice system."
BLACKkKLANSMAN
Where to watch: Amazon
Spike Lee's biographical black comedy crime film follows John David Washington as Ron Stallworth, the first African-American police officer in the Colorado Springs Police Department who successfully infiltrated the Ku Klux Klan in the late '70s. Posing as a white man over the telephone, his fellow detective Phillip Zimmerman (portrayed by Adam Driver) acts as his physical stand-in during face-to-face meetings with other Klan members. BLACKkKLANSMAN competed for the Palme d'Or at Cannes 2018 and won the Grand Prix. The film also won Lee his first competitive Academy Award for Best Adapted Screenplay.
Do The Right Thing
Where to watch: Amazon
Spike Lee dedicated his 1989 cult classic to the families Eleanor Bumpurs, Michael Griffith, Arthur Miller, Jr., Edmund Perry, Yvonne Smallwood and Michael Stewart, all of whom were victims of police brutality or racial injustice. Do The Right Thing is the story of the racial tension in Bed-Stuy, Brooklyn that eventually explodes on a hot summer day, causing violence and a death from hands of the police. The film was nominated for two Oscars and, in 1999, was selected for preservation in the National Film Registry.
If Beale Street Could Talk
Where to watch: Amazon
Based on James Baldwin's 1974 novel of the same name, If Beale Street Could Talk is a romantic drama film that sees a young couple, Tish and Fonny, who are torn apart after Fonny is falsely accused of raping a woman. Tish finds out she's pregnant while Fonny is in jail while awaiting trial, and she attempt to set him free before giving birth. While the movie heavily focuses on their romantic relationship, it explores both intimacy and the failed criminal justice system.
Click here to view full gallery at HYPEBEAST