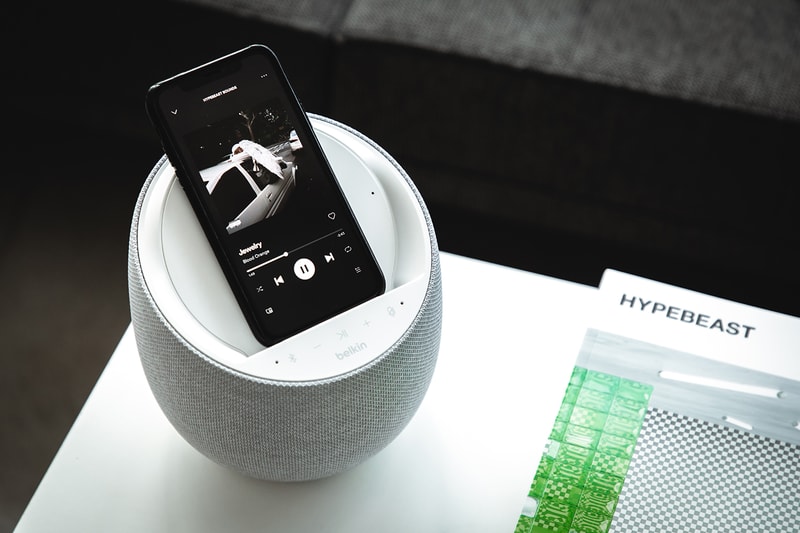 Our next Closer Look arrives in the form of a home audio/wireless phone charger for those long days at home. While most speakers on the market do a good job at delivery decent sound at the sub-$300 USD price range, it's rare that you find a complete package that borrows drivers from an award-winning acoustics company, can be integrated into your smart home set up and can charge your phone on your nightstand.
The Belkin SOUNDFORM ELITE Smart Speaker exercises Devialet's "Push-Push" woofer architecture via two 70mm woofers and a 35mm full-range driver. The result is a tremendous amount of bass (can be adjusted in-app) inside a 2.8-pound, 6.4″ x 6.4″ package. The top also features a cut out cradle for your phone where it has a 10-watt charging output. Due to the internal design, vibration is kept at a minimum and charging will not be interrupted regardless of the volume. Integrating this into your smart home set up is Bluetooth 5.0 / Wifi 802.11b/g/n/ac (2.4GHz/5Ghz) connectivity, a highly-sensitive Google Assistant, two far-field microphones for voice control, and Speaker Active Matching (SAM) technology. There's also the option of black or white to match your home's interior.
Those looking to experience a lot of bass without sacrificing space can head over to Belkin for more information on the SOUNDFORM ELITE Smart Speaker.
In other hi-fi news, MC Audiotech crafts $35,000 USD mid-century modern-styled speaker system.
Click here to view full gallery at HYPEBEAST