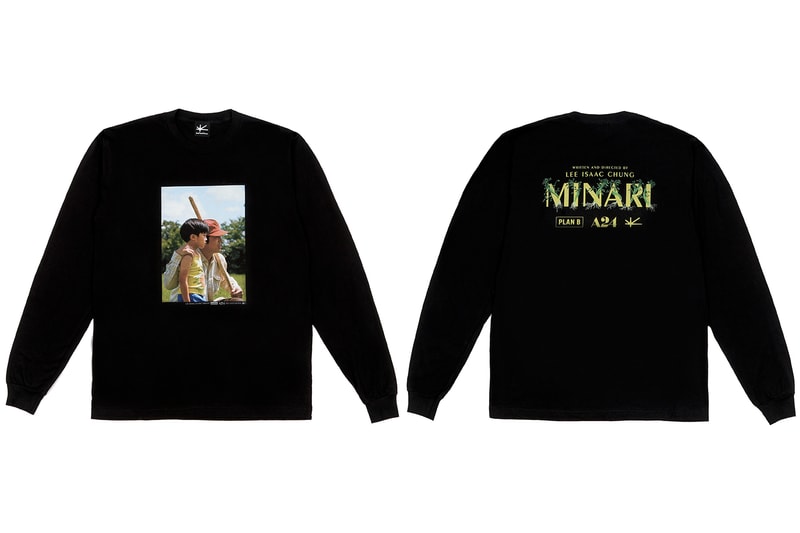 Following its Golden Globe Award for Best Foreign Language Film and "Best Picture classification" controversy, Korean-language film Minari, written and directed by Lee Isaac Chung, saw a release in South Korea via distributor Pancinema this week (March 3, 2021). Starring Steven Yuen, the semi-autobiographical film inspired by Chung's upbringing in Arkansas is centered around a South Korean family that relocates to rural America during the 1980s.
The project has struck a chord with audiences as it arrives amidst a recent rise in violence against Asian Americans during the COVID-19 pandemic that has now spurred the Stop the Hate movement throughout the nation and worldwide.
To mark Minari's release in South Korea, production companies A24 and Brad Pitt's Plan B Entertainment tapped local art and fashion community Softoffice to create merch. Unfortunately not for sale, the merch will be presented to initial audiences in South Korea.
The front of the simple black long-sleeve T-shirt features a print showing Steven Yuen as Jacob Yi and his on-screen son David, played by breakout eight-year-old star Alan S. Kim. While the rear sees a collaborative title card centered around minari (미나리; water dropwort) grown by the Yi family in the film.
Described as Korean watercress, minari is commonly associated with the namul (나물; marinated vegetable/plant dish) subsect of Korean cuisine and popularly found in maeun-tang (매운탕; spicy fish stew). Cited in the royal court cuisine of Korea's Joseon dynasty (1392–1897), the fronds that continue to grow in the nation's arable land are still consumed for their peppery herbaceous taste and detoxifying effects.
High in vitamins A and B, potassium and calcium, minari has a short growing season and is also highly adaptable to climates. This is why director Lee Isaac Chung chose the resilient edible grass to frame his story of chronicling the struggles and perseverance of immigrants.
Take a look at the Softoffice's merch for Minari and accompanying collaborative title cards above.
View this post on Instagram
View this post on Instagram
View this post on Instagram
View this post on Instagram
In case you missed it, Minari director Lee Isaac Chung talks to us about how he found inspiration close to home.
Click here to view full gallery at HYPEBEAST