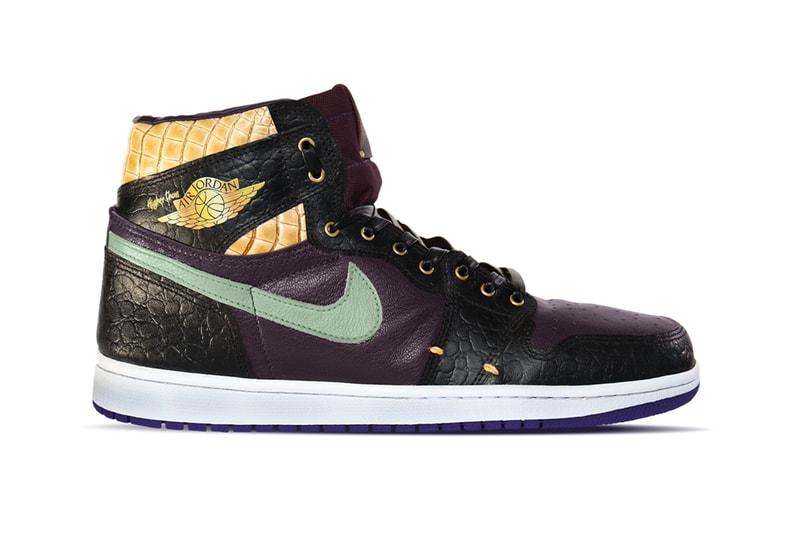 AHLOT, the award-winning cannabis curation brand, is celebrating the launch of its Cannabis Collections™ Craft Select multi-pack by giving away a pair of custom, one-of-one Air Jordan 1 "Higher Than" shoes.
As the kickoff to their #ShowYourCraft campaign, a community driven project that aims to showcase creators of all skills and styles across Canada, AHLOT tapped Hype Bomb shoe designers, Kester Washington and Ryan Taylor, to deliver a hand-crafted AJ1 inspired by the Craft Select multi-pack, utilizing unexpected and upcycled materials to offer a completely eclectic yet sophisticated, new sneaker. Founder and CEO of AHLOT, Greg Pantelic, often talks about the magic of collaboration for the company, "Collaboration has been core to AHLOT from the jump. When bringing together our most recent product, the AHLOT Cannabis Collections Craft Select, we were inspired by our partner's dedication to craft cannabis cultivation and decided to anchor our campaign around the idea," he says.
"With everyone stuck indoors over the last year, cannabis consumers and non-consumers alike have spent a majority of their newfound time discovering or honing their crafts, so we wanted to celebrate and highlight this positivity amid a year of hardships for many, thus leading to the idea of the #ShowYourCraft campaign. Choosing a diverse group of creators such as Natalya, Lee, Jessica, Kester and Ryan within our community was important to launch this as they've served as inspirations to us and have been motivating others to pursue their crafts."
HYPEBEAST spoke with these creators, who will also collaborate with AHLOT on exclusive drops to reimagine the AHLOT Ritual Box Mini, a modular cannabis storage accessory system. The below conversation ranged from everything relating to the #ShowYourCraft campaign to the inspirations behind the creators' designs and why it's important for creators to be given a platform such as this one to be discovered to how their own crafts bring joy to their everyday lives and how art gives meaning to product.
Natalya Amres – Up-cycle Product Designer/Seamstress
Natalya Amres graduated the Fashion Business Management program at Seneca and is a completely self-taught seamstress and multidisciplinary artist. She has used her acquired skills to build her business from the ground up, involving herself in every aspect from conception to creative direction, product development, graphic design, and social media marketing. Natalya now operates through RMX LAB, the creative customization service that works with brands and individuals to reimagine design, taking original products and transforming them to give new life.
Can you describe your upcoming collaboration with AHLOT and the inspiration behind it?
I'm very excited to be working with AHLOT on creating a custom Ritual Box Mini! I'll be drawing inspiration from my own personal aesthetic which is inspired by bright natural colors and pronounced textures/shapes while also staying true to the essence of the cannabis lifestyle. I always try my best to offer a different perspective on everyday objects.
Why is it important for creators to be given a platform such as this one to be discovered?
As a freelance designer with a more or less ambiguous job description, one of the most important things that helps me get to the next level is cool projects like this where I'm given the opportunity to showcase my work and who I am on a bigger platform! It's difficult for artists with a very niche work portfolio to put themselves out there because not everyone will relate. So having a like-minded brand or company as a partner is such an important catalyst to reaching a bigger audience and showing them what you do!
How does your work and craft bring joy to your life?
I find immense satisfaction in bringing ideas that I've had in my head to life. So for me, the actualization of a concept and being able to enjoy the final product brings me joy. I do work independently so when work piles up it does get very overwhelming at times but just like anyone in the creative industry, I have to constantly remind myself how hard I had to work to get to this point in the first place and to replace that stress with gratitude.
Kester and Ryan worked at an in-house Advertising agency and sat directly behind each other. Kester trained in UX and Ryan in Art Direction; they've collaborated on countless projects together. As two grown men who have fully bought into sneaker culture, they have an immense love for 90s music, 80s wrestling and dad jokes.
Can you describe your upcoming collaboration with AHLOT and the inspiration behind it?
Ryan Taylor: For the "420 Higher than," we wanted to show the more sophisticated side of Cannabis smoking. We didn't want it to look like my high school backpack. We wanted to reflect on the growth and maturity of the cannabis industry. We drew inspiration for the color palette and styling from Guy Ritchie's film, The Gentleman, starring Matthew McConaughey, who portrayed a high-level cannabis dealer in the UK.
This is a part of the brand's #ShowYourCraft campaign. How do you describe your own craft? What makes it quintessentially you?
Kester Washington: At Hype Bomb, we're all about creative expression. We do that through digital art, clothing and, of course, sneakers. We like to experiment with unexpected or up-cycled materials. For the AJ1 "Higher Than," we found a thrifted old duffle bag and used it on the tongue. We accented them with hemp stitches (which is a subtle nod to AHLOT). We've also turned purses and cloth napkins into shoes. We just purchased an old pair of goalie pads for the leather and we're gonna do something really fun with those.
How does your work and craft bring joy to your life?
Kester: Sneakers have always been a joy for me. Whether it was discussing designs and colorways with Ryan or lining up trying to get the latest drops, sneakers have always been an escape. Shoe design and crafting was the next step. I took a course at the Art and Sole Academy, and Jennifer was kind enough to show me the way. Since then, I've just been using what I learned to just express the ideas that have always been in my head… and Ryan's too of course.
Lee D'Angelo – Tattoo Artist/Fine Artist
Lee D'Angelo is a Toronto based queer tattooer, illustrator and maker. Their work is predominantly a quest to discover joy through art and for the past seven years have found a great deal of satisfaction in putting permanent images on people. Tattooing is the center of Lee's art practice but they are not limited to one medium. Lee enjoys screen printing and has a small shop up where you can buy shirts, prints and paintings made by Lee.
Can you describe your upcoming collaboration with AHLOT and the inspiration behind it?
The inspiration for my collaboration with AHLOT came from two pieces of tattoo flash that I designed last year. The first piece was about my relationship to anxiety and how exploring CBD and cannabis products made such a huge difference for my mental health at the beginning of the pandemic where other methods didn't. The second text based piece that reads "We are the natural world" is a reminder that we came from and will return to the earth. Connecting with and existing in nature – now more than ever- helps us feel grounded. Together these images conjure up a sense of gratitude knowing that we may always find reassurance in the natural world because we are a part of it.
This is a part of the brand's #ShowYourCraft campaign. How do you describe your own craft? What makes it quintessentially you?
After opening a tattoo shop in 2018, I began noticing how much plastic waste this industry produced and that there were no alternatives for tattoos. In my own quest to have an eco-friendly tattoo set up I ended up partnering with an entrepreneur and now together we run an eco-tattoo supply company called Good Judy. As one of a very small group of businesses pushing for greener solutions we really are innovating in the tattoo space and in that way my practice has continued to be driven by a sense of what the industry needs. It is so meaningful to me to see individual tattooers enthusiastically welcoming this challenge to be eco-responsible in their practices.
As a maker I've always been drawn to image making but also to physical spaces and how they impact our experience. In my spare time this past year, I have been working on converting a 6'x8' trailer into a mobile tattoo space that I hope to one day take across North America. For a long time I have been thinking about how my tattoo practice exists solely in metropolitan areas. Through traveling in this mobile tattoo space, I hope to learn what other people's shared experiences with this are and to explore that within the comfort of a space I built with love.
How does your work and craft bring joy to your life?
I fell in love with tattooing because I liked making people feel empowered in their bodies. One of my favorite types of tattoos to do is a cover up. It's very hard and very personal to plan but the amount of joy I get from seeing someone find satisfaction in something that previously made them sad is incredible. As a maker I am always driven by personal stories, my own and other people's — it's what helps me find a deeper sense of connection.
Jessica has been creative her entire life. Amazingly selling over 1500 original paintings over the course of the last 20 years, her art has taken her around the world and is in private collections across the globe. "Painting is my life and seeing in vivid color expressing the soul is all I've ever wanted to do."
Can you describe your upcoming collaboration with AHLOT and the inspiration behind it?
Firstly, I'd like to say thank you for allowing my creations to collab with such a super fabulous product and brand, the quality and style is something I'm very excited to work with and be a part of. I'm inspired to work on surfaces of all different kinds as well as people, brands, items that are essentially inspiring and custom designed. Right off the bat when I opened this product I said Wow and Okay, let's do this. I'm basing my creative vibes for this custom painted box off of my usual exploration for life, love and overall sheer joy! Why not infuse this with my natural sense of awe and femininity!
This is a part of the brand's #ShowYourCraft campaign. How do you describe your own craft? What makes it quintessentially you?
I'm a life LOVER and a human who wants to explore all I can with my hands, crafts and especially paints. I divide my work into three different departments: Canvas and paint + large mural, Photography and video documentation and live performance as a source of entertainment for corporate/private events across the globe. It always feels right to do what is so important to all us humans and I call that INSTINCT. When I have a blank canvas in front of me I think "ok, here's 7 million ways to create, choose one" and so I have done exactly that and now it's execution time.
How does your work and craft bring joy to your life?
The real question here is " How does it NOT?" Creation is literally my life and defines me entirely as I'm not sure another reason I exist. Okay maybe, a little dramatic but it is what I believe to be as my TRUTH.
In launching this unique project, the Cannabis label is inviting creatives everywhere to join in on the campaign, highlighting their own passions and talents, big or small, by using the hashtag #ShowYourCraft and tagging the company (@ahlotofficial) for chance to be featured. Win the one-of-one, AJ1 "Higher Than" collector's item by entering here and following @hype_bomb_co before May 3, 12 a.m. EST. The winner of the AJ1 "Higher Than" will be contacted via email on May 4th. In the meantime, stay tuned to AHLOT's socials for more information on how you can win the AHLOT Ritual Box Minis crafted by the artists of the #ShowYourCraft campaign.
Click here to view full gallery at HYPEBEAST