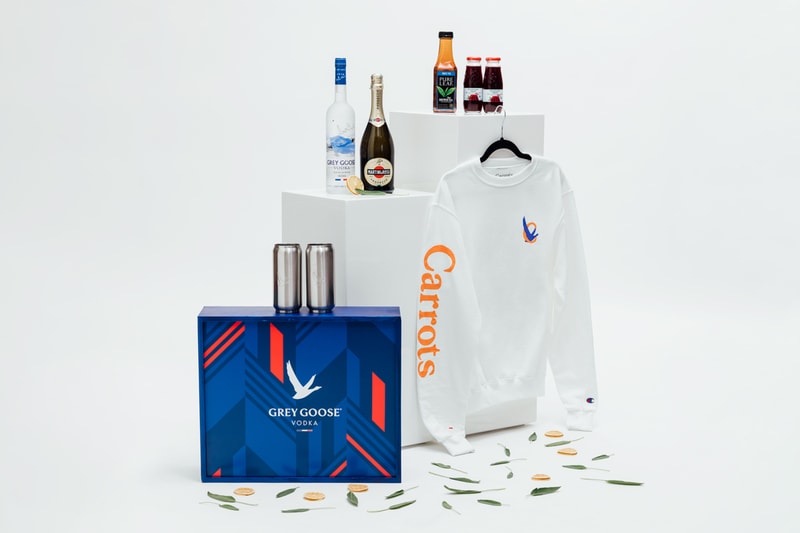 Grey Goose has partnered with designer Anwar Carrots to elevate holiday wear with a limited-edition crewneck sweatshirt. To encourage meaningful connections this season, the French vodka producer asked him to interpret its most recognizable iconography through his sleek, simple lens for a collaboration that, according to Carrots, "screams Carrots and Grey Goose in a way that's wearable." In addition, Grey Goose is releasing a special Holiday Punch cocktail kit with all the ingredients for celebrating a holiday season unlike any other.
While this year's holiday season is different than in the past, Grey Goose and Carrots have created a festive look to ensure that your celebrations happen in style. They aimed to upgrade the traditional holiday sweater into a cool yet comfortable piece for virtual get-togethers. The limited-edition piece features a signature bright orange color from the Carrots by Anwar Carrots brand on a white colorway. The Grey Goose logo intersects with Carrots' on the front and back of the sweater, with sleeves that have both names printed on them. "I wanted [the sweatshirt] to be easily digested from a design and consumer aspect," says Carrots of the creative process. "My other goal is keeping it aesthetically balanced to where both brands sit well next to each other. I've always been a fan of seeing two brands mesh and I love for all my collaborations to come off as aspirational."
Despite the challenges of this year, Grey Goose wants to do away with the customs that didn't serve us and help us highlight holiday traditions we love, even if they're experienced in new ways. The Anwar Carrots x Grey Goose sweater and limited-Edition Grey Goose Holiday Punch Kit will be available through Cocktail Courier for $200 USD.
We discourage irresponsible and/or underage drinking. Drink responsibly and legally.
Click here to view full gallery at HYPEBEAST