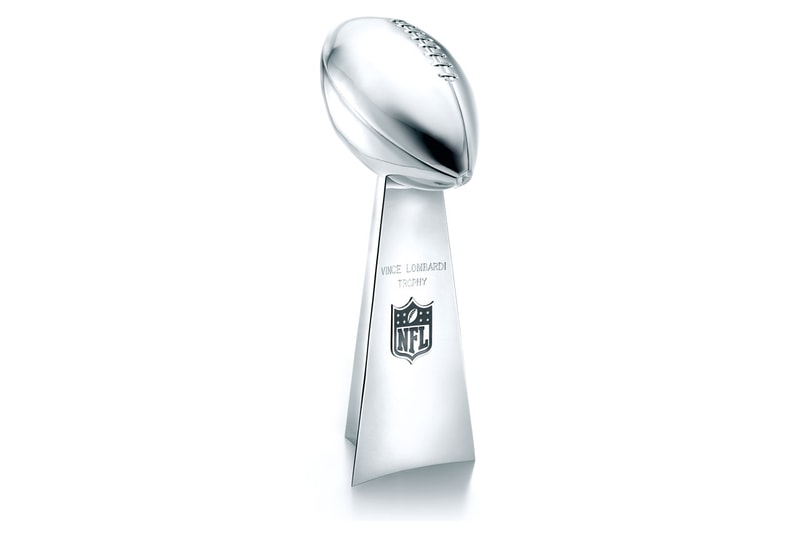 LVMH's latest acquisition may be best known for luxurious silver jewelry, but Tiffany & Co. also has a lengthy relationship with rough-and-tumble American football, having crafted the official Super Bowl trophy since 1967. Renamed for Green Bay Packers coach Vince Lombardi in 1970, Tiffany has continued crafting each trophy to its exacting standards ever since.
Tucked away in Rhode Island, Tiffany's hollowware workshop is home to master silversmiths who piece together the 22-inch tall, 7-pound trophy by hand using tools and techniques over a century old. Each sterling silver Vince Lombardi trophy takes a whopping four months to complete, as the sculpting process demands time-intensive cutting, soldering, spinning, chasing and polishing. No expense is spared — the dimples on the dent-resistant ball are individually hand-punched and its laces are each individually shaped and placed.
Faithful to the initial design — sketched out on a napkin by former Tiffany vice president Oscar Riedener — the trophy sports a regulation-sized football in the kicking position at the top, with thematic imagery individually engraved on the stand below. Each trophy sports the NFL logo and "VINCE LOMBARDI TROPHY" verbiage, but the other text changes each season to reflect the scores, teams and event itself.
Super Bowl LV, on February 7, will see the Kansas City Chiefs will tussle with Tom Brady's Tampa Bay Buccaneers for the right to claim their own Tiffany-made trophy.
Also at the big game, expect a headline-making performance from The Weeknd.
Click here to view full gallery at HYPEBEAST