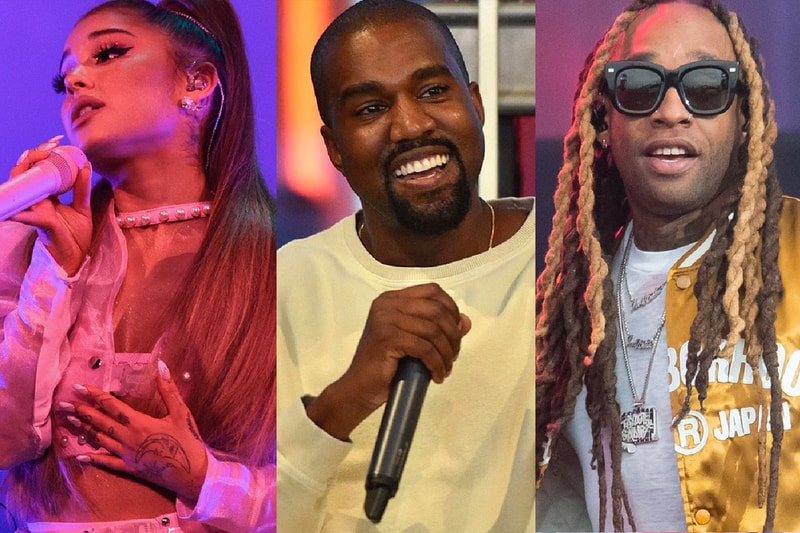 As the week in music comes to a close, HYPEBEAST has rounded up the 10 best projects for the latest installment of Best New Tracks.
Ty Dolla $ign released his first solo studio album in three years, the cheekily titled Featuring Ty Dolla $ign, and got all of his most talented friends to contribute to the 25-track project. Collaboration is also the theme of Gorillaz's seventh studio album Song Machine, Season One: Strange Timez, along with a joint from Saweetie and Jhené Aiko.
New singles from revered artists Ariana Grande, Kanye West and Jack Harlow also join this week's Best New Tracks, plus visuals from The Weeknd and a freestyle from NBA YoungBoy.
---
Kanye West – "NAH NAH NAH"
The teaser of "NAH NAH NAH" was released in celebration of what turned out to be fake presidential numbers, but Kanye West opted to release the full track anyway. Produced by Ye and Dem Jointz, the track hears the controversial figure touch on his problematic presidential candidacy, legal battle with his label and concerns about the media. The single also arrives with a cover art created by contemporary American artist Wes Lang, who assisted in visuals during the Yeezus area.
Listen: Spotify | Apple Music
Ty Dolla $ign – Featuring Ty Dolla $ign
Ty Dolla $ign is undeniably one of the strongest collaborative forces out there, but Featuring Ty Dolla $ign is evidence of his musicality. He has the biggest names in music join him for the 25-track LP — Kid Cudi, Kanye West, Thundercat to name a few — but his ability to adapt to each collaborator's sonic nature is what really makes this album a stellar effort.
Listen: Spotify | Apple Music
Ariana Grande – "positions"
After surprising fans with the news that her thank u, next followup will be dropping this October 2020, Ariana Grande released the lead single (and possibly title track), "positions." The R&B-tinged cut hears sultry and soft vocals from the GRAMMY winner as she sings of being both the modern and traditional woman at the same time, also sharing a visual that sees her in the White House.
Listen: Spotify | Apple Music
The Weeknd – "Too Late"
The Weeknd continues to deliver new content in support of his latest studio album After Hours, this time dropping an accompanying music video for "Too Late." Directed by Cliqua, the dark comedy is a direct sequel to the music video of "In Your Eyes" and sees two bandaged women discussing their recent surgeries on the drive home. They come across Abel's decapitated head and are immediately infatuated, and end up killing a man to serve as the host body for the head.
Listen: Spotify | Apple Music
Gorillaz – Song Machine, Season One: Strange Timez
Billed as Gorillaz's seventh studio album, Song Machine, Season One: Strange Timez is an ode to "breaking the mould 'cos the mould got old." Damon Albarn, Jamie Hewlett and the virtual band tag at least one collaborator for each of the 17 tracks as a new way to create an unorthodox record. As they said, "Song Machine feeds on the unknown, runs on pure chaos. So whatever the hell's coming, we're primed and ready to produce like there's no tomorrow. Y'know, just in case…"
Listen: Spotify | Apple Music
NBA YoungBoy –  "The Story of O.J." Freestyle
YoungBoy Never Broke Again is one of the most popular and relevant rappers of modern times, and he's only 21 years old. The fame, especially at a young age, takes a toll on him and he's more than willing to admit it in this freestyle over No I.D. and JAY-Z's "The Story of O.J." NBA YoungBoy discusses the Mandela Effect, the frequent negative coverage of him in The Shade Room and the pride he has in his independence as an artist.
Saweetie and Jhené Aiko – "Back to the Streets"
Saweetie enlisted Jhené Aiko for her latest single "Back to the Streets," co-produced by the mighty Timbaland. Complete with catchy lyricism over piano chords and a bouncing baseline, thee cut serves to empower women and unite two of the most talented female musicians in 2020.
Listen: Spotify | Apple Music
Jack Harlow – "Tyler Herro"
Tyler Herro might not have won an NBA ring this year, but the Miami Heat star did get a whole song dedicated to his greatness courtesy of Jack Harlow. Produced by Boi-1da and Scott Storch, Harlow picks on the haters that physically resemble him and remind them that he's one of the year's breakout stars. The visual also pokes fun at an old NSYNC video and sees him playing hoops with Herro himself.
Listen: Spotify | Apple Music
TOBi – ELEMENTS Vol. 1
Lagos-Brampton bred TOBi took his time to explore musical influences in his latest project, ELEMENTS Vol. 1. The genre-bending record hears the artist touch on themes growth, the evolution relationships, resilience and Black joy, offering an exciting piece of his "unapologetic soul music." He said in a statement, "I've always been against the idea of confining my art into a box, so this is my outlet to be free, expressive and experiment, says TOBi. I've got Hip Hop, R&B, Soul, Grime and Afrobeats on here because it's what I love. This isn't the album, this is like my [Lil Wayne] Dedication series. I'm going to keep working with all my favorite producers and keep ELEMENTS alive for years to come."
Listen: Spotify | Apple Music
H.E.R. – "Damage"
Filipino-American GRAMMY nominee H.E.R. delivered an intimate new track, "Damage," ahead of her appearance on Saturday Night Live. The rising R&B star tagged Ant Clemonts, who co-wrote the track. for background vocals, and shared an accompanying video that sees her performing at the Roxie Theater in Los Angeles.
Listen: Spotify | Apple Music
Click here to view full gallery at HYPEBEAST