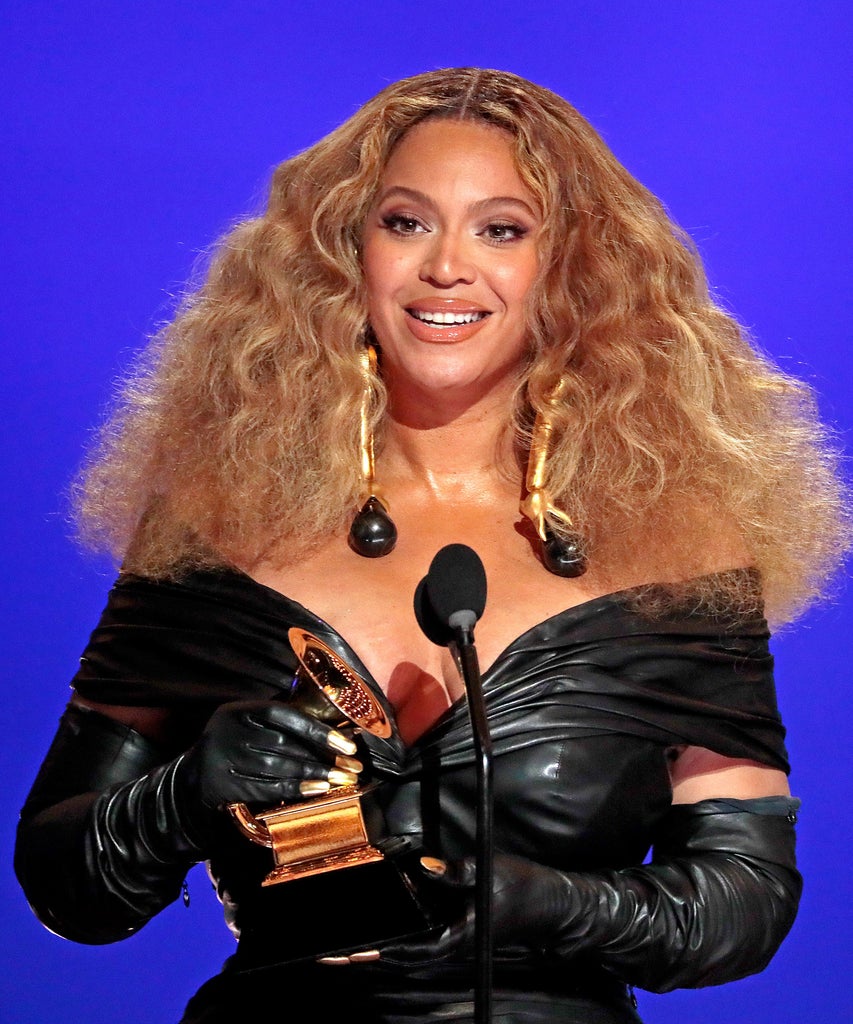 Despite the fact that the Recording Academy confirmed to People on Saturday that Beyoncé would not be showing up to the 2021 Grammys, a day later, the star quietly appeared at the socially distant ceremony after skipping the red carpet. Later in the night, she became the most decorated woman in Grammys history, after receiving her 27th and 28th Grammys. But Beyoncé's surprise appearance and growing trophy cabinet weren't the only things that had the internet's attention on Sunday night. Her face mask, too, had viewers buzzing. That is, because, during one part of the show, it wasn't actually attached behind her ears at all. Rather, as many on social media pointed out, it floated in place. 
Her mask just defying the laws of gravity.

The power of Beyoncé. pic.twitter.com/Ir1WphTcd5

— Complex (@Complex) March 15, 2021
"Her mask just defying the laws of gravity," Complex tweeted alongside a close-up of Beyoncé at the Grammys. In it, you can see her black N95 mask held up by her tiny, cat-eye sunglasses — that or, you know, sheer will. "The power of Beyoncé," the tweet concluded. Another user on Twitter, Andre, said what we were all thinking: "I mean if I was that mask I wouldn't move either."
Beyoncé's gravity-defying mask was accompanied by a look worthy of equal fascination. For the Grammys, the "Already" singer worked alongside her longtime stylist Zerina Akers and Italian fashion house Schiaparelli; together, they chose a black, custom Haute Couture mini dress, matching leather gloves, and a pair of statuesque, statement earrings. "A history making reflection of all that you put in," Akers said of Beyoncé's Grammys wins — though the sentiment could just as easily apply to the applause-worthy look.
Still, for many on Twitter, Beyoncé's mask was too enticing a topic to deflect from. See what people had to say about the 28-time-Grammy-winner's mask, below. 
Beyoncé can wear a mask properly with 0 straps and I still see most of you walking around with both straps and the mask below your chin.

— omri (@Omri_Rawrlan) March 15, 2021
@Beyonce has strapless masks!!
The mask knows it's Beyoncé and conforms to her face! #GRAMMYs #Beyonce https://t.co/hNKvCZ7WO9

— JaBria Are You $mart? YeS! 🎵🎬⚖️ (@singa4hire) March 15, 2021
Beyonce said this mask strap is bothering my ear so ima let it hang… i feel you sis #grammys

— ionlyserve1God (@Coop_deFrance) March 15, 2021
Beyoncé's face mask doesn't require ear loops and that pretty much tells you everything you need to know about Beyoncé. #GRAMMYs

— Emily Anne (@emilyannevk) March 15, 2021
GORILLA GLUE⁉️⁉️

— Kyle In NCS (@FnKylle) March 15, 2021
Beyoncé's mask is clearly magical. #grammys pic.twitter.com/Ko9mOE4BZ7

— HipHopWired (@HipHopWired) March 15, 2021
i wonder if her sunglasses are anti-fog?

— M. Craft (@MarkjCraft) March 15, 2021
Like what you see? How about some more R29 goodness, right here?
Beyoncé Wore A LBD To The Grammys
Beyoncé Just Casually Broke Another Grammy Record
Beyoncé Wants You To Get Elbow-Length Mittens