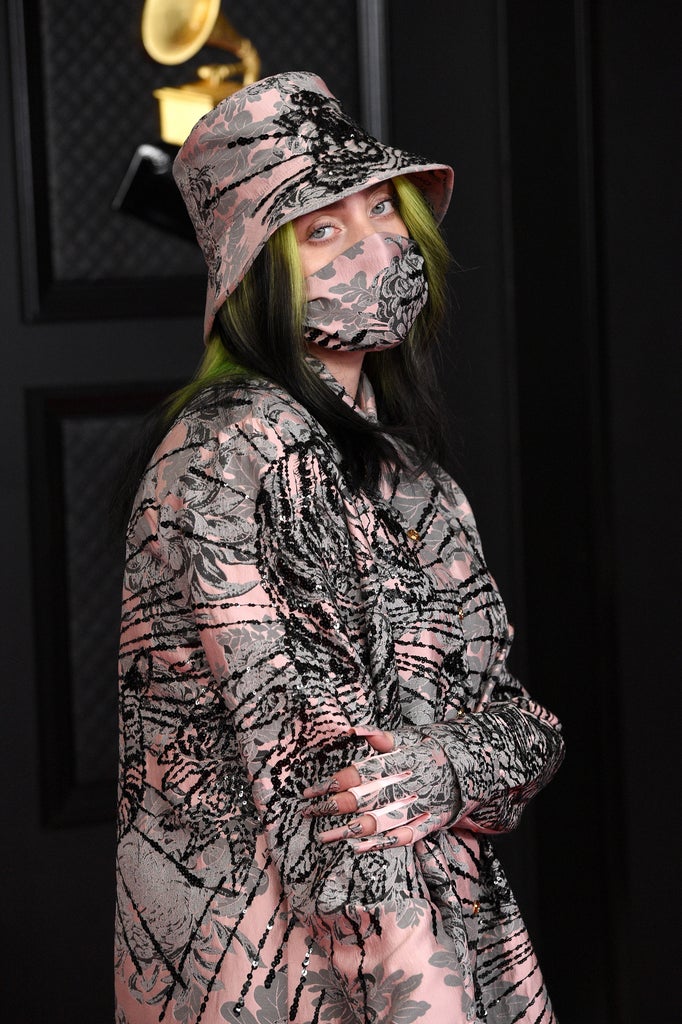 Billie Eilish might be clairvoyant. Last year, before anyone else was masking up, the "bad guy" singer wore a mesh Gucci face mask to the 2020 Grammys. At this year's event, Eilish looked equal parts trendy and COVID-safe in a matching suit, mask, and bucket hat.
Eilish's rose pink, jacquard two-piece, embroidered with overlapping black tigers, was custom made by Gucci. Her jacket and pants matched her fingerless gloves, mask, and bucket hat, but that isn't all. On this year's socially distant red carpet, she also showed off her detailed pink-and-gray manicure. (Eilish frequently coordinates her nails and her outfits: At last year's Billboard Music Awards, she paired another embellished Gucci suit with intricate, pale green nail art.)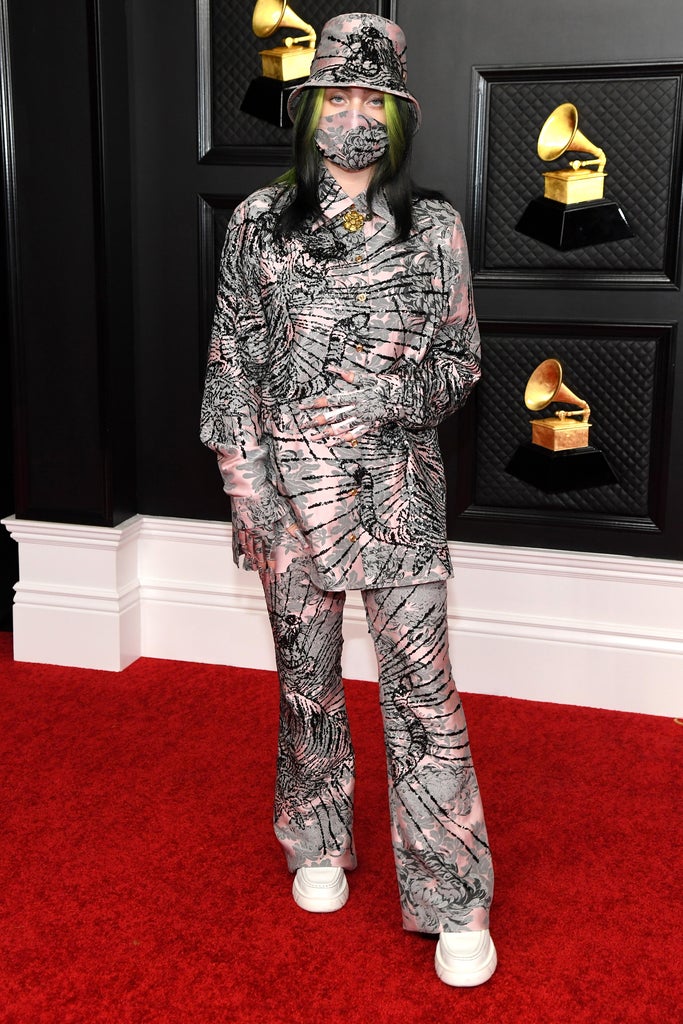 Finneas, Eilish's brother and collaborator, also coordinated his outfit with hers, although his look was slightly more understated — a light pink suit with oversized black lapels and a brocade mask. Later, during a performance of "everything I wanted," the siblings matched again in emerald green suits and gloves, also from Gucci. Eilish, who won an award this year for her James Bond theme "No Time to Die," completed her look with a bejeweled headpiece. 
Even though the bosses behind the Grammys took care to create a socially distant environment, celebrities, too, have found fashion-forward ways to stay safe. Chika matched a pastel mask to her sweatsuit on the red carpet, as did Best New Artist Megan Thee Stallion, who wore a mask in the same color as her vivid orange dress, among others in attendance.
Like what you see? How about some more R29 goodness, right here?
The Most Vulnerable Moment In Billie Eilish's Doc
The $13 Coconut Lip Gloss Billie Eilish Swears By
Billie Eilish Is Saying Goodbye To Her Green Hair