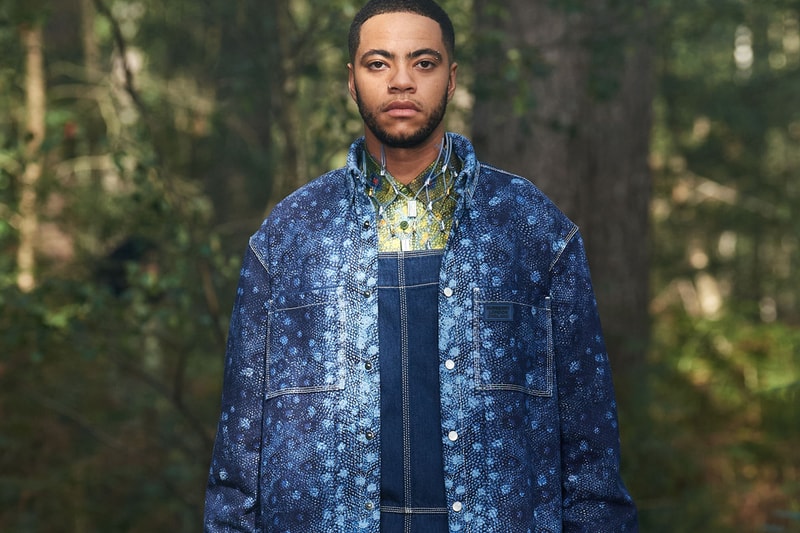 Burberry Chief Creative Officer Riccardo Tisci has brought youthful flair to the heritage label, infusing it with a sense of whimsy undercut with serious artistic flair, a hybrid that naturally finds its way into the British brand's Spring/Summer 2021 collection. Blending Tisci's signature graphic appeal with sophisticated garments equally inspired by mariners and equestrians, "In Bloom" celebrates the circle of life.
Reflecting the uncertainty of our era, Burberry has plumbed its reliable staples — gabardine trench coats and garments for horse riders — but rendered them in hard-wearing new editions appropriate for a variety of applications. Equally inspired by seasonal collaborator Anne Imhof, the collection infuses lofty themes into its wearables, from a fiction romance between a mermaid and a shark (dreamed up by Tisci) to a multifaceted view of the British landscape.
Water itself inspires several of the prints and the predominantly blue color palette, interrupted by mariner-indebted orange and rich printed graphics, ranging from Tisci's mermaid to oversized Burberry logos. The brand's signature trench coat has been revamped with contrasting textiles, cut-outs and extended hems to reflect Burberry's unceasing evolution, similarly demonstrated by the contrast of rugged staples (overalls, thick knitwear, knee-length leather boots) and delicate fabrics (tulle, chiffon, lace and crystal-studded fishnets).
"It began with a thought of British summertime; embracing the elements with a trench coat on the beach mixing with the sand and the water," Tisci explained in a statement. "I envisioned the people of this space, like the lighthouse keeper … set against the ocean, then brought to land. The collection is called "In Bloom" because I was thinking about regeneration, about dynamic youth, about nature constantly recreating itself, always growing and evolving, always alive. The collection is focused and refined – one vision, one story. This is the essence of both Burberry's identity and my own creativity. Reaffirming the codes of Burberry –- my codes of Burberry, our DNA."
Prior to this, Burberry issued a set of check-patterned facemasks.
Click here to view full gallery at HYPEBEAST