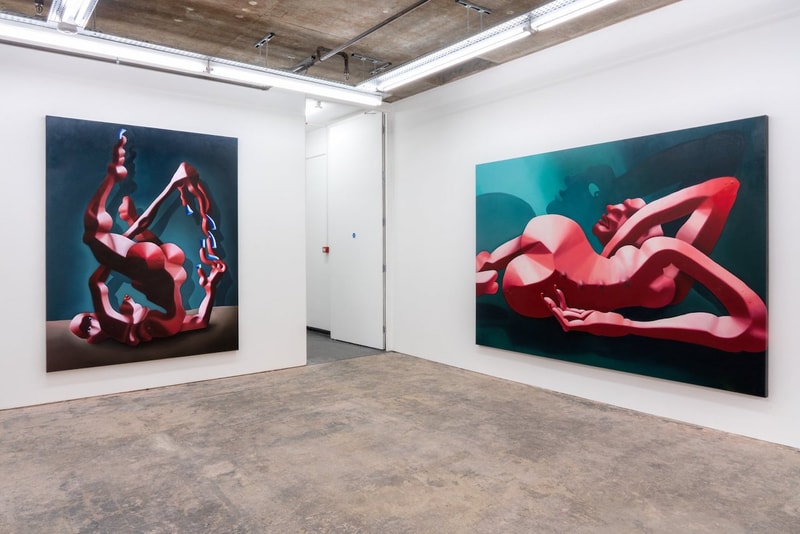 London's PUBLIC Gallery is currently hosting the first solo exhibition of German artist, Cathrin Hoffmann. The sprawling presentation, entitled "IT STILL SMELLS OF NOTHING," spotlights Hoffman's latest paintings and sculptures that portray anthropomorphic figures. In her interdisciplinary practice, Hoffman questions what it means to be human in the post-digital age. The large-scale works feature dark and bold colorization of subjects that are twisted and contorted to evoke themes of life and death, pain and pleasure as well as isolation and connection.
Hoffmann described in a statement to the gallery: "I create a new virtual body, with its weaknesses and idiosyncrasies, to probe what our present time with modern technology, digitization, and hyper capitalism has made us become? How do we exist and behave? What is human, what remains?"
The pieces on show were made by the artist during this ongoing period of solitude and isolation amid the coronavirus pandemic. "Alluding to the limbo of lockdown, these desperate characters appear suspended between quiet meditation and stillness on one hand, and unease and horror on the other—as if trapped, powerless in a parallel universe, to which they know not how they arrived," stated the gallery.
Check out the installation views for "IT STILL SMELLS OF NOTHING" above and then visit PUBLIC Gallery's website for more information. The exhibition is on view until November 14.
In other art stories, Sarah Slappey teamed up with JRP Next to release a fleshy Tied Up II lithograph edition.
PUBLIC Gallery
91 Middlesex St, Spitalfields
London E1 7DA
United Kingdom
Click here to view full gallery at HYPEBEAST