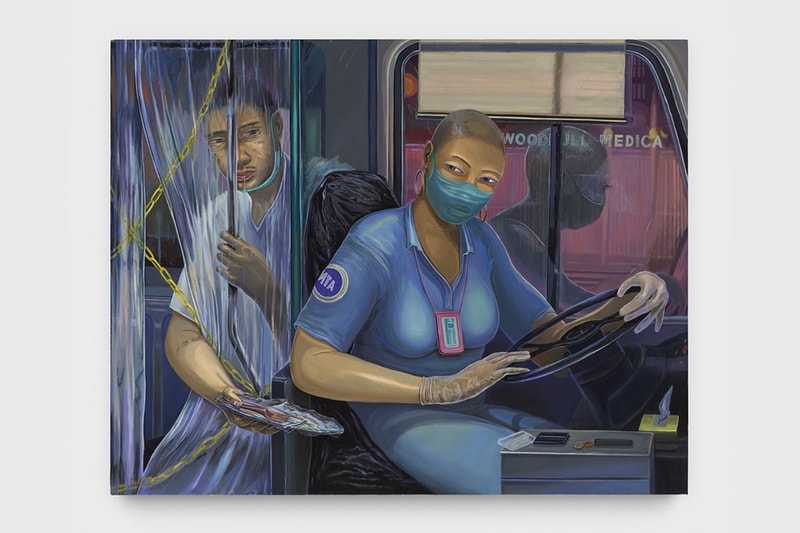 P.P.O.W. Gallery combines the works of two New York artists from different decades for an exhibition entitled "1981-2021." Paintings of Brooklyn artist Aaron Gilbert and the late Chinese-American painter Martin Wong, visualize an intergenerational story based on life within the walls of New York amongst societal pressures.
1981-2021 is a selection of works from Wong and Gilbert meld together comprised within 40 years, narrating life within a city composed of scarce public resources, mass displacement of black and brown communities, and the notorious pandemics, AIDS and COVID-19. Both artists paint powerful messages of human beings within unsettling yet realistic situations during their separate timeframes.
Wong moved to New York by 1978, where he began painting the urban side of livelihood, formed of elements such as stacked bricks, crumbling tenements, and closed storefronts. "Everything I paint is within four blocks of where I live, and the people are the people I know and see all the time," said Wong.
The same can be said for Gilbert as he uses his personal environment from his neighborhood to his surrounding community and paints emotional domestic scenarios tainted by a capitalist society thrown into crisis.
Putting more context to the connection with Wong's work, Gilbert stated, "Wong created a new template for what we could ask and expect from figurative painting. I felt I had found someone whose personal relationship to his work was genuine. He wasn't performing his world for another audience, he was capturing what he loved in the sincerest way, and freezing it in that special perpetual moment that great paintings seem to live eternally in. His work invites us to enter his world and inhabit it on its terms."
By blending both artists' works, these paintings highlight an unfamiliar view of meaning and love amidst all the darkness to bring to light the beauty in fundamental human existence.
The exhibit shall run from April 2- May 1 at the P.P.O.W. Gallery in New York.
P.P.O.W. Gallery
392 Broadway,
New York, NY
In case you missed it, take a look inside Alexander James' "Keep It In The Family" exhibition in Cape Town.
Click here to view full gallery at HYPEBEAST