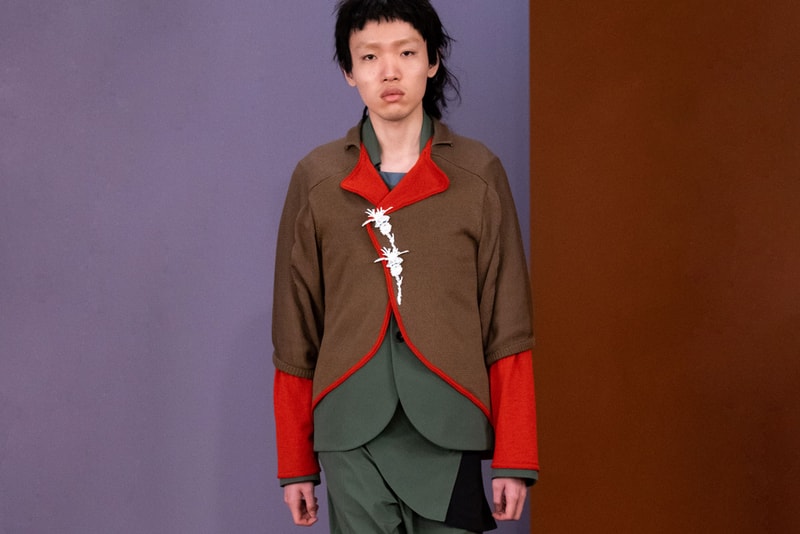 Drawing from niche sources like Christopher Priest's A Dream of Wessex and Patience Grey's Honey From A Weed, Kiko Kostadinov's Fall/Winter 2021 collection is no less progressive than the Britain-based designer's past efforts. Densely layered and rich with texture, the new collection runs lateral to menswear conventions, shaping the human form with stacked knitwear, figure-hugging shirts and Kostadinov's signature pooled trousers.
Kostadinov's next-generation uniforms fused sporty elements — like cycling tops, track jackets and panels of technical textiles — with some hints of traditional craft, framing his models with rounded shoulders, raw hems and flowing pajama sets. Striking patterns range from contrasting stripes to a series of colorful florals which draw from both Grey's culinary work and a warped perception of Japanese ikebana (flower arranging), starkly juxtaposed against the other tones of chilly shadow and earthy brown.
English heritage was inverted throughout, as Kostadinov bent Saville Row suits, peacoats, cricket jackets, militaristic flight suits and Wellington boots to his will. Familiar shapes were interrupted by arm warmers, aprons, jersey gilets and laces borrowed from Belgian folk costumes, acquiring a rough-hewn elegance by way of the uppermost layers' gracefully flow and the trousers' gentle billow.
"It was much the same as with past seasons; questioning what I want to say as a designer, not just as a concept or meaning but also how this translates into an object," Kostadinov told HYPEBEAST of his FW21 collection. "Quarantine slowed things for everyone and became the reality. The slowness allowed more time for stillness and thinking."
"We're still developing our own mainline footwear language and how it can fit into our seasonal stories," he continued. "This season the footwear is more chunky with an outdoor feeling, staying more on the generic side to avoid clashes with the rest of the outfits, and playing more on different textured materials and front closures."
Visit Kiko Kostadinov's website to behold a dynamic triptych presentation that undermines stagnant on-model imagery.
As Digital Fashion Month, HYPEBEAST recently recapped some of the standout shows from the event.
Click here to view full gallery at HYPEBEAST