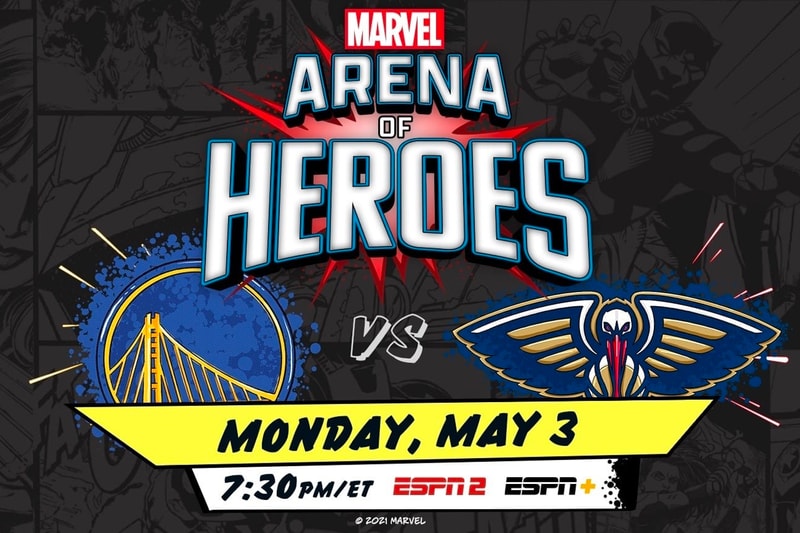 ESPN and Marvel team up to bring the first-ever NBA special edition of Marvel's Arena of Heroes to the court.
On May 3, Marvel will be taking over all ESPN platforms during the Golden State Warriors vs. New Orleans Pelicans game, integrating Marvel stories and iconic characters. Commentary will be done by ESPN's Ryan Ruocco and Richard Jefferson and held in a custom Marvel-themed studio.
Following the storyline of The Avenger's victory over an invading alien army, a larger threat looms over the heroes. The Black Panther and Iron Man turn to the NBA in hopes of recruiting some of the Earth's greatest athletes to expand their ranks. The Avengers will be assessing star players Stephen Curry, Draymond Green, and Andrew Wiggins from the Warriors and Zion Williamson, Brandon Ingram, and Lonzo Ball from the Pelicans.
Athletes will be graded on how many Marvel Hero Points they can bank. One Marvel Hero Point will be awarded for every point, rebound, assist, steal, and block. One Marvel Hero Point will be deducted for every missed field goal, free throw, or turnover. The player with the most Marvel Hero Points will be crowned as Marvel's first Champion.
Tune in to the Marvel telecast at 7:30 p.m. EST on ESPN2, ESPN+, and ESPN Deportes while the traditional game telecast will air on ESPN.
Check out the reactions to the broadcast below.
What we wanted: an alternative basketball nerdy broadcast (Tim Legler + Zach Lowe, as an example)

What we got: "Steph from WAKANDA, bang!" https://t.co/ryWBcHH0H7

— Daman Rangoola (@damanr) April 23, 2021
so you did too much corporate synergy pic.twitter.com/DCVOERWUcj

— Gal Pal Sports (@GalPalSports) April 23, 2021
— ⚜️JJ's Burner⚜️ (@JJ16630683) April 23, 2021
Makes sense I guess ??‍♂️ pic.twitter.com/wDdVXfZFwI

— The Professor (@theprofessor) April 23, 2021
*Zion posterizes Steph so hard he has to leave the game*

Announcers: oh no it appears that the Juggernaut has defeated Hawkeye

— Chris (@_SeaSquared) April 23, 2021
Wtf is this man??? pic.twitter.com/H3gWZ1uC2f

— ????????? ???? ? (@CWoodballin) April 23, 2021
wait isn't this spacejam

— shaun k. ?️‍?? (@Fortofgeekysol) April 23, 2021
this could either be completely dogshit or fire asf. no inbetween pic.twitter.com/tAHkZ7opJ4

— Huncho Trey ?? (@HunchoT2x) April 23, 2021
— GroupChat Legend? Lakers (35-24) (@MartyMcFly92) April 23, 2021
For more sports news, NFL teams up with Clubhouse for exclusive draft week content.
Click here to view full gallery at HYPEBEAST