Note: We've filled all 300 spots, so enrollment is now closed. Make sure to to sign up for email updates to be one of the first to know when enrollment opens in January. 
When the fall season comes sliding in, there's a feeling that if you didn't do something new/cool/adventurous over the summer, it's not going to happen for you this year. You get into the mindset of just sliding into the holidays, and then into the new year, when hopefully, four months hence, you'll be able to turn over a new leaf.
This is real, genuine, poppycock!
Every day and week is precious, and every month you keep waiting, and waiting, to start trying new things is life wasted. Every moment is just as perfect as any other to start working on a new goal or moving in a new direction.
So instead of sliding through the next few months, take the bull by the horns and jump into The Strenuous Life — the very last enrollment of the year is now open!
What Current Members Are Saying About The Strenuous Life
The Strenuous Life is an online/offline program designed to help men turn their intentions into actions, do hard things, and become stronger in body, mind, and spirit. We've had over 3,700 people from all walks of life sign up and the feedback has been incredible.
Here are just a few testimonials from members of the latest cohort of TSL Classes; you can read 100+ more testimonials here.  
---
"At first I was skeptical, especially after so many men's self-help/masculinity masterminds push the 'pay to stay part of us' philosophy. That said, I bit the bullet, put up the money to join TSL's Class 23 and I couldn't hope to find a better group of men all working to put themselves to the test every day, every week. After two months I can honestly say I've ALREADY got my money's worth, and unlike other mastermind set-ups, I'm good for LIFE with TSL.
You're seriously undercharging us for this amazing program!"
–Matthew M., Class 023 
---
"The Strenuous Life is not only a program that helped me, but it was the lifestyle and mindset change that I needed to do hard things. I have finished more things that I started, helped my family be better, and become stronger in many areas of my life. Most importantly, I recognize I'm not done yet. The Strenuous Life has helped me continue to get stronger to make the world a better place."
–Sam O., Class 023
---
"My life was a mess. Just work, go home, and spend my whole leisure time with YouTube. Nothing got done and I felt bad about it. Then came TSL, which gave me a goal to strive for. It helps me to build up momentum to do the things I wanted to do for a long time."
–Dmitrij N., Class 023
---
"The Strenuous Life has helped me become a confident, self-assured man. I have always struggled with self-doubt and social anxiety until I found this program; I highly recommend it." 
–Joseph O., Class 024
---
"The Strenuous Life is challenging. It doesn't seem that way until it mixes with life and you have to ask yourself if you will commit to following through when what seemed like it would be simple isn't. It asks you to commit and if you do it rewards you with a sense of accomplishment that we so often sacrifice to daily choices of ease or 'tomorrow.' The Strenuous Life made my life hard in the best possible way and made me better for it."
"The Strenuous Life has impacted my life even more than I hoped it would. It forced me to reflect on what it really means to do good to others and made me snap out of self-satisfied moral complacency.
A work in progress though it is, the good deed requirement ensures I spend some time every day thinking of what to do for others.
On the physical aspect, I'm much more active and feel a good deal stronger now than a few months ago; I'm aware of the need to keep moving. The other day I climbed a tall pine just for the heck of it — because, thanks to The Strenuous Life, I can.
On an intellectual level, it pointed to a big gap in my life. I'm gradually reorganizing myself so that I can grow in learning and acting.
As for the community, although I'm unfortunately physically far from other members, it's had a big influence on me, even beyond extremely positive interactions. That's because just knowing that these other guys are out there, every day, striving to get better in all aspects — that is a huge motivation.
Doing The Strenuous Life requirements has also served to connect me with my wife. Not that we usually don't, but often now we go for long walks together. We get the physical exercise, plus great conversation. It lifts our moods like a wonder.
Finally, the TSL requirements have been giving me a bias for action every day. It's easier to stop procrastinating with important tasks once I've made the initial effort to get an Agon requirement, a daily good deed, or spell of exercise done. For all this and quite a good deal more I'm enormously thankful to you and all the TSL participants, and I look forward to every opportunity that comes around of spending myself in worthy causes."
–Alberto Q., Class 023
Take the Strenuous Life Challenge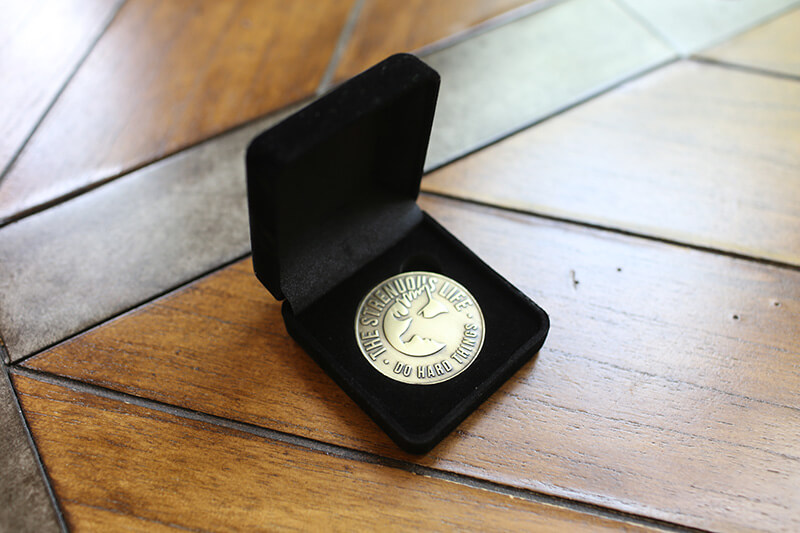 New members of TSL are enrolled into the 12-week Strenuous Life Challenge, which is designed to induct initiates into a life of strenuosity and help them form new, health-boosting, mindset-enhancing, life-improving habits. You'll be asked to hit certain benchmarks in terms of daily physical activity and good deeds, earn at least one badge, and complete a diverse range of weekly "Agons" or challenges.
The Strenuous Life Challenge is designed to push you outside your comfort zone, get you having new experiences, and help you become more than you are now in body, mind, and spirit. Those who complete the Challenge earn an exclusive TSL challenge coin, as well as a new outlook on life.
Finally Put Your Long-Standing Intentions Into Action
The Strenuous Life is like a scouting program for grown men, and its structure — which offers a set of 50+ badges and clear requirements to earn them — facilitates learning new skills, having new experiences, and forming new habits. It's designed to help you put your long-standing intentions — all those times you've said, "I'd really like to start doing _____" — into action.
TSL can be just the kick in the pants you need to finally make good on your goals. Here's a small sample of some of the stuff members have done as part of The Strenuous Life in just the last few months: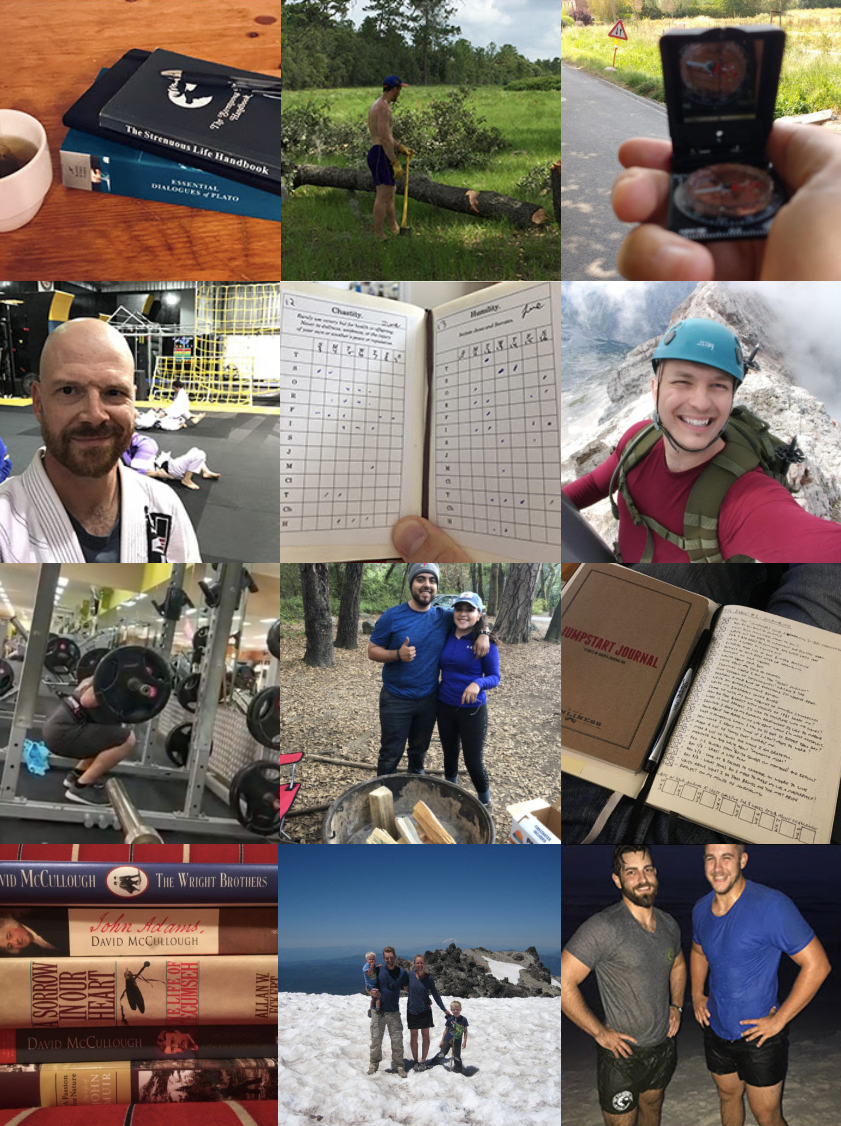 It's you're finally ready to move from point A to point B with your goals, TSL will provide the map and guide you on your journey. 
Meet Like-Minded Individuals (In Person!)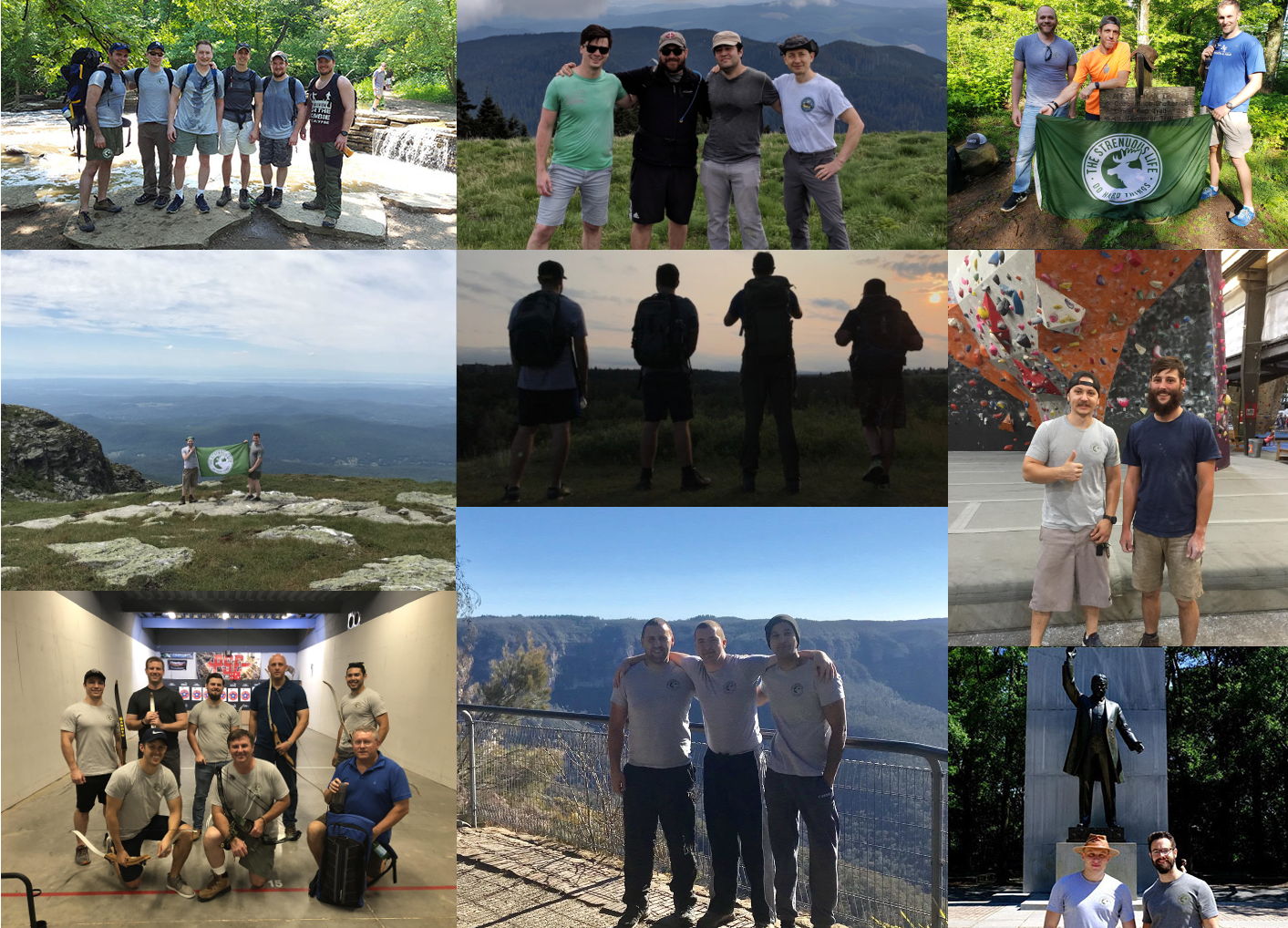 Are you looking for a way to meet up with like-minded men and form more real-world friendships? The Strenuous Life can help you make those connections.
One of the features of TSL are geographic groups that members can use to organize in-person meet-ups. The third Saturday of every month is designated as "Strenuous Saturday" and members get together to work on badges, ruck, or do community service. Members can get together to work on the weekly challenges as well. 
The Strenuous Life is meant to be shared — come and join a tribe of men who want more out of life!
Enrollment Is Open Until Thursday, September 6, 2018 or Until We Register 2 New Classes
Finish the year strong by enrolling in the final 2 Strenuous Life Classes of 2018!
Enrollment for The Strenuous Life will only be open until Thursday, September 6, 2018 or until we register 300 new members. Whichever comes first. Enrollment is now closed. 
For those enrolled, the 12-week Challenge officially begins on September 9.
Register as soon as you can. The next enrollment won't be until January 2019!
I hope to see you on The Strenuous Life.
The post Finish the Year Strong! The Last Strenuous Life Enrollment of 2018 Is Now Open! [UPDATE: Enrollment Is Closed] appeared first on The Art of Manliness.