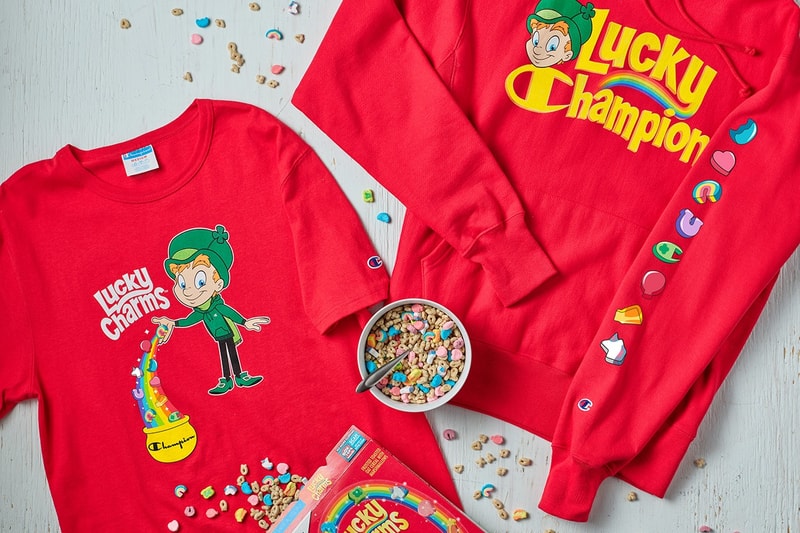 The global cereal conglomerate General Mills, known for Lucky Charms, Cinnamon Toast Crunch, Honey Nut Cheerios, and Wheaties, has taken over Champion's essentials in an unlikely collaboration.
However, the collection makes perfect sense. Cereal has had a cultural reset, the likes of Travis Scott and KITH Treats have played a huge part in making cereal "cool." As a result, emblazoning Champion's Reverse Weave hoodies and T-shirts with branding taken from Lucky Charms, Cinnamon Toast Crunch, Honey Nut Cheerios, and Wheaties, was bound to happen.
The collection comprises two adult-size garments for each cereal brand and a fleece pullover hoodie and jersey T-shirt for kids. Highlights from the collection include the Lucky Charms hoodie, which not only puts a twist on both of the collaborators' monikers, but also turns Champion's "C" logo into a cereal charm and prints it on the arm. The T-shirt is equally inspired, depicting Lucky the Leprechaun wearing a Champion hoodie.
Elsewhere, there are Cinnamon Toast Crunch characters imagined as "C" logos on the hoodie and T-shirt, as well as T-shirts that claim, "It takes a little Wheaties to make a Champion."
Not only is there a capsule collection, but Champion and General Mills are also helping the organization No Kid Hungry by providing 300,000 meals to children in need across the United States. The duo has pledged to "help ensure students get three healthy meals a day through this partnership."
The General Mills x Champion collection ranges from $30 USD to $75 USD and can be purchased from Champion's website and its stores.
In other news, LEGO has teased a Levi's collaboration.
Click here to view full gallery at HYPEBEAST