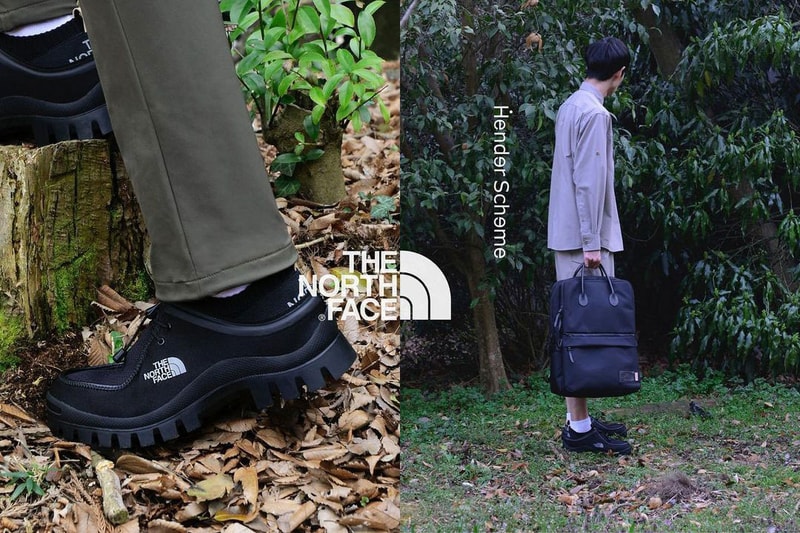 Picking up right where they left off last year, Hender Scheme and The North Face Japan are back with another hybrid offering, mixing both brands' cues to great effect. Appropriately, this lineup is more suited for warm weather than the previous effort's Nuptse-infused footwear, serving up travel-friendly bags and functional footwear aplenty.
Informed by the mantra of "things that change, things that do not change," the companies have put their heads together and come up with a selection of goods that combine both of their stylistic elements into one neat package.
Two footwear styles are on hand in two different colorways: the convertible HS Climbing Diversity and strappy HS Ultra Stratum PRO sandal. This isn't the first time that Hender Scheme has crafted a tyrolean shoe (or The North Face Japan, for that matter), but the Climbing Diversity is special in that it includes a removable inner bootie, ideal for walking around at home or campsites. It's also elevated by toggle lacing and a Vibram 2146S Clean Trek sole. Its counterpart, the Ultra Stratum PRO sandal, is offered with monotone or natural straps atop a black EVA midsole, itself infused with a TPU Cradle shank and set atop a sturdy Vibram Megagrip outsole for maximum stability and cushioning.
As for the carryables, Hender Scheme has remixed The North Face's Shuttle Daypack, splicing large and small iterations with leather tabs, handles and zipper pulls. Plenty of special features appear throughout the Cordura nylon shells, including deep compartments for different documents, a snap button cord for tying the handles together and even a removable front pocket, which can then be worn as a crossbody sacoche bag. Finally, there's the HS Glam Travel Kit, a compact handbag stuffed with three expandable pouches that all boast their own handle and even a TNF carabiner for easy attachment.
Hender Scheme will roll out a few raffle initiatives from April 9 until 23 before launching all of The North Face collaborative items on the Hender Scheme website April 30. Like the pair's previous effort, expect this release to be restricted to Japan due to The North Face Japan's licensing scheme (it's produced and owned in Japan exclusively by Goldwin).
 
Recently, The North Face Japan dropped a genderless maternity raincoat.
Click here to view full gallery at HYPEBEAST