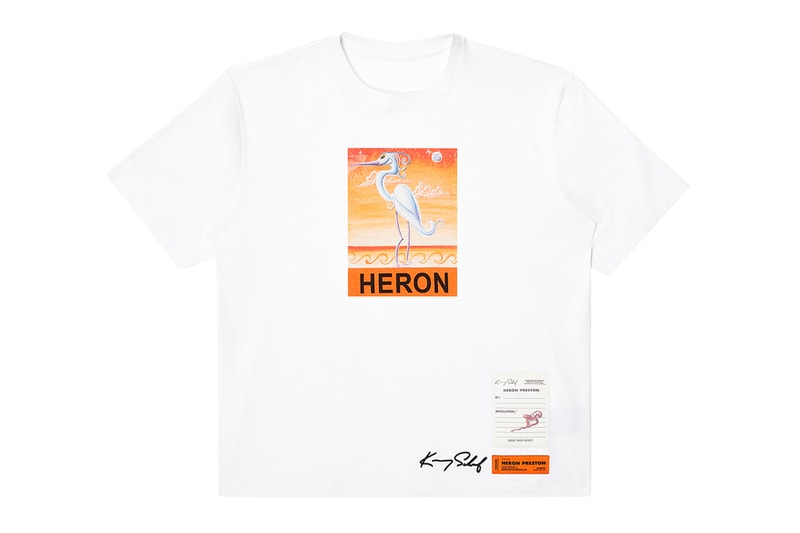 Heron Preston has teamed up with American artist Kenny Scharf for a seven-piece capsule collection. The collaboration brings transposes Scharf's "Meanie," a 1998 work on paper by the artist, to a selection of T-shirts, hoodies, denim pieces and a balaclava.
As Scharf explains in a statement, the meaning behind the colorful, yet slightly menacing design is up to the viewer. "Meanie is part of my vocabulary and can represent many things," says Scharf. "Sometimes it is what you think: it is just Meanie. But these angry, scary faces are used to ward away evil and scare away the bad. Like in ancient civilizations, tiki heads and totem poles were for protection."
Preston also tapped Scharf for a reinterpretation of the iconic Heron bird: a mainstay of the streetwear imprint since its first season. This is the first time the founder has commissioned an artist to put their own spin on the graphic — seen on a T-shirt and hoodie — but Preston explains it was a perfect match for the brand. "Kenny Scharf is a global legend who made his name in the East Village of New York City running around with Basquiat, Keith Haring and Andy Warhol," Preston said in a statement. "I've been living in New York since 2004 and he is part of the city: the first time I experienced his work was on the street not a museum. There's an anti-elitist vision that speaks to me and what we do."
The Heron Preston x Kenny Kenny Scharf collaboration is now available to shop via the Heron Preston web store.
Scharf also recently collaborated with The Hundreds on a selection of denim, accessories and a variety of T-shirts and hoodies.
Click here to view full gallery at HYPEBEAST