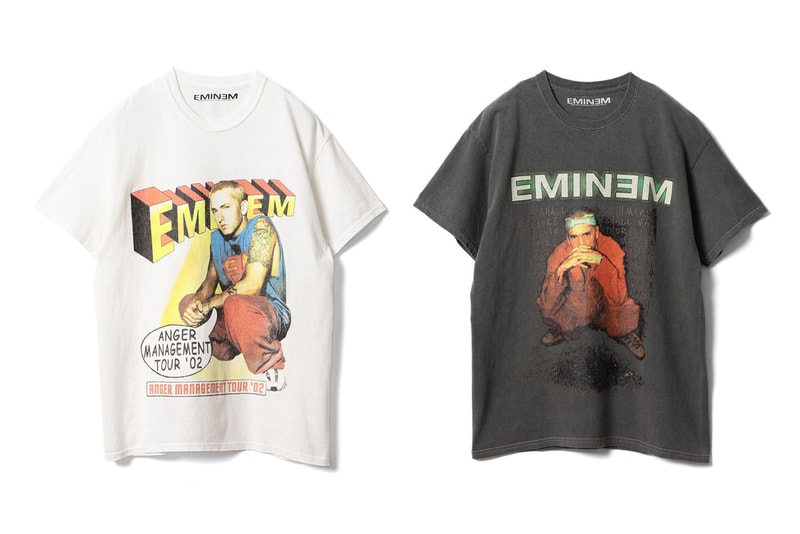 As one of the 2010s' most-streamed artists, anything drawn from the early portion of Eminem's vaunted career is a must-have for the self-described "Rap God"s die-hard fans. As such, the Japanese merch aficionados at Insonnia Projects have turned their attention to some of Marshall Mathers' fan-favorite vintage T-shirt designs, creating officially-licensed iterations of the original designs faithful to the original items.
As usual, Insonnia Projects has gone to painstaking effort to give each tee an appropriately retro feel. To start, each thick, plain-woven shirt is slowly stitched with eagle-eyed precision. True-to-the-era rubber ink is then applied to each garment, to achieve a print that reacts similarly to that of an old school shirt. Finally, the T-shirts are washed, dyed and treated by expert craftspeople to achieve a properly lived-in feel that's as soft as any well-loved T-shirt that's a decade or so old, complete with cracked print.
The designs themselves are drawn from wearable merch released alongside some of Eminem's most popular records: The Marshall Mathers LP, The Slim Shady LP and The Eminem Show. Also on hand is a design issued during 2002's Anger Management tour, which saw Eminem sharing with stage with luminaries like Limp Bizkit and Papa Roach. With actual vintage shirts going for big bucks, Insonnia's high-end recreations stand apart in the sea of contemporary reproductions, offering peerless quality and authentic proportions.
Each of Insonnia Projects' Eminem tour tees is available for pre-order on International Gallery BEAMS' website ¥10,780 JPY (approximately $100 USD) apiece. All of the shirts come with a branding leather strap for easy storage.
Elsewhere, BEAMS Plus introduced its Spring/Summer 2021 lineup with a colorful lookbook.
Click here to view full gallery at HYPEBEAST