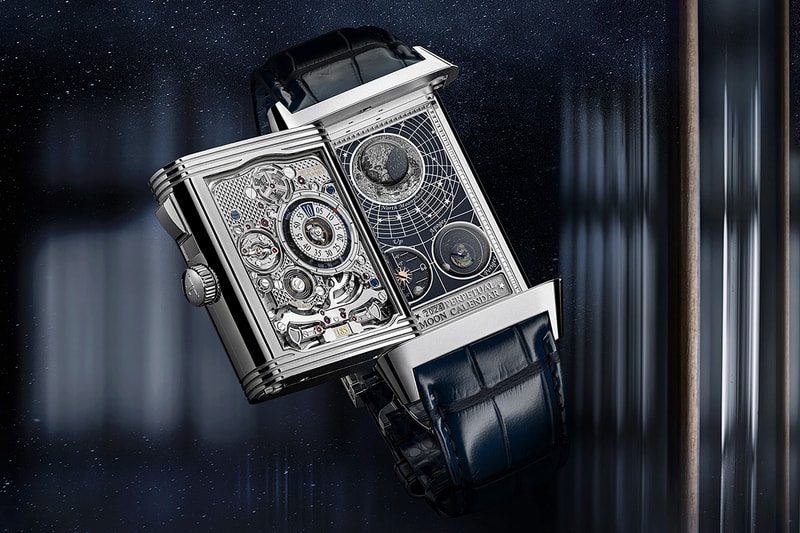 Swiss luxury watch manufacturer Jaeger-LeCoultre celebrates its iconic Reverso model with the most complex timepiece in its catalog. The world's first watch with four functioning display faces, the white gold Reverso Hybris Mechanica Calibre 185 boasts an array of innovative technologies, requiring twelve filed patents to be produced and limited to only 10 pieces.
Deriving from "hubris" — the Greek word for increased ambition, Jaeger-LeCoultre's Hybris Mechanica was first introduced in 2003 in the Atmos Mystérieuse and has since grown to over twenty timepieces. The latest drop comprises of a white-gold-constructed, flippable double-faced case. Despite irregularities in days every month, the floating tourbillon found at the 7 O'Clock position ensures all indications are synced and accurate, even taking into account leap years.
In a move of horological innovation, Jaeger-LeCoultre unites three displays of lunar information — the synodic cycle, draconic cycle and anomalistic cycle. Enclosed inside the watch, the timepiece is able to determine astrological events such as eclipses and super moons. Personifying these patented features are its symbolical representations — the top half of the interior face displays the phases of the moon in the Northern Hemisphere corresponding to the age of the Moon in the synodic cycle. The laser-engraved, glitter-clad blue lacquer disc requires only one adjustment after 1,111 years. Below, is a 3D Sun orbited by a hemispherical Moon referencing the draconic cycle where it intersects with the Earth's orbit around the Sun, and to the right is a domed enamel representation of the Earth for the anomalistic cycle.
Adopting the technological features of sonnerie watches, a slidable lever on the Quadriptyque initiates its melody. Low notes correlate to the hours, alternating high and low notes for quarter hours and a series of high notes indicating the number of minutes added to the elapsed quarters. Together, these chime in harmony to create a musical code conforming to the visual display. Crystal gongs attach to the sapphire crystal to exploit its optimal acoustic properties, laid out in a square cross-sectional arrangement to maximize contact between the hammers and gongs to produce the clearest sound.
You can find more information on the exclusive Jaeger-LeCoultre Reverso Hybris Mechanica Calibre 185 by visiting the brand's website.
Click here to view full gallery at HYPEBEAST