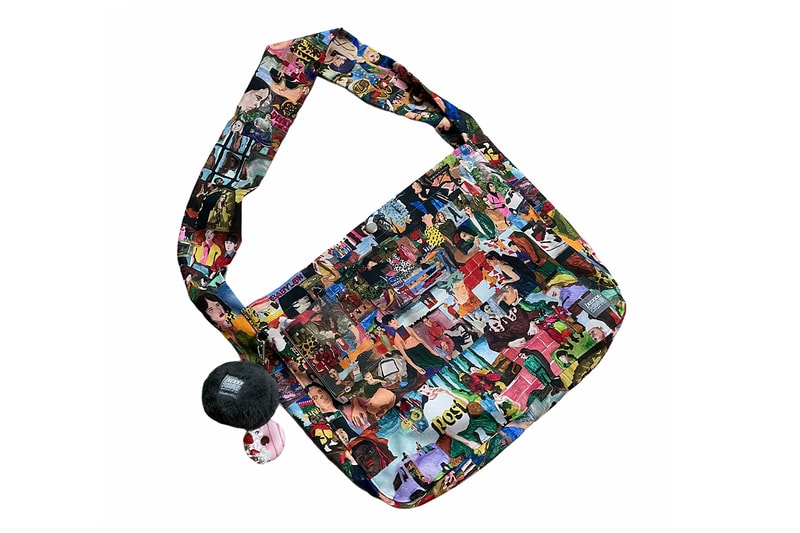 Back for the new year, standout South Korean imprint JICHOI has prepared the latest release from its jxcxxx one-off line. Tapping artist Noh Sang-ho, better known as "nemonan," the diffusion put together a bag capsule centered around the nemonan's striking painted scenes.
Most notably providing HYUKOH with the cover of their 20, 22 and 24 albums, nemonan's "daily fiction" artworks draw from references collected in his daily life and time online. Connected through his imagination, the massive yet intricate paintings serve to provide audiences with different images that connect what is online and reality.
The special range of carrying options is led by a set of BOOK BAGs crafted of a printed polyester linen that express two distinct scenes. The bag design features an approximately 30-inch carrying strap, silver-tone securing button, cardholder slot, carrying buckle and "small part of you" branding badge. Each bag also comes complete with a thank you card marked with a whimsical design and accenting branded tuft keychain. The accompanying WALLET POUCHes continue the display of nemonan's scenes with a secure zipper closure at the top, carrying buckle and "small part of you" branding badge.
Along with the nemonan capsule, jxcxxx is also reaching a range of playful wearables. The well-wishing BEST WISHES BEANIE comes in three colors, while the YEAR OF OX Crewneck Sweater marked with an illustration of a cow underscored by "행복하세요," which translates to "I wish you happiness." Rounding up the latest releases is JITO with BLANKET, a cute stuffed figure and perfectly sized carrying pouch that helps it serve as an eye-catching accessory.
Priced at ₩45,000 and ₩69,000 KRW (approximately $40 and $62 USD), the WALLET POUCH and BOOK BAG styles from the nemonan x jxcxxx capsule are available on JICHOI's website along with the accompanying wearables.
View this post on Instagram
View this post on Instagram
In case you missed it, tamburins' THE SHELL Perfume Hand innovates how to carry a scent.
Click here to view full gallery at HYPEBEAST