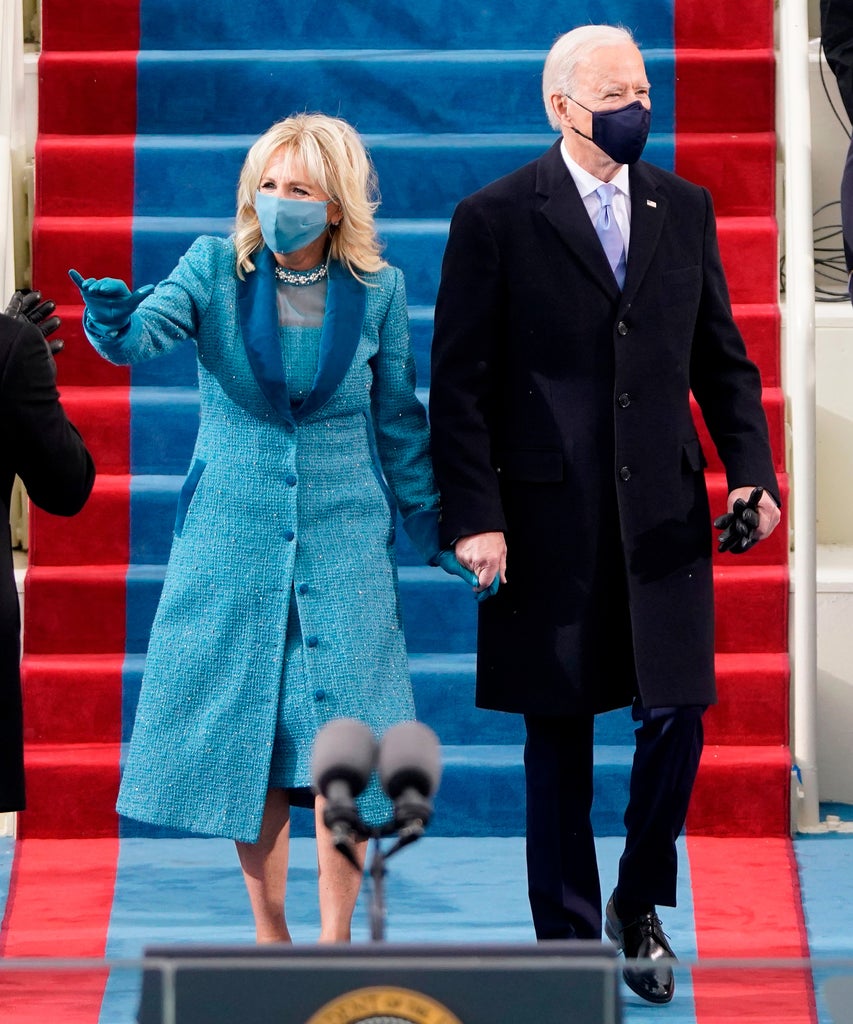 Ever since Inauguration Day, Dr. Jill Biden has showcased one memorable look after another — made even more notable by the fact that she doesn't use a stylist. In an interview with Vogue, for which Dr. Biden graced the August cover, the First Lady's communications director Elizabeth Alexanders said that Dr. Biden's day-to-day looks — which have included the "Love" jacket, the Valentino tote featuring her dogs, and several pink moments — are "all her."
It's noteworthy that a woman as busy as Dr. Biden — she is the first First Lady to retain her day job, as a college professor — does not want to delegate her wardrobe to an expert. But it seems Dr. Biden, who's been in the political arena for decades, knows how to handle it by now.
"I think that's important: You try to lift up other people," Dr. Biden told Vogue of the emerging designers she likes to spotlight. This was also a sentiment shared by former First Lady Michelle Obama, whose two-term fashion featured many young American designers. (Obama has long worked with stylist Michelle Koop.)
In the Vogue profile, Dr. Biden revealed that this was also her mission when it came to selecting the designers for the Inauguration events: Jonathan Cohen, the New York-based, sustainably-minded designer known for his playful take on feminine silhouettes, for a pre-Inauguration Day appearance; Alexandra O'Neill's Markarian, a New York-based brand whose designs are made in Manhattan's Garment District, for the Inauguration ceremony; and Gabriela Hearst, a sustainable designer from Uruguay, for the Inaugural evening dress and coat which featured flowers from all 50 states.
"I like to choose from a diverse group of designers. When I was planning my Inauguration outfits, that's one of the things I considered," she said.
While her looks have been garnering a lot of attention from the press, Dr. Biden is unaware of the style fans she's garnered during her time at the White House. When asked about @drjillbidenfashion, an Instagram account documenting all of Dr. Biden's #OOTDs, the First Lady said that she hasn't seen it. "It's kind of surprising, I think, how much commentary is made about what I wear or if I put my hair in a scrunchie. I put my hair up!" she said. "It's amazing how much people pay attention to every little detail."
Speaking of details, Dr. Biden wants to set the record straight regarding those fishnets: "They weren't fishnets. They weren't lace. They were very pretty stockings."
Read the full profile, here.
Like what you see? How about some more R29 goodness, right here?
Jill Biden And Kate Middleton Matched In Pink
Jill Biden's Latest Look Sends A Message Of Love
Apparently, Conservatives Don't Like Tights