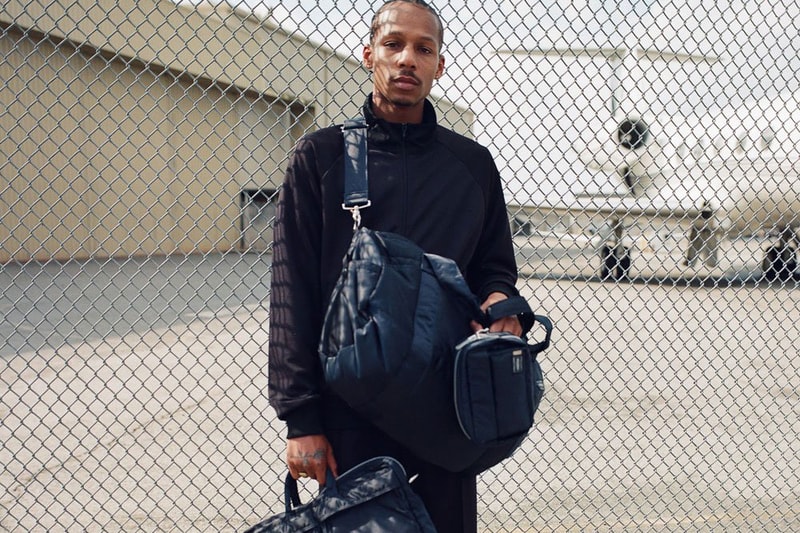 First hinted at just before the end of 2020, Canadian tastemaker JJJJound has finally introduced its collaborative collection with Japanese bagmaker PORTER. Envisioned as a stripped-down, effortless selection of travel-friendly bags, the three bespoke bags aren't new styles for PORTER, exactly — they instead refine the designs to the bare minimum.
Each of the silhouettes that JJJJound selected for the joint effort is very much in PORTER's wheelhouse. A Boston Bag, 2Way Briefcase and 2Way Pouch all draw from silhouettes that the Japanese company produces en masse — PORTER and its sub-labels offer variations of in-line Boston-style bags and briefcases, for instance — but they're graced by the JJJJound touch, stripping away extraneous design elements for a prodigiously clean finish.
All three of the black bags were selected by JJJJound "to address lightweight packing" and as such, they all complement each other neatly. Each model features only PORTER's signature nylon shell and lining with metal hardware, adjustable straps and the famous, tiny PORTER patch. The latter complete with a special JJJJound tag that complements branded Tyvek labels on the inside that encourage owners to personalize their bags by writing names, contact details and other information on the blank lines. Finally, an "original purse" comes with each item to further commemorate PORTER's 85th anniversary.
The three-piece PORTER collection hits JJJJound's website at 6 p.m. EST.
PORTER's other 85th anniversary partnerships include a selection of Vans sneakers and a bespoke BYBORRE carryable.
Click here to view full gallery at HYPEBEAST