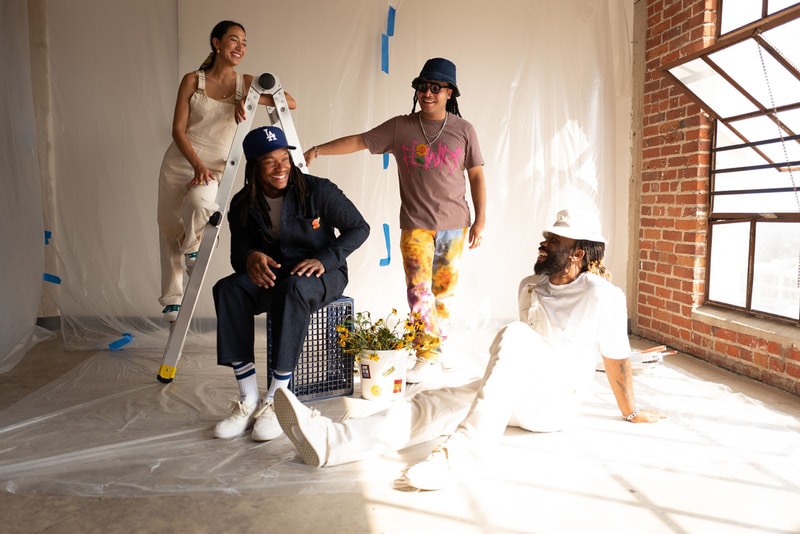 Kids of Immigrants — a powerful brand name that's direct, not obtuse. Founded in 2016 by Daniel Buezo and Weleh Dennis — both of whom are first-generation Americans — Kids of Immigrants is a "movement to recognize that we are all cut from different fabrics but together make a whole," in its own words.
Starting off by hand painting and customizing thrifted T-shirts, Kids of Immigrants has expanded its offerings into a full line of fleece, cut and sew and more. Kids of Immigrants garments have been spotted on everyone from Bad Bunny to Playboi Carti and Odell Beckham Jr., and now the brand is set to expand into the world of footwear with its first-ever Vans collaboration: a monochromatic Lowland CC, releasing on October 2.
Centered around a "Work A Day In Our Shoes" campaign, the shoe's simple, industrial palette was inspired by Buezo's father — a longtime construction worker — and is meant to serve as a canvas for customization. Each pair has been hand-distressed by the Kids of Immigrants team, and comes complete with a paintbrush and sandpaper, allowing the wearer to customize their pair as they see fit and become a part of the Kids of Immigrants story.
At the behest of Kids of Immigrants, Vans has also donated $5,000 USD to A New Way of Life, a Los Angeles-based nonprofit that provides support to women after their release from prison.
HYPEBEAST sat down with the co-founders ahead of the shoe's launch for a conversation that touched on everything from the shoes themselves to their charitable ventures, what they learned during the collaborative process and much more.
HYPEBEAST: Why the Lowland CC? It's a more under-the-radar model, did it speak to you in a way that some of the more well-known silhouettes didn't?
Daniel Buezo: Obviously the Sk8-Hi, the Old Skool, all the other Vans classics are an easy play. As a brand, we were like "this is the shoe nobody would think to pick." We feel like the underdog, like the neighborhood favorite. I mean, this is our first time talking to HYPEBEAST! We feel like when we win, the people win. Everyone else has done everything else, so for us it was like "let's make this other model cool." We wanted a challenge. It's not a shoe either of us had ever worn before, but we're like "we want to own this sh*t, we want to love it and our community is gonna come along with it."
Weleh Dennis: For us, a lot of it was not being afraid of new things. We wanted to do that, and not be afraid of how people would react to a new style, a different silhouette — sort of like how people react to Kids of Immigrants and our style. The Lowland CC does have some characteristics I'm familiar with too, similarities to classic Vans I wore as a kid growing up in Sacramento. All in all, it just made sense. Our shoe was made to be a blank canvas and that idea stayed cohesive all the way through our process.
The first thing that stuck out to me about your shoes is that each pair was hand-distressed. How important is it to add a personal touch like that to a collection, and how long did it take?
Buezo: We started Kids of Immigrants by thrifting and repurposing every single piece, so it was just going back to our roots. We wanted a shoe that was distressed, and we realized after seeing the first samples that getting the look we wanted would basically be impossible unless we did it ourselves. Weleh and I made the decision together, but he was the one grabbing the drill and the dremel so I'll let him take it from here.
Dennis: Like Daniel said, we just try to inject our story into our products. We wanted to hold true to the rawness of our aesthetic and approach to design, and we thought it was a great thing to have people understand we had a major, hands-on part in the physical creation of the product.
Did you follow an overarching template for the distressing, or customize each pair as you saw fit?
Dennis: We definitely had some areas we wanted to hit on every pair, but we wanted to leave some room for one-of-one customization too. We took it back to our roots. When we were pulling shirts from the thrift, we were hand-painting, 12, 24, 36 tees — small runs — and for us that goes back to our brand ethos, inspiring our community to just start something because they'll get better at it as they go.
Buezo: As far as the amount of time it took, it was honestly almost a week to finish. It's not just the distressing — we had to unpack and repack every single pair. Adding our toolbox, because every shoe comes with sandpaper and a paintbrush. It was a lot, but we stayed enthusiastic. [Weleh and I] were like "this is us, isn't it? Just working our fuckin asses off to deliver the product with an aesthetic that felt like Kids of Immigrants.
"We're all creative in some way, shape or form, and this is a way for us to initiate that participation and let people feel like they're part of our story."
I'd like to circle back to what you said about the sandpaper and the paintbrush. The color palette is very clean and monochromatic — is that to encourage individual customization?
Dennis: Exactly. It's a call to action for the Kids of Immigrants community, encouraging them to play a part. Coming from a background where I played a lot of basketball, I didn't see a lot of people being able to participate in conversations about art. I think when people don't believe they can create things it's because they've been programmed to think that way. This is our way of trying to deprogram that idea — we're all creative in some way, shape or form, and this is a way for us to initiate that participation and let people feel like they're part of our story.
What are your personal histories with Vans? The brand lineage is so different from the East Coast to the West Coast, so I'd be interested to hear if you guys grew up wearing Vans or came to them later in life.
Buezo: I'm from Brooklyn, so I didn't really grow up wearing them. I started wearing Vans when I moved to California, mostly because of Weleh because he'd make them look so cool. That was a big reference point for him as far as what culture is — and it was different for me, because growing up on my block in Brooklyn people were mostly wearing Air Force 1s.
However, Vans has always been a reference point for us. It's culture, having fun, staying true to your core and story. Vans may become trendy, but they always maintain a strong brand identity.
Dennis: Being from Northern California, Vans was always a big thing growing up for me. Although I was a basketball player, I had a lot of friends who skated and did art so I was always around [Vans]. Once I got into school and stopped playing basketball, I actually worked for Vans at the Santa Rosa Mall (laughs). It's really cool — when I was working there I'd sell a lot of the classic silhouettes we were talking about. Now, with the Lowland CC being a new shoe and us being a young company it just feels right. Going from selling Vans at a retail store to collaborating with the brand is wild.
"I think there's a shift in consciousness about who you shop with, who you buy from."
There's a charitable aspect to the collection with the A New Way of Life donation. How important is it for you to work that into your projects?
Buezo: For us, it's always been about product with a purpose. It's cool to create something that looks good, but what does it mean? Even before COVID-19 and the current social climate, that's always been a part of our ethos.
As tough as this time is for the world, there's a silver lining. The veil is off. People are seeing how things really work and want to be more purposeful. I think there's a shift in consciousness about who you shop with, who you buy from. As a consumer you want to spend money with someone you share values and principles with. We've aimed to be conscious with Kids of Immigrants since day one.
This is our biggest moment as a brand thus far, and it's only right for us to continue our tradition of including our community and deserving organizations in everything we do. When we can impact people's lives, show that we care and be a voice for the people who feel unheard, that really brings our brand full circle and provides the most meaningful moments for us.
What was the biggest lesson you learned over the course of creating the shoes?
Buezo: We've been doing Kids of Immigrants for four years, and we learned that we're just getting started. Working with a company like Vans was a totally new, amazing experience, and we learned the importance of sticking to our guns through sampling, collaborative design and more.
Dennis: I was super proud to see how many people around me are good at improvisation. That, and showing our vulnerability — when things got hard and we didn't know what the next day would bring, the whole team still showed up with a smile. To see everyone show up with joy and love, working hard was really amazing.
Buezo: When sh*t hit the fan this summer, we were able to thug it out because we've always been all about community and empowerment, which is what the world needs right now. Being able to provide that in some sense is so beautiful, and the shoe comes second to it. We did this for our families, and to empower kids. I'm a kid from Brooklyn with no formal design experience — my background is in social work. Everyone back home in my hood is so proud of us, and that's all that matters to me. It's an honor and a pleasure to talk to someone from HYPEBEAST.
Finally, what single word would you choose to describe your shoes?
Buezo: Vulnerability. We're open, transparent. Kids growing up nowadays, they look at Instagram and see people with lots of followers, all the "cool" people hanging out together. It's too far out. We want to keep it real — I want our story to be relevant to the everyday kid in the hood, the kid of immigrants who feels like there's a system working against them. I was in and out of the criminal justice system as a teenager myself, so I specifically want those kids to know they can do whatever they set their minds to. I want to empower them, and if our shoe can do that it's really complete.
Dennis: Vulnerability for me too, and a call to action for people to be ok with their own vulnerability. A lot of designers seem to put their personal characteristics to the side to fit a formula or narrative that "works" in the market. We want to encourage people to look at themselves for inspiration. Me coming from a design background, I understand the realm of academics and how you approach design from an academic perspective. However, I've always been interested in how you tell a personal story through design — and we try to bring that to the table by speaking from our own experiences.
That's what design is to me: showing your perspective through a certain medium. That's why we left the shoes blank, so the wearer can tell their story and play a part. You might feel like your design is personal, but we're all humans at the end of the day, so your most personal troubles or stories are probably the best way for people to connect with you.
Click here to view full gallery at HYPEBEAST