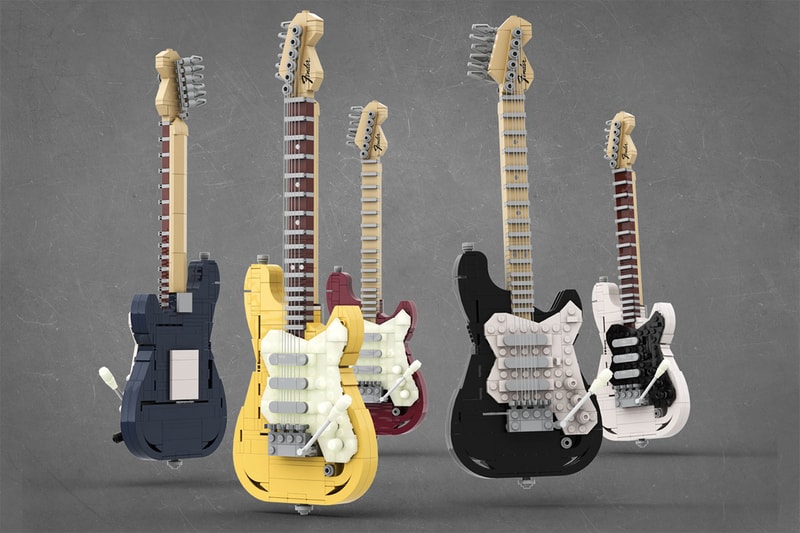 LEGO IDEAS will officially be producing a Fender Stratocaster set as the winner of the "Music to Our Ears" contest.
Designed by user TOMOELL, the Legendary Stratocaster set utilizes more than 600 LEGO bricks — 335 pieces for the guitar, 287 pieces for the amplifier and 54 pieces for the stand. The designer crafted the guitar in hues of mustard, black, white, red and dark blue, although the official color LEGO will use has not been confirmed as of writing.
"During school I tried to work and I spent all the saved money on the electric guitar, unfortunately only an imitation of this. In the end I started to devote more time to percussion instruments, but the original Fender stratocaster is a big dream still today and this instrument was for me a gateway to the world of music, it would be great to have it in the form of lego bricks," TOMOELL wrote with his idea.
LEGO Ideas Design Manager Sam Johnson added, "Everyone has seen the Fender Stratocaster guitar, it's super famous and we think it's going to be exciting to bring this to life using LEGO bricks." He continued, "Music is a relatively new place for LEGO to play in so we're really excited to see how we can execute this."
Take a look at TOMOELL's design above and stay tuned for official images and a release date.
Elsewhere in design, take a look at this video of people ziplining into Godzilla's mouth at the Nijigen no Mori park in Japan.
Click here to view full gallery at HYPEBEAST