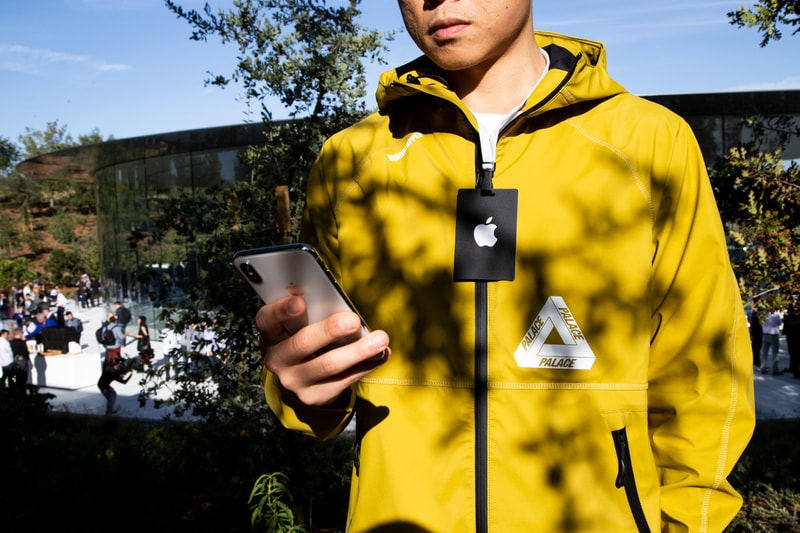 10:44:54 — A12 Bionic chip found inside these devices. 7 nanometer chip, first in the industry.
10:43:35 — FaceID being discussed now. Faster algorithms, faster version of the secure enclave.
10:43:01 — Stereo sound, wider stereo sound.
10:41:45 — iPhone XS Max announced.
10:41:05 — 5.8″ and 6.5″ SuperRetina displays. Same size as the 6 size.
10:39:04. Gold, silver, space gray. IP68 strengthened water protection.
10:38:08 — iPhone XS (Ten S) announced.
10:35:42 — iPhone next.
10:33:00 — $279 for Series 3, starting $299 for Series 4, $399 for the high end model. Friday order, September 21 arriving at stores. WatchOS 5 September 17.
10:32:01 — Universal watch bands! That's a nice idea. 3M reflective yarn Nike+ band. Hermes will continue this fall.
10:31:16 — Silver, gold, space gray. Stainless collection, polished black. Gold stainless, brand new finish.
10:28:15 — Apple Watch Series 4 tech-porn video. Jony Ive's soothing voice is now booming.
10:27:32 — Battery life is the same, with all the features added. "All-day".
10:26:33 — Privacy is emphasized, in the midst of the chaos other tech companies have been going through.
10:25:02 — FDA clearance.
10:23:00 — Ivor J. Benjamin, president of the American Heart Association.
10:21:30 — Detected through the digital crown..! Could this also mean more Touch ID-esque features?
10:20:35 — "Electrocardiogram" (ECG) feature receives a huge applause. First product over the counter directly to consumers. Pretty impressive they built this in actually.
10:19:20 — Low Heart Rate detection.
10:17:12 — "Fall detection" will further enhance the health aspect of Watch wearers. Auto call emergency services and your loved ones.
10:14:45 — Black ceramic.!
10:12:14 — Having contacts as your complications is kinda cool, but not the most attractive look with your friends' faces on your watch face like that.
10:11:29 — Thinner, larger screen. More complications (8).
10:09:11 — Apple Watch Series 4 announced. "Everything about it has been redesigned."
10:06:42 — "Two devices" being announced. Apple Watch first.
10:05:25 — 2 billion iOS devices.
10:03:00 — Tim Cook graces the stage with his "clicker." Rocking Nike's? Standard recap of the Apple achievements.
10:00:01 — The show has begun, right on schedule. Mission Impossible-style intro video of Apple Park is actually produced quite well..
09:46:39 — We're getting our seats now. Steve Jobs theater is buzzing right now, and there's a sea of Macbook Apples glowing as media is swarming for the best view.
---
Apple is ready to announce its latest line of products, with much of the anticipation being placed on the successor to last year's iPhone X and iPhone 8/8 Plus smartphones.
Today, thousands of guests from media, tech and design circles are gathered here at Apple Park's Steve Jobs Theater to witness the next iteration of mobile phone from the recently-declared trillion dollar company. The rumor mill has already spilled the guts on what could potentially known as the iPhone XS and iPhone XS Max. If history serves us right, the update to the X will provide a significant leap in technological efficiency and software/tech upgrades rather than a radically new design. Speculation states the camera will see a large investment of the XS's marketing, in both 5.8-inch and 6.5-inch iterations respectively.
Alongside the X upgrade, the public is hearing about a "budget" model that's being coined as the XR — a model shaped very similarly to the current iPhone X with the exclusion of the OLED display. The specs are unannounced as of yet, but is expected to be similar more to the current iPhone X's speed and capabilities while the XS will adopt the higher specifications.
Accessory-wise, there's also talk about an updated Apple Watch, expected to be called the Apple Watch Series 4. A leaked image has revealed a larger screen, revamped chassis style, modified look for the digital crown, and advanced mic hardware to perhaps allow for a more integrated "Hey Siri" experience with the watch.
We'll be updating this post while live on the ground at the Steve Jobs Theater as the announcements are being made. Stay tuned and be sure to also visit our Instagram page for more coverage.
Click here to view full gallery at HYPEBEAST