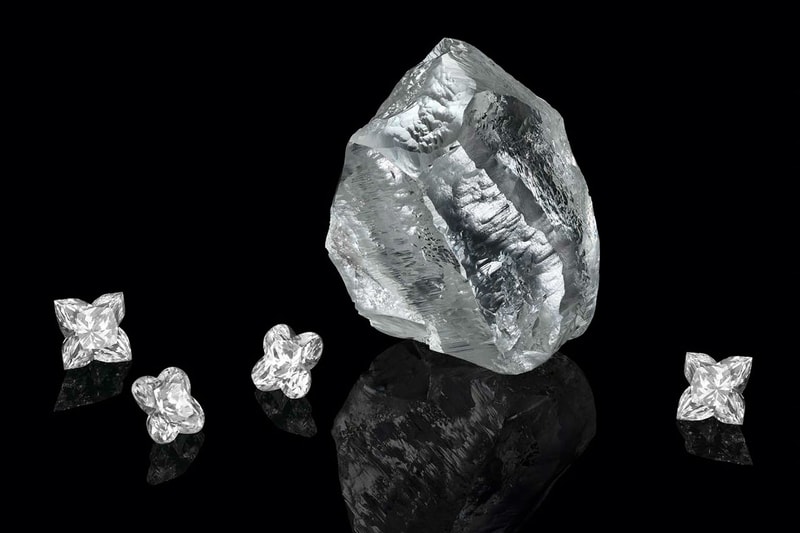 After snapping up the world's second-largest diamond, Sewelô, in early 2020, Louis Vuitton has added yet another impressive gem to its coffers. The luxury house, in partnership with HB Antwerp and Lucara Diamond Corp., has announced its acquisition of "Sethunya," a weighty 549-carat diamond discovered in Botswana's Karowe mine.
Even to the untrained eye, Sethunya — "flower" in Setswana, a nod to the LV monogram — is a gorgeous specimen; its raw shape belies a stunningly pure, white body ideal for cutting beautiful polished stones. Louis Vuitton plans to do exactly that, partnering with the artisans at HB Antwerp to offer bespoke diamond cuttings to clients seeking a made-to-order creation.
HB Antwerp and Lucara Diamond Corp. both promise complete transparency and ethicality in the sourcing process — a particularly salient subject when discussing precious stones — and estimate Sethunya to be between 1-2 billion years old. Other diamonds discovered at Karowe include the 1758-carat Sewelô and 1109-carat Lesedi La Rona, owned by Graff.
As Louis Vuitton expands its diamond selection, the house cements its partnership with Tiffany & Co.
Click here to view full gallery at HYPEBEAST