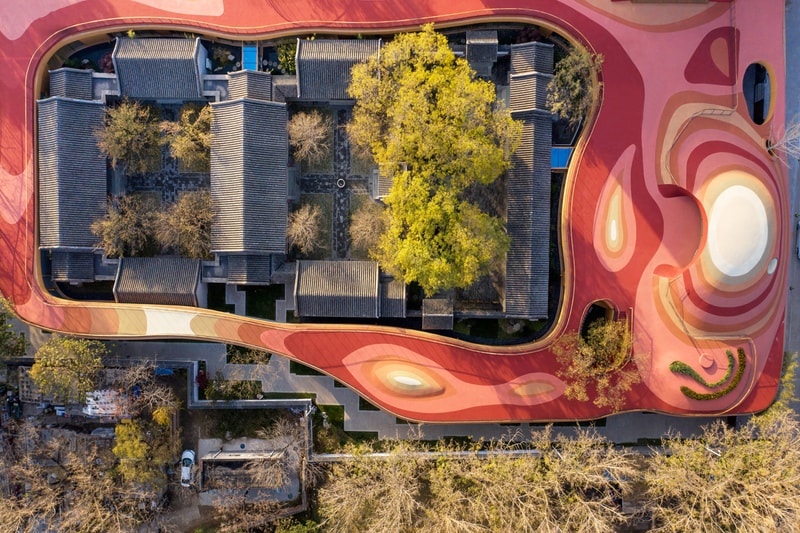 MAD Architects is often driven to tinker with the space between the natural and the inorganic, exploring the roots of heritage and residential design through its builds. The firm's latest creation upholds that ideology, transforming an 18th century Siheyuan courtyard in Beijing into a refreshed space for kids, dubbed the "YueCheng Courtyard Kindergarten."
Three years in the making, the locale was finished at the end of 2019 and sits next to a senior citizens' apartment, reflecting this old/young balance in the juxtaposition of MAD's sweeping, three-dimensional elevations against the remnants of the original structure. A surreal topographical landscape wraps the kindergarten building, inviting children to run, play and explore.
When it's time for school, they may retire through a tree-lined staircase down to the light-filled structure that sits a little below its shapely exterior. Inside, warm wood tones inform spacious multi-purpose nooks that can shift from theaters to event spaces to classrooms, separated by curved walls for extra lilt and an emphasis on "borderless" learning.
"A kindergarten doesn't always have to offer complex hardware or fixtures, but it must always make kids feel freedom and love – something that leads them to endless possibilities," said Ma Yansong, MAD Architects founder, in a statement. "Old Beijing has many 'cracks' — tunnels, roofs, courtyards, etc. The courtyards, in particular, reflect an oriental view of nature. Here, nature becomes the main subject, and the architecture instead revolves around it. In the courtyard there is nature, the world, and human life, acting together to form the core of the architecture."
For more elegant architecture, view MUJI's prefab residence in Yamaguchi, Japan.
Click here to view full gallery at HYPEBEAST