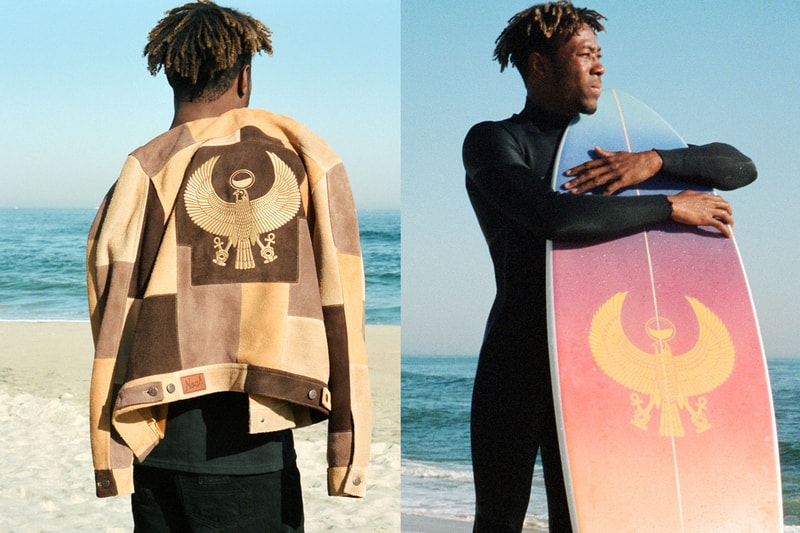 NOAH continues its string of strong collaborations with another homage to one of the brand's musical inspirations. This time, the New York-based brand is honoring the legacy of legendary Chicago troubadours Earth, Wind & Fire, a band with a career that spans innovations in genres like soul, funk, disco, R&B and even psychedelic rock.
For the uninitiated, "September" is likely the most recognizable EW&F track, but other world-conquering hits include disco smash "Let's Groove, silky ballad "After The Love Has Gone" and the snappy funk of "Getaway." The band's name is derived from Sagittarius, band leader and founder Maurice White's astrological sign, drawing from the power of all earthly elements except water. Considering NOAH's deep-seated love for the ocean, it seems only right that the collaboration unites the quartet of elements — earth, wind, fire and water — with a surf-friendly campaign and collection.
Earth, Wind & Fire's insignia graces a selection of hoodies, shirts and a buttery soft suede trucker jacket, the latter channeling earth tones across its patchworked surface. A leather cap makes an even stronger impression but the collection really hinges on a branded surfboard, an ideal realization of the collection's elemental influence.
The Earth, Wind & Fire collection launches November 19 on NOAH's website and at its New York, Tokyo and Osaka flagships, plus Dover Street Market's London and LA stores.
Dover Street Market NY, meanwhile, recently introduced a clothing collection with charitable intent.
Click here to view full gallery at HYPEBEAST