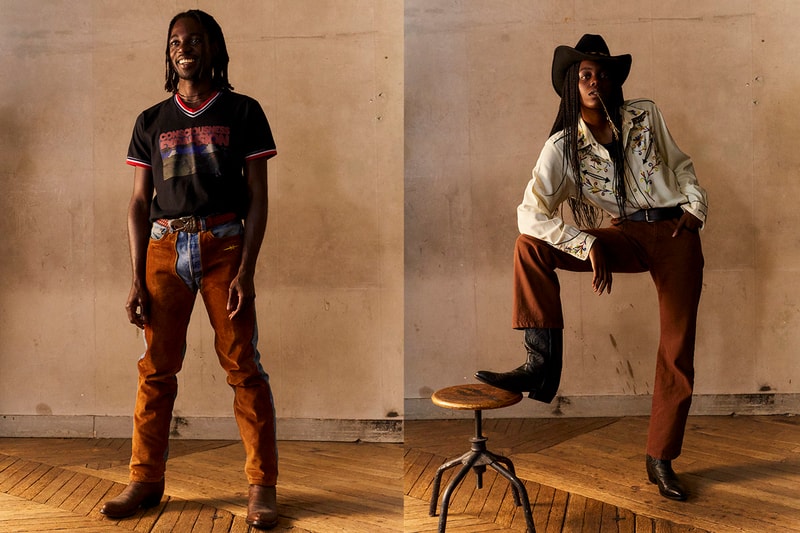 Spencer Phipps' eponymous label PHIPPS has called upon forest conservation, cowboy aesthetics, and outer space for previous collections, so the brand is no stranger to delivering something heavily referential and current. For its Spring/Summer 2021 collection "Spirit of Freedom," this is exactly the case, once more tapping vintage Western USA design tropes all while commenting on the current state of our world.
The brand says it's been "Peering through the unforgiving lens of social and political turmoil that has marked the year that was." As a result, the SS21 collection comments on the good, the bad, and the ugly aspects of the American dream, delivering garments that are indebted to the Wild West but also to sociopolitical aspects of life — T-shirts are adorned with the American flag, but are joined with the phrases "This land is your land," while traditional iconography such as wolves, eagles, desert landscapes, camouflage and more find themselves throughout, adorning looks that tap the '50s, '60s, and '70s.
Despite the visual references being seemingly red-blooded — for example, there's an all-over printed Harley-Davidson shirt — the silhouettes and overall looks are inherently camp and cowboy-ish. A fringed black suede Western jacket is oversized and exaggerated, giving it a floaty feel, while tailoring is made more casual with the use of shorts, sweatpants, or baggy trousers.
One of the core pieces in the collection is PHIPPS' denim jeans that are overlayed with a suede panel, giving off the idea of chaps. A ruffled shirt with shimmery arms, and a Western-style shirt complete with floral embroidery, round out this season's best selections.
In honor of this collection, PHIPPS has produced a Spaghetti Western film that not only shows off the collection, but uses a cast to help bring the characteristics of each piece to life. The short film is described to be "Following the plight of a man in search of his wayward brother, a series of twists and turns of old Hollywood proportions tests his courage, as he encounters strange and unusual characters along the way to their cataclysmic reunion and his quest for enlightenment." You can watch this above, where you shall also find the PHIPPS SS21 "Spirit of Freedom" lookbook.
For more well-referenced SS21 collections, check out the latest from Martin Asbjørn.
Click here to view full gallery at HYPEBEAST