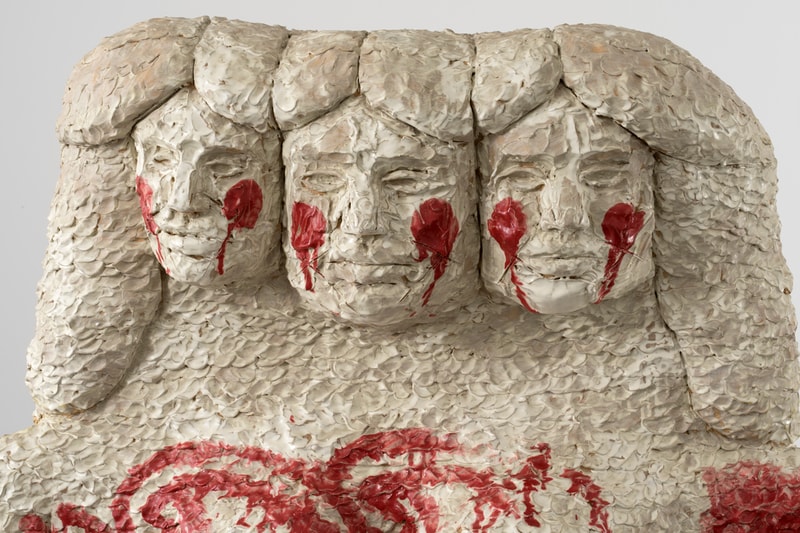 Raven Halfmoon is a painter and sculptor from the Caddo Nation tribe based in Oklahoma. In her practice, Halfmoon explores themes of identity while subverting the framework behind the romanticized Native American stereotype. She is currently the focus of a solo exhibition at New York City's Ross + Kramer Gallery.
Entitled "From Okla Homma to Manahatta," the presentation features life-sized and large-scale ceramic sculptures of human figures and animals that pay homage to her ancestors. For a contemporary twist, the artist incorporates painterly impositions in the form of graffiti tags and unruly scrawlings that evoke the "multifaceted nature of identity," as per a description by the gallery.
"I create work that is large and powerful. I build sculptures that demand to be heard and experienced. My artwork exists to break the mold of the romanticized Native American stereotype and to simply say: We are still here and we are powerful," said Halfmoon. "Each piece is a reflection of my understanding and interpretation of Caddo culture and the fight to maintain a place for it in today's world."
Get a closer look at select works from the exhibition in the slideshow above. "From Okla Homma to Manahatta" is on view through February 6, visit Ross + Kramer Gallery's website to learn more.
Elsewhere in art, Padre Gallery is showcasing figurative paintings by the famed Georgian artist and architect, Zurab Tsereteli.
Ross + Kramer Gallery
515 W 27th St.
New York, NY 10065
Click here to view full gallery at HYPEBEAST