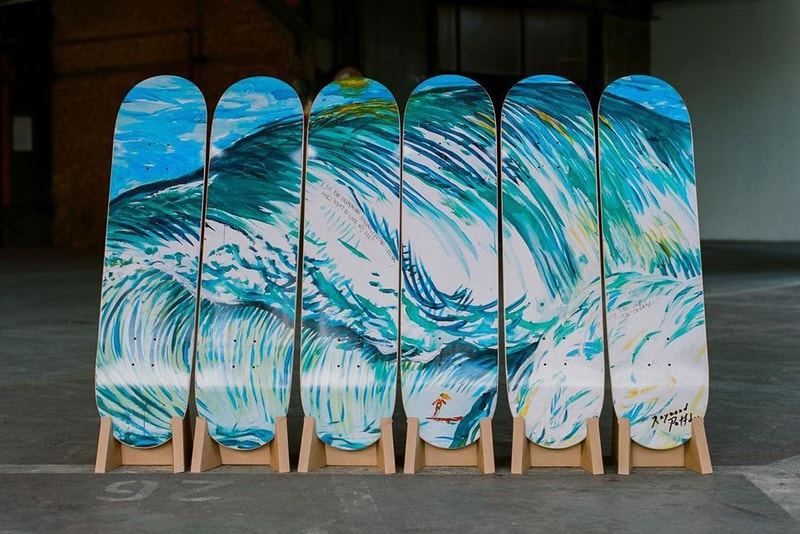 American artist Raymond Pettibon and The Skateroom have teamed up for a second time to create a six-deck set adorned with Pettibon's No Title (I see the…) painting, all proceeds from which will benefit the Skateistan skateboarding school in Bamyan, Afghanistan. Following up a June 2020 collaboration that helped raise funds for the aforementioned skate school's launch, this sizeable set of decks shows off Pettibon's love of the ocean while interpolating surf and skate in seamless fashion.
Pettibon cut his teeth designing album covers for Black Flag — his brother's band — the Foo Fighters and Sonic Youth, but surfing has long been a main theme of his work even though he does not directly participate. Spread across all six decks, No Title (I see the…) showcases the power of nature, with a lone surfer present on the bottom of the fourth deck battling a massive blue wave that sweeps across the entire assemblage. This powerful swell was originally inspired by Katsushika Hokusai's famous wave paintings, and aims to show the fearsome power of nature while displaying the bravery of thrill-seeking surfers.
Raymond Pettibon and The Skateroom's six-deck set is limited to 50 sets, each of which is hand-signed by the artist himself. It's priced at $3,000 USD and available on The Skateroom's webstore now. As mentioned above, all proceeds will go to Skatestan.
For more art news, check out Tom Sachs' new 68-page Tom Sachs: Work Catalogue, which shows off some of his most famous creations.
Click here to view full gallery at HYPEBEAST