"When one door closes, another opens" — or so the saying goes. If you fall for that sort of thing, you could say the universe opened a door for London-based designer Rejina Pyo just as the door closed on Phoebe Philo's celebrated tenure at Celine. In terms of their careers, they're generations apart: Philo exited the French fashion house at the height of her time there, while Pyo was just beginning to reveal the true extent of hers. But their 'woman' has similar priorities, seeking effortlessly stylish, often minimal, and always unfussy clothes in quality fabrics and with clever details that can be worn day in, day out, year after year. It's a big comparison, but one that has been made several times already by both stylists and journalists.
Pyo's meteoric rise to 'editors' favorite' status over the past two years has all the makings of a fashion fairytale. Not from rags to riches, but from relative obscurity to Instagram stardom, critical acclaim, and retail success — seemingly overnight. It was her spring 2017 collection, shown at a small and private event during New York Fashion Week, that first captured the industry's attention. Instead of a formal presentation, Pyo hosted drinks at Maryam Nassir Zadeh's downtown Manhattan store with non-models (artists, friends, and a jazz singer) wearing the collection. Pyo didn't know anyone in New York, so her friend, stylist Kate Foley, invited people, as did Zadeh. "It was very spontaneous," Pyo tells Refinery29. "Just a few people came; it wasn't massive."
The numbers, however, didn't quite matter as much as the names; the guest list included Man Repeller's Leandra Medine and fashion buyer Clara Cornet. "We took pictures and it kind of went viral on Instagram," Pyo says, still sounding a little surprised two years on. But that isn't the whole story, as she's eager to explain. "Almost everyone thinks that someone's success is overnight," she says, noting that people thought the same about Roksanda Ilincic in 2011 when Pyo was hired as the brand's first-ever assistant designer. (Roksanda had actually been working on her brand for a decade before taking Pyo on.) The New York show was a pivotal moment in Pyo's career, but she too had spent over a decade getting to that point.
Born in Seoul, South Korea, Pyo had creativity in her blood. Her mother worked in fashion in her youth before moving into interior design; she later became a painter and gallery curator. Pyo attended art school in Seoul and started working as a women's designer at a large department store brand. "It was for the national Korean market, not international brands," she says. It wasn't especially creative, she adds, with most inspiration taken from European runway collections. "I was really curious about how directional they were and how individual each brand was. [I knew] I'd love to be part of this frontier, rather than a follower."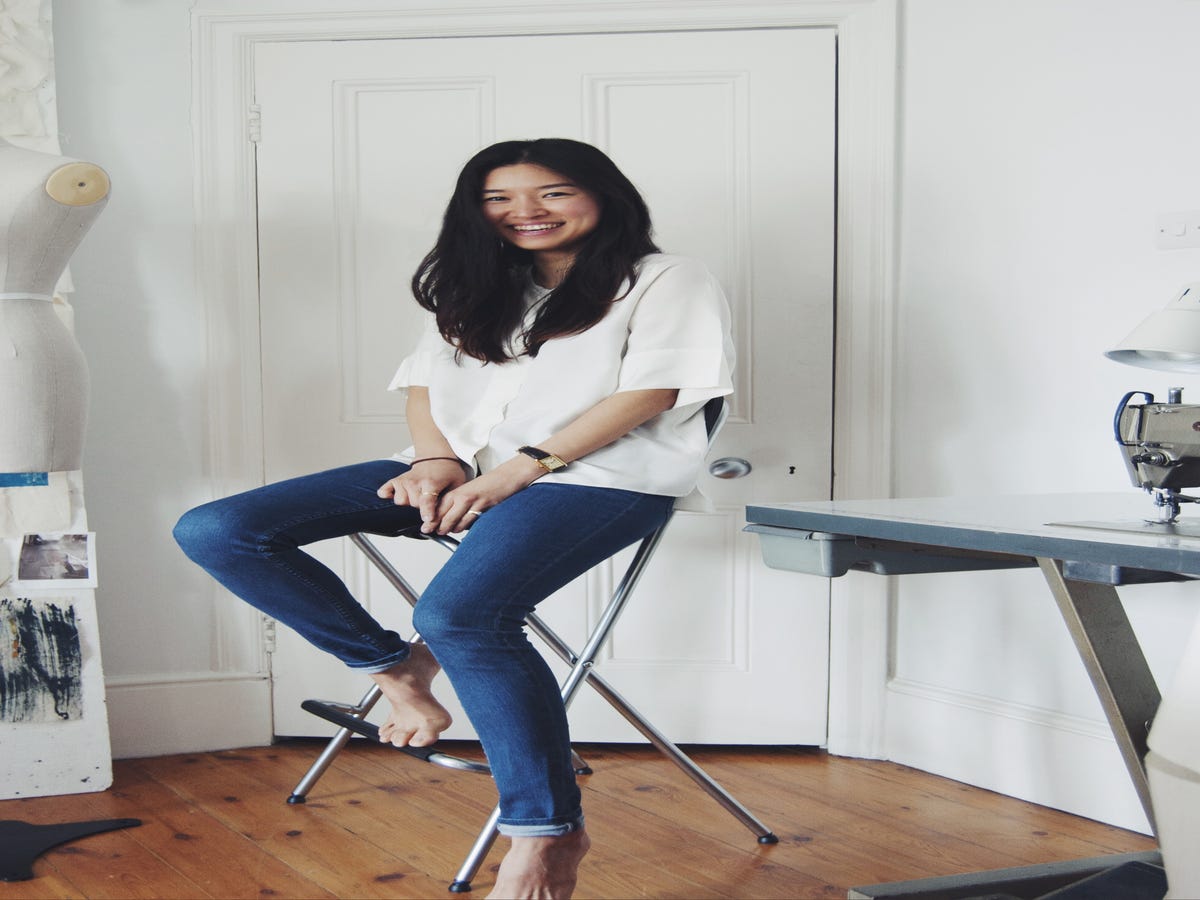 Pyo read about Central Saint Martins in magazines ("It seemed like all the fashion designers studied there"), so she knew she wanted to apply. In 2008, at 25, she was accepted into a one-year graduate diploma course. Her parents expected her to return to Seoul after the year, but for Pyo, it was just preparation; her ultimate goal was to get into the world-renowned masters fashion course. "I need to do this masters," she told her parents. "If I don't do it, it will be really stupid." They asked for how long, and she told them another year. "[But then] I met my husband and I never went back," she says of partner Jordan Bourke, a chef and author (who Pyo later collaborated with on a book, Our Korean Kitchen).
In being accepted into the MA, Pyo had achieved the goal she once only dreamed of, but — as many ex-students will tell you — nothing could have prepared her for professor Louise Wilson. "Coming from Korea, and not having perfect English, I was scared to do my MA with [her]," Pyo says of the late, legendary course director, who was equally feared and revered by her students. "She would say first years' work is disgusting and makes her eyes bleed. It came as a huge shock that someone could scream at you like that, throwing people's work, almost like a film or dream," she says. But she also remembers how much Wilson cared about the students and their work: "To get involved at that level, emotionally, it takes a lot of energy, and not many people would do that," she says. "What [Louise] said was really right and I think she was preparing us for the tough industry; if we can't stand her then there's no chance to survive anyway, so you might as well drop out or stop there [if you can't handle it]. I think you rarely meet anyone who can be that honest with you."
Wilson's advice helped Pyo think seriously about how she would approach her career, and the industry. Although staging a London Fashion Week show can seem the epitome of success for a new fashion graduate, Pyo was pragmatic about her chances. "It's something I always wanted to do from a very young age, but I didn't want it to be a one-off hit and then disappear," she says. Noting London's reputation for loud, avant-garde design, Pyo says she feared her more minimal perspective could easily get lost. Growing slowly was important to her. So while fellow course-mates Craig Green and Marta Marques and Paulo Almeida (of Marques'Almeida) launched their own labels, Pyo took the job with Roksanda Ilincic (a match made by the artist Julie Verhoeven, who tutored both women at CSM).
Sharing similar tastes with Illincic in terms of color, volume, and silhouette, Pyo says working there was easy. The most valuable experience was learning firsthand how an individual designer label operates, as opposed to the big corporation she had worked for in Seoul. Armed with this knowledge after one year, Pyo finally felt able to go it alone, launching Rejina Pyo, the label, in 2012. Initially, she showed her seasonal collections on a rail in the less well-known exhibition area at London Fashion Week. And she started working with a sales agent; one of the best in London, she says. "I was very happy to be picked up by them, and working with the experts on how international markets work, what kind of things they want," she adds. But while she valued their input, the advice could often be confusing.
"The [agent] would say, 'You should be more like this designer label, with this price range, beside these kind of luxury designers," Pyo explains, "but I felt like, I'm not into occasion dresses or embellishments or things that cost $2,000 that none of my friends can buy or are interested in!" Then the opposite advice came: she should make contemporary fashion. "There was a lot of advice, and everything is new to you: the industry, how it works, the buying season, how they merchandise things," she says. "You kind of have to fit into that box." It wasn't going anywhere, and eventually the agent suggested she admit defeat. "The agent said, 'Well Rejina, you're a very talented designer, you can maybe get a job in a big company and get a good salary, and have your family, have an easy life, and have your weekends' – because I was literally slaving away 24 hours, 365 days, but it was not paying me off anything," she says.
But Pyo wasn't ready to give up. "I felt like I hadn't given everything yet," she says, "I felt I had to give it a go, but properly, the way that I should be doing [it]. Not trying to tick boxes [for the sales agents], but just doing what I felt is right." There were colors she wanted to use that the agents had warned against, saying they were difficult to pair with skin and hair colors. Rejina stopped working with them, and resolved to give it one last shot. "I said to my husband, 'Right, okay, I just want to make a collection that I want to wear, that my friends want to wear'. Not really caring about [the color rules], just doing whatever I want, to give it a go and see what happens," Pyo says. At this point, she was four months pregnant with their son Luka, and there was a feeling of 'now or never'. In the spirit of trying new things, she moved the spring 2017 show from London to New York; and the rest, as we know, is history.
After Medine, Foley and Cornet wore the collection at the launch in New York (and posted about it on their social media), they requested to borrow garments to wear throughout fashion month. And the requests kept growing, with more and more influencers and street style stars asking to borrow clothes. "It's not like we paid them to wear it," Pyo says, noting how common that practice now is. "I think everyone was just genuinely excited to wear something that's easy to put on, and didn't require much effort," she says. "You could have dinner wearing it, it wasn't restricting you in any way; it's not too-crazy overdressing, but definitely something unique that draws people's attention; and the price wasn't crazy either," she adds, "which is lucky, because it can be difficult to do [influencer marketing] strategically." Importantly, after borrowing clothes, many of the women placed private orders to buy them.
The success of the spring 2017 collection gave Pyo the confidence to pursue her creative vision further, and her shows have become a hot ticket at fashion week. But now, she faces a different problem. It turns out that knowing exactly what stylish women want to wear (before even they do) can be a double edged sword; for all of her breakout success, Pyo has faced high street knockoffs to an extent rarely seen for an emerging designer. "When it first happened, it was one of the jackets that [the fast-fashion brand] were using in their campaign pictures, and it was exactly the same!" she says. Lawyers advised her to buy the copycat item, and they would write a cease and desist letter. "But the [high street store's] business model [is to] churn out new product every two weeks," Pyo explains, "so by the time you file a lawsuit, it's gone. They made their money and they don't sell the product anymore, so they can just say, 'Sorry, we took it off [sale]'."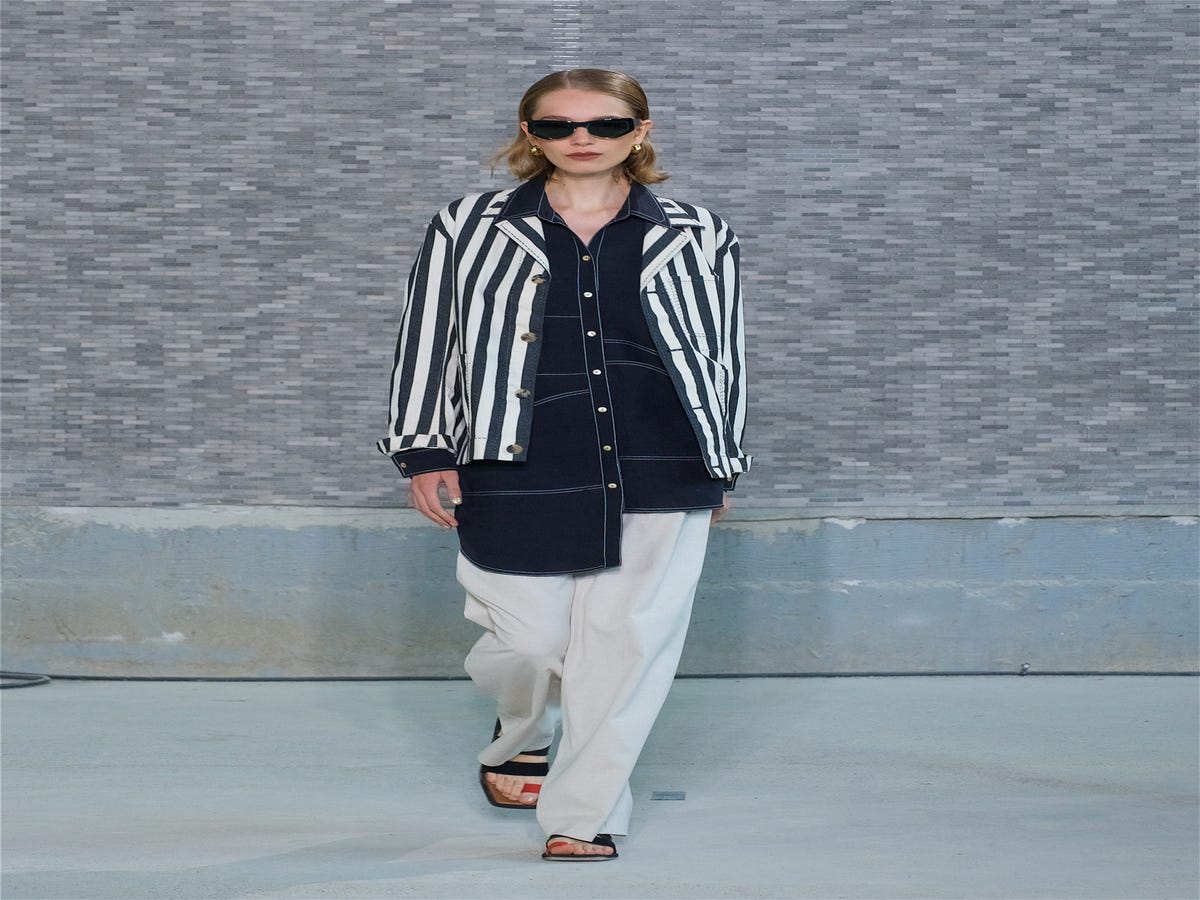 If you followed the trends during the heatwave this summer, you're likely to have seen these high street 'homages' to Pyo's catwalk looks. Her somewhat rustic but effortlessly chic linen summer dresses with rows of tortoiseshell buttons were ubiquitous; as were her balloon-sleeved shirts and dresses with contrast stitching; and also her smart but relaxed pink suit jacket and cropped trouser set, with enamel buttons in mismatched shapes and colors. At Pyo's studio in northeast London, the team have a (very active) WhatsApp group dedicated to posting such copycat designs. It's irritating, but she tries to see the positive: "It's good in one way, because it means we are relevant to lots of people," she says.
In hindsight, success can seem inevitable. But fashion is a notoriously difficult business to break into, especially if you want to run your own label. After struggling with the advice of sales agents, it's been encouraging for Pyo to see the value of her own design aesthetic. It's Louise Wilson she credits with preparing her to take that leap of faith to design her first collection. "What she said was, 'You should do what you do, but do it well and then there will be a place for it'," Pyo says. "It means you don't have to change yourself or try to be something else. Stick to your guns and people will find you."
Like what you see? How about some more R29 goodness, right here?
See The Entire Alexander Wang x Uniqlo Collection
Things We Learned From Grace Coddington & Nicolas Ghesquière's Met Talk
Balenciaga Is Getting Sued Over — Wait For It — Air Fresheners