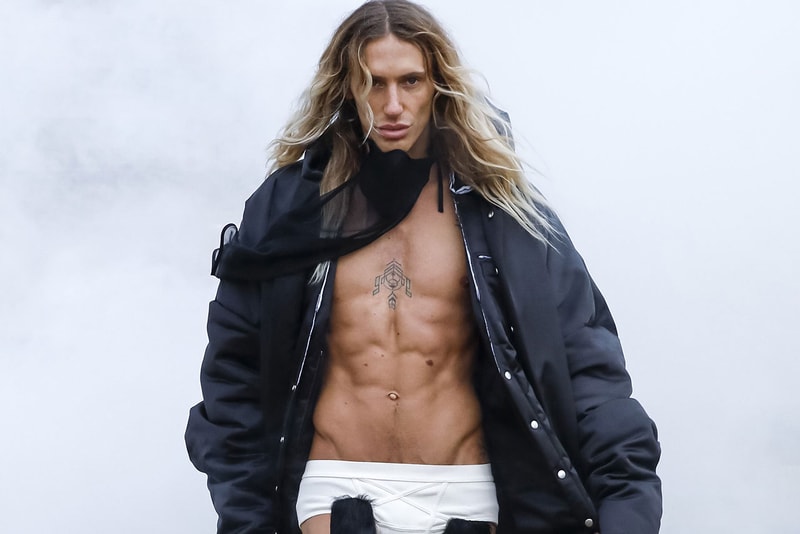 Almost immediately after revealing his surely controversial Converse collaboration, Rick Owens's team took to the streets of Venice to showcase the sneakers in the American designer's Fall/Winter 2021 collection. "GETHSEMANE," so named for "THE GARDEN JESUS PRAYED IN THE NIGHT BEFORE THE CRUCIFIXION," Owens explains in his signature all-caps, is an expansive assortment of primitive, warped silhouettes informed by body-hugging leather jackets, torn cashmere sweaters and pentagram-laden underwear.
Drawing inspiration from our "TENSE PERIOD IN HISTORY" and Owens' mocking perception of conventional masculinity, the offering is realized in monochrome shades, offset by hits of olive so as to emphasize the dramatic shapes. Bombers reach the thighs or lower, hoodies scrape the ground, leathers squeeze the chest and the sleeves of cropped puffer jackets reach the hands as trousers are rendered ultra-slim or big enough to fit multiple people. Hoods shield the face, as if protecting the wearer from contagion, mirroring the gloves that are built into some jackets.
Raw seams plague jackets and shorts, slashes revealing hands and inner layers. Thick duvet outerwear ensconces Owens' delicate organic cotton undergarments, styled with hairy cowskin boots. Recycled plastic informs the mid-layers and recycled cashmere knitwear is distorted around the body, optimistic upcycling motifs undermined by aggressive deconstruction; the sleeves of some coats have been torn off and left ragged in homage to our turbulent times.
Elsewhere during Fashion Month, we beheld seasonal collections from Louis Vuitton, JW Anderson and ERL.
Click here to view full gallery at HYPEBEAST