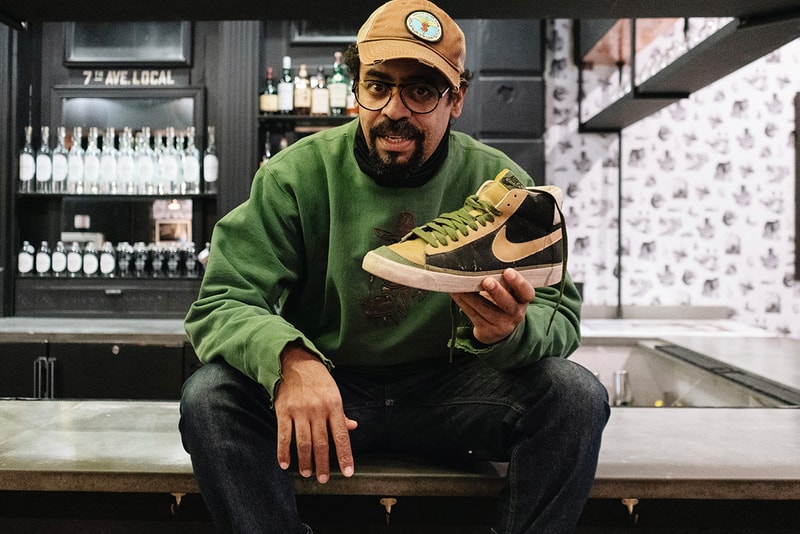 When HYPEBEAST contacted Dave Ortiz to participate in Sole Mates, Ortiz said he'd like to spotlight the Nike "Air Force Juan," a lighthearted jest centered around a pair of cowboy boot-inspired Air Force 1 customs that had been making the rounds on social media. Though he's a free-spirited individual who's quick with a laugh and a grin, Ortiz has a deep sneaker pedigree and a rich background in New York street culture. He was the first-ever employee of Zoo York, and later opened Dave's Quality Meat, the original "concept shop" that teamed with Nike Sportswear to produce the legendary Air Max 90 "Bacon" in 2004.
Besides his sneaker and streetwear resume, Ortiz is an avid Star Wars fan who has a special affinity for Boba Fett, a lifelong wearer of the Nike Blazer and a long time friend of legendary artist Futura. Ortiz's favored film franchise, sneaker and artist have some overlap as well: the Futura x Nike Blazer released in 2002 as part of the Swoosh's early '00s "Artist Series" that also featured designs from the likes of Halle Berry, Stash and much more. Since then it's been affectionately nicknamed the "Boba Fett" due to its color scheme, which is reminiscent of the bounty hunter's armor.
Though only 1,000 pairs were produced, Ortiz is still in possession of one. It's in remarkably good condition too, considering that it's been in his rotation for almost two decades — maybe because he only wears it when he's "feeling really good," as he tells us. Conversing with HYPEBEAST at his Our/New York Vodka distillery and bar in Manhattan's Flatiron district, Ortiz told us all about his history with the Blazer, what he loves about Star Wars, why he didn't pick his own shoes for his installment of Sole Mates and much more.
HYPEBEAST: What got you into sneakers?
Dave Ortiz: I got into sneakers the same way almost every kid in New York City did in the late '70s-early '80s: b-boys. B-boy footwear from brands like PUMA was a big style thing for lower to middle class kids, because you didn't have a lot of ways to make yourself stand out but you could with your sneakers.
So real classic stuff like the PUMA Suede with a pair of fat laces?
Oh, yeah. Suedes, Clydes, the like. My first pair of Clydes was blue and white. Less than a week after I'd gotten 'em, I was over at my friend Ricky Ramone's house, and we were playing hide and seek in his basement. He had a really junky basement, and when I went to hide behind a wall I accidentally stuck my left foot in an open bucket of brown paint. I went to my mom, and she was like "you're gonna have to wear those sneakers" [laughs]. We tried to wash them off — I even used paint thinner to try and get rid of the paint. It didn't work. My shoes were brown, blue and this weird white shade. I had to go to school with them on and of course I got made fun of. After that, I tried to dye them and that made them look even worse. It was terrible!
When did the Blazer enter the picture for you?
It was around 1978-79. I need a pair of gym shoes and I got a white pair with a black Swoosh at Modell's. They didn't have a box — they were zip tied together in one of those clearance bins. When you were shopping in the bins, you'd have to hold the shoes up, measure 'em with your eyes, make sure you weren't getting two lefts or two rights. That first pair was strictly about function: our gym teacher was very specific about us having white and black sneakers.
"My first memorable gym shoe was a Blazer, my first collaborative sneaker was a Blazer. It's been with me almost my entire life."
Let's jump ahead a bit and look at the late '90s-early'00s, the era when modern "sneaker culture" was starting to bubble. For the sake of our younger readers, can you tell us about what things were like back then?
I was working at Zoo York in the late '90s, and we knew something was starting to happen. Joe, my friend who owned Clientele [the influential shop that eventually became Flight Club] was going to Europe to get JD Sports-exclusive Air Force 1s, going to Tokyo to get shoes there. He'd bring these crazy pairs back and sell them in New York.
Eli Gesner [Zoo York founder] was already talking to Sandy Bodecker, even though the Zoo York x Nike SB Dunk Low wouldn't come out for a few more years. I was in conversations with Jesse Leyva [Nike designer] because my girlfriend at the time was friends with him, and that lead to the Zoo York x Nike Blazer Mid collection. I did the black, red and gold colorway and Eli did the gray, white and blue colorway. My first memorable gym shoe was a Blazer, my first collaborative sneaker was a Blazer It's been with me almost my entire life.
Did you think back to your childhood when you were doing that Blazer at Zoo York?
Absolutely. Jesse asked me what shoe I wanted to do, and we couldn't do a Dunk High or an Air Jordan, so the Blazer was the easy choice. It was a great skate shoe too because of its flat bottom. We started with the functional aspect, and then aimed to make it cool.
I'd like to ask about the pair you specifically selected for Sole Mates, the Futura x Nike Blazer High "Boba Fett." What about it makes it stick out — your affection for Star Wars, your friendship with Futura?
A little bit of both. Futura is just so far ahead of the curve, and when I heard about how these Blazers were based off Boba Fett I was like "oh my god, I have to have a pair." I'm a huge Boba Fett fan. Think about the phenomenon of Boba Fett. He comes into The Empire Strikes Back in 1980. You see him for roughly six minutes. He has seven lines, 27 words in total. That's it. Nevertheless, he has this mystique around him. He's this dope-ass character that's on par with Darth Vader in terms of coolness but you don't know what the f*ck he is. He's that quiet, mysterious dude that you're like "will he punch me in my face?" So between, Futura and Boba, I was super psyched on the shoe.
Let's talk about your friend Futura. What do you think makes him such a great collaborator?
Well Futura is one of the most influential artists alive right now, and has always been impactful for me. I grew up in Brooklyn and Futura is from Uptown [Manhattan], but there was this urban legend around this train he did [Futura's seminal 'Break' mural, 1980]. Everyone knew about that train, and most graffiti writers would have their street number at the end of their name, but he did a year instead — which was unheard of at that time.
Then and now, he's been a guy that thinks outside of the box in his art and whatever else he does. He'll take something very simple, like this Blazer, and design it after a character with a mystique that made the world go f*cking batsh*t crazy. Apart from that, he's also just an awesome guy.
Are there any modern-day Blazers that catch your eye, or do you prefer the classics?
I'll be honest: I don't really follow shoes on a day-to-day basis like I used to. If I see a colorway I like, I'm like "oh, that's cool" and I'll probably pick it up, but I'm not looking for the fancy sh*t. White and black, black and white, the classics — that's what I usually go for.
"My Air Max 90 "Bacon" is fantastic of course, but this Blazer is really special to me — I only wear it twice a year."
We're almost 30 installments of Sole Mates deep, and you're the first person that hasn't picked their own shoe. What lead you to choose Futura's Blazer instead of your own Blazer or Air Max 90?
To put it simply, I really like this shoe. I love the shoes I designed, but I'm just not the type of guy to pick his own sh*t. Of course I could pick my shoes, but it's just like "what else do you like?" I want people to know what else I like, what else I wear. My Air Max 90 "Bacon" is fantastic of course, but this Blazer is really special to me — I only wear it twice a year. Sure they're a bit beat up from age but I still take care of them and put them back in the box after I'm done wearing them.
Twice a year, huh? Do you break 'em out for special occasions, or just days when you're feeling really good?
Days I'm feeling really good. I'll just get psyched and put 'em on. I usually wear them with camo pants — which I didn't today, but whatever — and get in to this cool Boba Fett mindset. I'm like a f*cking 10-year-old again [laughs].
In the best way possible.
Yeah, in the best way possible. See my bike [gestures to silver bicycle in the corner of the room]? I call it the Millenium Falcon, because it's the fastest f*cking hunk of junk in the galaxy. I made it look sh*tty on purpose, just like the ship it's named after. The combo of that bike and these Blazers always makes for a great day.
Click here to view full gallery at HYPEBEAST