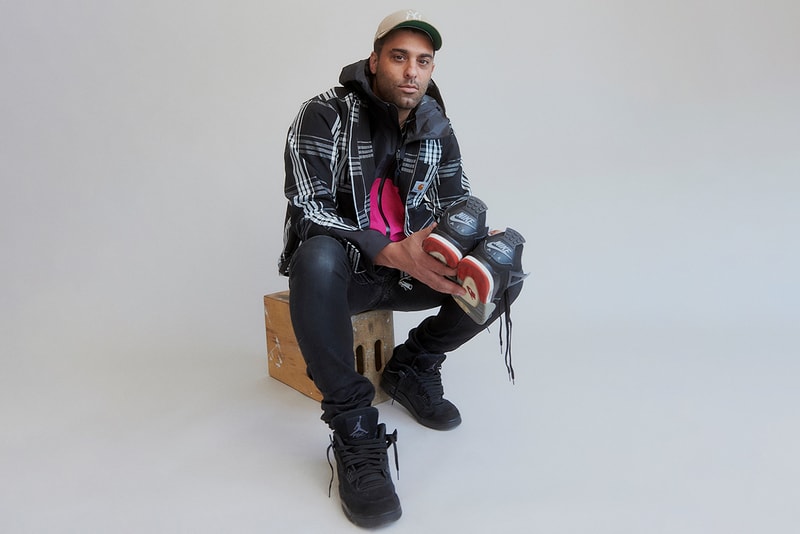 To Joe La Puma, sneakers are a connecting thread for people from all walks of life. Once a teenager in Long Island, New York, whose first job was at Finish Line, La Puma is now ensconced in sneaker culture as the host of Sneaker Shopping and Complex's Senior Vice President of Content Strategy. Over the course of his career, he has looked at the world of footwear through many different lenses and saw a common denominator: the feeling someone gets from a fresh pair, no matter if they're a teenager who hit the mall for a pair of Nike Air Force 1s or is an A-list celebrity who's prepared to put down four — even five — figures on Sneaker Shopping.
La Puma understands this feeling fully. After all, it's part of the reason he's been in the world of footwear for so long — along with his genuine passion for storytelling and exploring the central role of sneakers in the ever-evolving world of pop culture. His personal favorite silhouette? Jordan Brand's Air Jordan 4, a shoe that he says has "hit literally every touchpoint in sneaker culture that we see now."
Ahead of Sneaker Shopping's Season 12 finale, Joe La Puma talked to HYPEBEAST about his earliest footwear memories, what he learned from working retail, why he thinks the Air Jordan 4 can go toe-to-toe with other iconic silhouettes like the Air Jordan 3, some of the most memorable moments from Sneaker Shopping and much more.
HYPEBEAST: What got you into sneakers?
Joe La Puma: From a young age, sneakers were the article of clothing that I'd pick out first when putting an outfit together. Obviously you don't have the same level of discernment as a kid that you do as an adult, but I'd always try to dress from the feet up. My parents always got me one good pair a year. The first shoe I specifically recall getting was the white Air Jordan 6 "Infrared" in 1991. Later, I got shoes like the Nike Air Penny 1 and the Zoom Flight 95. I wore all those pairs into the ground, and I think that [doing that] foreshadowed my sneaker-wearing habit of today, wearing beat-up shoes. I know intentionally wearing beat-up sneakers may seem crazy to a lot of people, but to me several models look better that way.
Agreed.
It points back to my childhood. Yes, I'd get that one amazing sneaker a year — but I had to make it last. I'd wear it to track meets, wear it to soccer practice. Then when I got older and got my first job at Finish Line as a 16 year-old, sneakers were the easy choice for me.
Do you remember what the process of deciding on that one sneaker per year was? Were you obsessively thumbing through Eastbay catalogs, or was it more of an "on sight" thing?
Eastbay was definitely big. It was so wild to see all these amazing sneakers in one place that you could just order. Even seeing something like an Air Jordan 11 "Bred" in Eastbay is such a foreign concept now, because with how fast sneakers sell out online these days a shoe like that wouldn't even make it into a catalog. Apart from those catalogs, NBA on-court sneakers were a big thing too. We're prone to look at pre-game tunnel photos today, but back then it was more about how the players were wearing their sneakers on court. Guys like Penny Hardaway and Jason Kidd made their shoes look so cool.
Can you tell me about the perspective on sneakers you got from working at Finish Line? As a fellow former Finish Line employee, I feel like you learn a lot being in the retail "trenches."
I started [at Finish Line] as soon as I was old enough to get a job. This is right when Finish Line was beginning to expand, and in my hometown of Bay Shore, New York, people were like "this new sneaker store is opening up in the South Shore Mall, and it's not Foot Locker or Athlete's Foot." It was the easiest "interview" ever: I showed up, showed my ID, wrote my name on a piece of paper and was hired. It must have been a rush opening.
The first shoe I remember from there is the Air Zoom Citizen, a grail of mine that still hasn't re-released. I got' em right here though [turns around and grabs a box from a stack behind him]. I actually just bought an original pair of GOAT last week. I wore that shoe my first day at Finish Line because it kind of matched our uniforms. Working there was a really great opportunity to be hands-on with some fantastic sneakers and see how people responded to them. When I started there, I didn't know that I wanted to be in sneakers for the rest of my life, but I was actually there right up until I got my first Complex internship.
Speaking of managers, I've heard you say that your manager at Finish Line was a big influence on you. Can you tell me more about that?
Yeah, Brione Schneider. He passed a few years ago, but he was one of the first guys to really put me on game. He wore Evisu jeans before JAY-Z did, always had something crazy on his feet and split most of his time between Brooklyn and Queens — one of those guys that always had his finger on the "pulse," so to speak. I actually met him when I was in high school and we hit it off right away.
I left to go to college at UConn, and he hit me up saying he'd been made store manager of my old spot in the South Shore Mall. I had never really thought about spending more time at Finish Line, but with him there it was an easy decision. He'd always key me in on clothing and sneakers, and taught me the ropes during many a Saturday morning Air Jordan release. I remember one time I came home from college wearing Polo Sport sneakers, and he was like "listen man: Polo is Polo, but those Polo Sport sneakers ain't it" [laughs]. He's a mentor that I'm very thankful I had, and was one of the most influential people in my life.
"[The Air Jordan 4] hit literally every touchpoint in sneaker culture that we see now and was at the center of all these different converging moments."
So when did the Air Jordan 4 enter the picture for you?
I actually came to the Air Jordan 4 a little later in life, though I was aware of it when it first released. I've always loved when the follow-up to something iconic stands on its own instead of in the shadow of its predecessor. Of course, the Air Jordan 4 came after the Air Jordan 3, which many people would say is the best shoe of all time. Even so, it still held its own weight.
Another thing I love about the AJ4 is that it was so ceremonious in pop culture, both on court and off court. From its debut at the 1989 NBA All-Star Game to Michael Jordan hitting "The Shot" over Craig Ehlo, the scene in Do The Right Thing where Buggin Out's Air Jordan 4 "White Cement" gets scuffed by a bike messenger and the commercials with Spike Lee as Mars Blackmon, it hit literally every touchpoint in sneaker culture that we see now and was at the center of all these different converging moments.
You mentioned to me that the Air Jordan 4 "Black Cat" is your personal favorite. Why?
The simple, cliché answer is that I just love wearing all black and think they look great on my feet. I also like wearing beat up shoes and the Air Jordan 4 "Black Cat" is a great pair to beat. Going a little deeper, another thing I really appreciate about the "Black Cat" is that we didn't see it re-release for so long. I mean, 14 years passed between when it debuted in 2006 and when it retroed in 2020! The Air Jordan 4 "Black Cement" might be an easy choice for my favorite shoe of all time, but that 14-year gap between "Black Cat" releases puts it over the top for me. What I would say, Ross, is that if I could only wear one shoe for the rest of my life it would be the "Black Cat."
What other Air Jordan 4s are up there for you?
Another one I really love is the Air Jordan 4 "Oreo." That and the Air Jordan 4 Rare Air "Black Laser." I remember the first time I saw the "Black Laser": I was interning at Complex in 2005, and the lifestyle editor Bradley Carbone was wearing them. It blew my mind, and I just was able to secure a pair recently — I wore 'em on the Roman Reigns episode of Sneaker Shopping.
Funny enough, I was with Lil Yachty a few weeks ago and we were talking about how many good Air Jordan 4 colorways there are, even more recent models like the Union x Air Jordan 4. Bit of a hot take: I'd mentioned the Air Jordan 3 earlier and even though the Air Jordan 3 "Black Cement" is one of my favorite shoes of all time, I honestly think there are more good Air Jordan 4s than Air Jordan 3s.
We talked about the perspective on sneakers that Finish Line gave you as a teenager. Now that you're an adult, how would you say your perspective has changed over 12 seasons of Sneaker Shopping?
Working at Finish Line and doing Sneaker Shopping are obviously very different things, but I've noticed an interesting common thread: how new sneakers make a person feel good, no matter if it's the kid coming into the mall to get sneakers for back to school or it's a celebrity who finally found a pair they've wanted since childhood and can now get thanks to these consignment shops. I love seeing that spark, seeing someone's face light up. The conversation may be different, but the feeling is the same. I've learned that every person has their own sneaker story, their own taste — and that sneakers are an entryway into someone's personality.
Regardless of parameters and means.
Right.
"We always let [Sneaker Shopping] guests walk around freely, and they see sneakers that bring back childhood memories. That connective tissue is really important and makes sure things don't get too materialistic."
Sneakers can be an incredibly materialistic pursuit, especially with how prices have skyrocketed in the past few wears. How important is it for you to make sure that these personal stories are spotlighted on the show, especially when guests are spending four, five figures on a single pair?
There's a few different sides to the stories, and I enjoy them all equally. On one hand, you have someone like Bryson Tiller who can pinpoint the exact times he wore the Air Yeezy 2 on stage and what that meant to him. On the other hand, you'll have an OG like Tony Hawk talking about skating in Air Jordan 1s as a kid, buying them because they were on sale and taping the collar up to make them more durable. Other examples would be Halsey and Michael B. Jordan, both of whom remembered coming to NYC from New Jersey to go to Flight Club. We always let the guests walk around freely, and they see sneakers that bring back childhood memories. That connective tissue is really important and makes sure things don't get too materialistic.
Everyone has their own story. Like you said, it's very important to dig in and find those stories so things don't get cluttered and people don't fawn over the same hyped sneakers that everyone wants nowadays. That's not to say hyped sneakers aren't great, of course [laughs].
What was your biggest surprise over the course of filming the show?
It's not really a surprise, but I always appreciate hearing people's memories with sneakers. We're consumed with the content in front of us every single day, but when celebrities pinpoint a very specific memory it's always refreshing to me. One that sticks out is Kevin Hart: he pretty much did a bit where he acted the part of a shoe salesman, which he was as a teenager, and ran through how he used to sell shoes. He "sold" me the Air Jordan 4 Pinnacle "Snakeskin," and I started laughing hysterically because it reminded me of how my friends and I would goof off at Finish Line.
"I've made great friendships through sneakers and have done some very cool things in my career, but internally I feel like that kid who just got his first good pair and couldn't be more excited to trade stories about it with his friends."
Why are sneakers important to you?
The feeling. No matter if you're a young kid or someone our age, if you're in the supermarket, the airport, wherever, and someone compliments your sneakers — that's a feeling you want to replicate. I'm very fortunate to be able to play a small part in sneaker culture. I've made great friendships through sneakers and have done some very cool things in my career, but internally I feel like that kid who just got his first good pair and couldn't be more excited to trade stories about it with his friends. Sneakers will always be very special to me.
Click here to view full gallery at HYPEBEAST