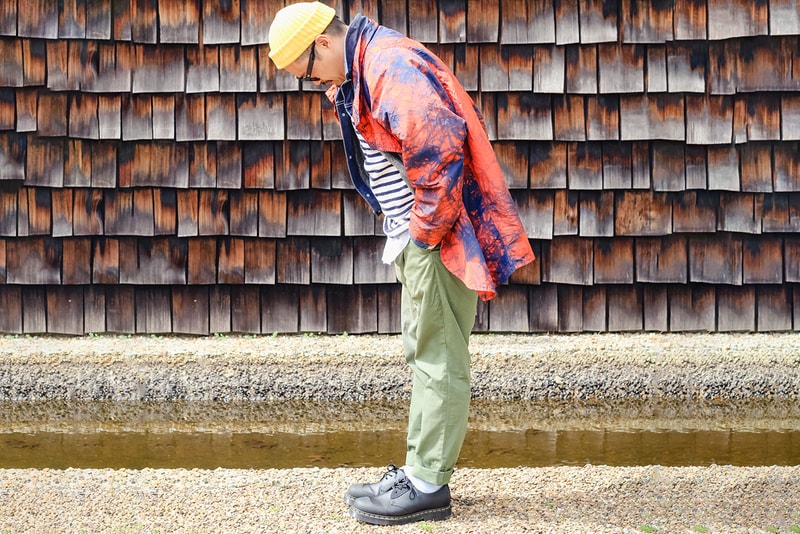 Not just anyone is allowed to rework an institutional classic such as Dr. Martens' 1461. Candidates are well thought out — vetted, almost — and need to be at the top of their game. Luckily for Oliver Mak's sneaker boutique Bodega, it ticks all the boxes.
Much like Bodega's profile (or should we say lack thereof, but more on that later) its take on the 1461 is understated, refined, and precise. The shoe is instantly recognizable but elevated, captivated by a hand-picked selection of premium materials such as pebbled leather, smooth suede, and a Tectuff toe cap. Together they're strong enough to make anyone's head turn: "Is that a Dr. Martens?" Yes, just not as you know it. 
That analogy defines Bodega. "Is that a sneaker shop or a bodega?" Well, if you have to ask, you're in the wrong place. "We're not trying to convince anybody. If you're looking for what we carry or us, you'll find us. It's not 'exclusive' like it is nowadays — it's not 'I'm cooler than you.'," Mak explains. That's Bodega's approach to everything it touches.
For more on its low-key path to success, how collaborations such as this come along, and more, keep on reading this week's installment of Sole Mates. 
HYPEBEAST: What got you into sneakers?
Oliver Mak: The dad joke would be my feet. The real answer would be: it's the perfect intersection of everything that's ever occurred in my life. Art, fashion, music, design, street culture, can all be traced or intersected into one point, and that is footwear, which ended up being streetwear culture, which ended up being high fashion. Now, it's ubiquitous with everything that is "trend fashion" in the year 2021. It took all of these counter-culture elements that I was very much raised by and put it into an object that was able to take us around the world a couple of times. 
When you're young and you can't afford anything but you're interested in style, this is where you start. It's the foundation of a gentlemen's closet. 
For you, where did you start?
My parents raised me in New Hampshire and then Chinatown (both Boston and New York), so street fashion had everything to do with counter-culture in the late '70s through to the '80s. It's ingrained in my brain. I remember very specifically Docs [Dr. Martens], being kicked in the mouth at an all-ages show at this punk rock club called the Rathskeller on Kenmore Square in Boston, it was the first time I'd ever been to a club — I was 14 — it was the first time I'd ever seen punk and hardcore and it was the first time someone who was crowd surfing put the heel of their boot into my face. 
That moment sealed it for me, I was in love with music from that point on.
Why is the intersection of music and footwear so important to you?
I always picture it as that symbol we have for recycling bins. Those three arrows chase each other. Fashion, music, art, are those three arrows. But I'm saying there are more arrows, there's counter-culture, there's design, and independent DIY, this giant Venn diagram of trusts and practices that we can all meet through. 
How did this Venn diagram play a part in your life, and more specifically, in the lead up to Bodega's foundation?
We saw a bunch of other contemporaries who were a mix of artists and vandals and poets, just creative people who are their own, making their way in the world without constraints. It was all encapsulated in streetwear as a culture in the early days. We wanted to do what our peers were doing. This was 2006, there were plenty of people doing this stuff. A lot of independent creatives used fashion as a way to thread their work around the globe. That's nothing new, but for people, we saw as a stone's throw away from our path being heroes in our space actively was amazing. 
Bodega made a name for itself but not saying too much. There wasn't much promoting, it all naturally grew. Why was this your approach?
We came about pre-social media and the store design itself was hidden within another space that we had created: a fully functional bodega. It was unadvertised. There were even huge philosophical [conversations] on whether we should even have a website. The early website just had our location and a weird video art piece that I created, and nothing else. It was always a thing that was meant to entice and was a space and concept that others would want to discover, but we weren't trying to entice people who did not understand the product, counter-culture, or fashion.
"There's no question Bodega… will continue after my bones are dust and I've possibly been embalmed at that point. I'm not sure how I'm going to end."
We're not trying to convince anybody. If you're looking for what we carry or us, you'll find us. It's not "exclusive" like it is nowadays — it's not "I'm cooler than you." 
That notion runs deeply throughout the bones of the brand, is that what makes Bodega special?
[Bodega is] some kind of secret clubhouse in a secondary fashion city where people don't even think that much of Boston. It's also located in a city where almost every major footwear company had its headquarters at one point, and it's an international hub. Those factors helped us establish quickly, alongside our roots within counter-culture, throwing parties, being part of making interesting things happen within our scene. 
You say you're lucky to be close to the center of this all happening, and as a result of being in the mix, Bodega has had a lot of collaboration. Of all the collaborations you've worked on, what's your favorite?
It's 15 years [anniversary] this year. We've run an art gallery. It's incredible to do group shows, parties… Product isn't my super-focus, as far as when I think about what are important elements. I think going as a crew to Shanghai and building a miniature city for an exhibition was interesting, or doing Art Basel last year in the art district was also interesting for our evolution. 
Now we're trying to create a community and experience we hope people will be influenced by and remember us for. For me, it's less about product and collaboration, and more about the communities we create.
Your collaborations cross genres. What does it take to have a meaningful collaboration between two names?
Meaningful is always about storytelling. If something is to be special, it has to be memorable, and the most powerful thing you could do to create memories is to tell a story. Stories are more important than anything else in this world. That's what we bring to collaborations because we can't manufacture footwear, we don't have access to factories, but we are able to produce things people want so we create it in a way that's storytelling. 
With that in mind, what is the Bodega x Dr. Martens 1461 all about?
This one commemorates our 15th anniversary. The story is about how we've made it to this point, how our craft is indelible and continues on beyond this point. There's no question our Bodega, as an entity, as a creative hub, will continue after my bones are dust and I've possibly been embalmed at that point. I'm not sure how I'm going to end. It's just understanding that we're at this point where our friendship and partnership with Dr. Martens is in stone, in the same as our legacy, how we want to continue our slow growth, as an organization, as a brand, as people who make things. 
It's iterative because it's very much design-focused, and this is a V2 of the one we've previously done. It's all monotone for the most part except for the signature Doc highlight, so the best way to design when doing monotone is to use contrast with texture. It's focused on that story as far as textured and really small details as far as reinforcing our DNA. The insole and the hidden text on the exterior.
Why was now the right time to work with Dr. Martens?
[The rising popularity of Dr. Martens] certainly does help us sell and keep the lights on, but it's because we've grown up coveting this particular model and brand. For us to pop a bottle of champagne and celebrate, it seems like a way to crown and solidify this moment in time. For us to start as no-name street vandals with terrible everything, no skills, no connections, to be being considered for collaborating with Dr. Martens, is an honor. To join that pantheon of fashion makers — whoever gets the nod — is incredible, we're blown away.
Click here to view full gallery at HYPEBEAST