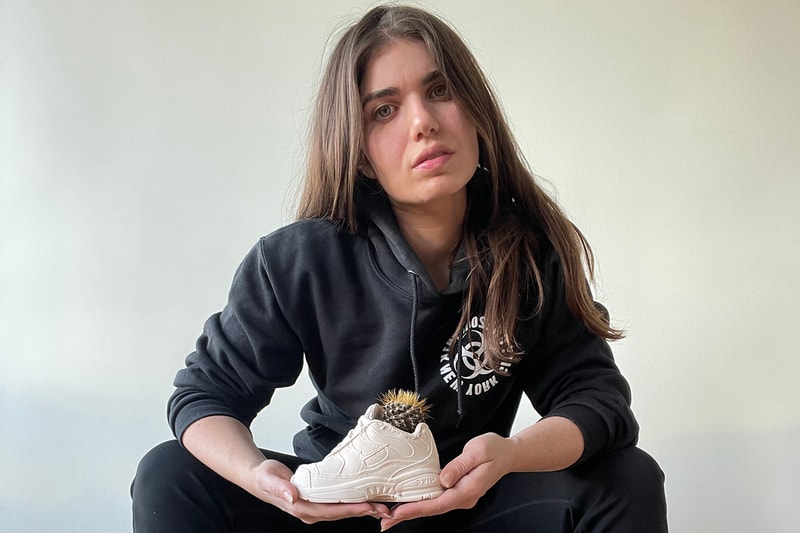 Original Rose (formerly Bodega Rose) began as an experiment by the artist Olivia Rose to keep artisanal practices such as casting and molding alive. But what began with casting her brother's baby shoes and a basketball from materials like concrete and gypsum soon lead to viral sensations such as a Louis Vuitton Speedy Bag Vase and Rose's take on the AJ1 "Travis Scott", as well as moldings of iconic symbols from her surroundings in New York City (including a coffee cup and a Yankee cap).
Rose never anticipated that the brand would blow up in the way it did, but after attracting the attention of Nike, it was inevitable (more on that later).And despite ventures into turning other projects — including a clothing collection, and a "Living Berkin" designed from preserved moss and cardstock — shoes serve as the foundations for Olivia Rose's designs. 
For Rose, footwear is multifunctional. Once you've rocked them to their core on your feet, what's next? As expected from the designer who turns shoes into plant pots, they become great vessels for growing and nurturing new life, but the designer also uses them as stationary storage, and more evocatively, as timestamps as a way to retell moments in life. 
Shoes are more than just shoes, and the Air Max Plus is the perfect example of this. Being inspired by the architecture of nature and earning a name for itself as one of the most premium Nike silhouettes, the shoe is one of Olivia Rose's favorites — the top title would go to the Air Force 1, which happens to also be her first sneaker memory. 
In the latest installment of Sole Mates, HYPEBEAST speaks to Olivia Rose about her fascination with shoes, Original Rose's rise, and the intersection of art and sneaker cultures that her company heavily contributes to. Read on to find out more. 
HYPEBEAST: What got you into sneakers?
Olivia Rose: My first memory is that my friend was giving away some of her clothes… She had a pair of Nike Air Force 2s that were navy, and the pink Air Force 1s — the Valentine's Day ones from around 2004. She said I could have them. I looked at them and I was like, "Oh wow, these are amazing." The only other shoes that I'd have were from Payless, because when you're young your feet are growing so your parents aren't necessarily going to spend money on you having shoes that are over $100. When I got them I cleaned them up with a toothbrush, I took out an iron at 11 years old and ironed out the creases. 
They almost had a power that commanded a level of respect that I wanted to bring back to them. I saw that shoes were somewhat a language, you could speak to people through them. Some people can speak to others about sports or the arts, but sneakers were another common language in which you could make a friend or engage. 
So understanding the power of shoes got you into them?
Yeah. I saw the way they would connect people together. When you're walking down the street it's the quickest conversation starter. "Oh I love your shoes." That will always be a go-to for conversation. It's something we all know about — everyone in the world has an experience with a shoe, and has probably seen a sneaker at some point. There's a bit of a thrill that I haven't been able to put into words, but you get excited — maybe it's when you're young and it's the first luxury thing you're able to have, so you learn to take care of your items or yourself through that. 
Did your experiences with shoes inspire you to create Original Rose?
I studied landscape architecture in college for four years, and when I came back to New York City I was working in the landscape architecture practice and urban design. I was doing larger buildscape worlds, but I was craving and missing the tangible crafts of making art, particularly crafting arts. It was a fun tension release. 
After I was finished with work, I would go home and experiment, trying new things and learning how to mold and so on. I tried new practices to keep myself creatively active or even to expand or keep artisan practices alive within myself. 
I would see what materials I had in my home that I could use for crafts and art. I had my brother's baby shoes — he had these mini Air Force 1s, but they're before the AF1. It was small enough, so I learned how to do casting around this. I was looking around my house and I had a basketball and other sports objects, so I was playing with things that were around me and I didn't have to go and purchase. I have familiarity and an understanding of what it is. As a person, I've had experience of wearing a shoe. 
I've always loved shoes, but it was more a fascination with the design and the idea that people have these memories attached to shoes. They serve as a reference point for memory, people look at shoes and remember their past, when they wore them. They're kind of like timestamps.
One day I went onto the street (because I don't have ventilation) and made a mold on the sidewalk. I knew I wanted to make planters — anything with a cavity is a planter, they're not limited to pots. I started making it, I put up an Instagram, I did a flea market. Within a few months and creating my own language, the intersection between plants and shoes, Nike had reached out to me and said they had seen my basketball planters. They asked if I wanted to create a workshop around one of their releases.
Are you at the intersection of sneaker culture and art?
How I see my planters is that it's a memorial of something that people love and have great fondness and care for. You are recontextualizing something that you already have familiarity with, and now, you're tending to it and growing something out of it. You're taking the same care that you once were when cleaning shoes with a toothbrush, only now you're watering it every week to bring life. You are having a full-cycle experience — something you loved so much now has a life of its own. You are now an observer of it as something different or greater than its intended purpose. 
Is that why, to you, shoes are more than "just a shoe?"
They're definitely more than just wearables or something that you put on your feet. It's because of the stories you tell when you're in your shoes, it's more about your personal journey and a personal connection with these shoes, and not necessarily about the story. The story the shoe has on its own is great and wonderful, though. 
Shoes are a part of your uniform, and certain shoes have become so personified that they're taken on personalities of their own. 
As you say, it's all about the stories. So why have you chosen to spotlight the Air Max Plus?
I made a sculpture of it, and I had a video of it where I brought it all around the city. The bus, the streets, people were interacting with it. I love watching people interact with my art and sculptures, while I sit on the side. That really excites me, even if they're roasting me I don't care. People react and reacting is everything. Everyone has a reaction to it because everyone has a familiarity with shoes. They come with their own mind about them. 
Air Max Plus is kind of the ultimate "designer" Nike silhouette. It was always the most expensive shoe that was maybe associated with people who did naughty things… The designer of that shoe [Sean McDowell], it was like his first week on the job, and before Nike he was living in Miami drawing tons of photos of sunsets in his sketchbook. He had all these sketches of palm trees swaying, wrapping and ripping, and these were the inspiration for the shoe's design. These [the Air Max Plus' TPU overlays] serve as the palm trees.
This particular shoe was very much inspired by iconic nature elements, which is what I like. When you think of Miami you think of palm trees in this really graphic sense, and a lot of my aesthetic is this like, garish or a pop art stance of nature. By using palm trees as a way to support your foot is so interesting. 
Another thing is that the designer was quite new, and as you can see here [points to Air Max Plus] the Swoosh is drawn incorrectly. He put the line on the inside and he drew the tail out too far — there's some naivety that a new designer brings with new energy into a shoe. 
Sometimes the best designs are the ones that are not overworked. Overworking ruins design, a lot, because it's hard to know when to stop and keep things really fresh. To me, [the Air Max Plus] always seemed the most architecturally forward shoe.
Which is ironic, given it's inspired by the palm tree.
Well, who do you think has the best design? Nature. Humans are better designers than nature? Never. Everything comes from nature. We're trying to learn. We only know so little.
How does nature inspire you? Is there a correlation between nature and footwear?
I find that I'm always stopping at these microenvironment moments. In Florida, they have the ficus tree, and how it grows is that it strangles a living tree and uses that tree as the form of its architecture. It kills it and lattices itself around it. I love to admire the savagery of nature, and how nature uses tactics to survive.
I'm always going between nature's habits and human habits [in my work]. Particularly with my point of view of being a New Yorker, the urban environment and man-built environment is so pervasive, it's always been the kind of "natural" environment, while parks and open spaces are procured spaces. It's the space that has had so much intervention to survive, so I've always had this inverse relationship with nature and built. 
Can the sneaker industry learn anything from you or nature?
I hope that we can have more adaptability with clothing and shoes in general. I really can't unlearn seeing a shoe as a planter, or that I keep my pencils in my shoes. I use things for so many multi-purposes, in the city we live in such a small space… I wonder if we can move towards products that have more evolution to them, or levels to it. You wore out the shoe, as a shoe, but what's the next evolution? 
You do that yourself. If a shoe is bombed out, you then have the base for a planter, or something multipurpose, right?
We need to stop thinking of something as use it, beat it, it's trash. Or that they only serve one use. Things can have such a longer life cycle and can constantly transform. I think the end users are being really creative — from what I am seeing, creators are pushing things forwards. I would push that some of these shoe companies could build in some intention — not only "We make stuff from recycled materials," I'm not talking about that (even if it's a good step). Create longer lives for products and have them become different things.
Click here to view full gallery at HYPEBEAST