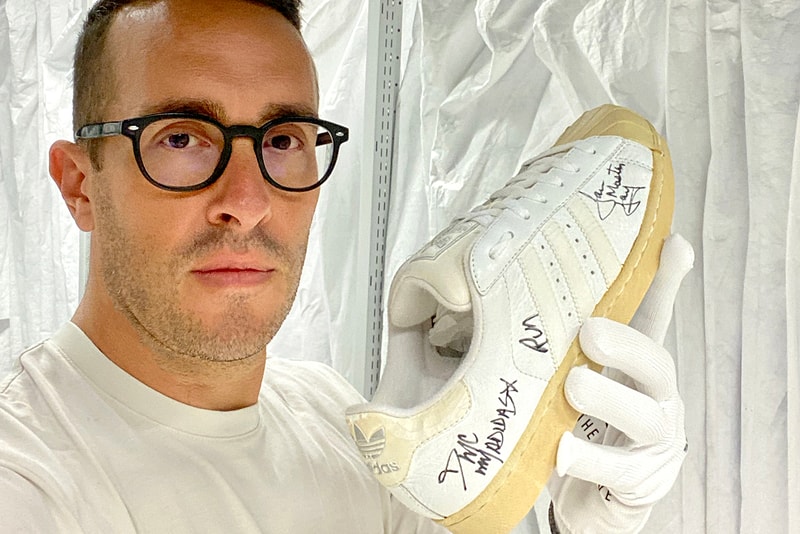 Sole Mates is a new HYPEBEAST series that asks, simply, "why do you love shoes?" Searching for a deeper meaning beyond hype, Sole Mates uncovers each subject's sneaker origin story, letting them wax poetic on why a particular shoe means so much to them.
---
Sam Handy has developed some of adidas' most innovative running shoes, such as the adizero adios Pro and the Run 4D 1.0. To hear the brand's creative director of running deem the everyday essential Superstar as one of the most important shoes in his life is unexpected.
Or is it? The Superstar was originally built in 1969 as a basketball shoe. But its influence has had a huge impact on culture throughout the decades, from B-Boy culture to skateboarding and serving as a collaborative base for many notable variations. The Superstar is quite literally what its name claims. 
Handy grew up in the Midlands in the United Kingdom, which doesn't scream a B-Boy scene, or skateboarding, or rave culture. Yet, these influences on Handy's each had one recurring theme: the Superstar.
Despite unlikely circumstances, the Superstar was there. Whether Sam Handy was an eight-year-old boy transitioning from velcro Transformers shoes to pop culture-influenced sneakers, or working for adidas as he does now, he's always had a soft spot for the sneaker's iconic — yet awkward — design. 
HYPEBEAST spoke with Sam Handy to understand why the Superstar means so much to him, and how the silhouette has not just shaped what he does today, but how it has informed much of the sneaker industry's way of working, too. 
adidas Original Superstar OG
Run D.M.C.-signed adidas Original Superstar
(Back) Gonz Super Skate, (Middle) Run D.M.C., (Front) OG Superstar
HYPEBEAST: What got you into sneakers?
Sam Handy: Superstars made me realize that sneakers were even a thing. It was probably the first shoe I ever saw, other than a velcro Transformers shoe when I was eight. It was the first time that I saw sportswear existed and that sneakers meant something other than doing sport. Superstar is the origin of the idea of a performance product becoming something completely different from the reason that it was created, and that's what I think makes it an incredibly interesting product. It's what built the industry a lot of us work in right now.
The first time I saw a Superstar was in a graffiti character, a hip-hop character in the '80s, drawn on the side of an ice cream factory. Like some kind of Run-D.M.C. thing. The side-profile hip-hop character from graffiti in the '80s. That OG hip-hop outfit — a Kangol hat, Three Striped tracksuit, and Superstars — it was also the first time I saw an adidas product, I believe, in a hip-hop context. Then I saw it in a music video, it must have been "Walk This Way." 
I didn't even think the Superstar was a functional athletic product until I started working at adidas in 2009. It never occurred to me. I always thought of it as a hip-hop shoe. That makes it even more interesting when you work for the brand and understand what that shoe did for adidas, it was significant. 
In the '80s, people would come round to babysit me and my sister and they were banging to hip-hop, DJing and breakdancing, and they'd come round wearing Superstars. It was a music shoe more than anything else. I'd associate it with Eric B. & Rakim, Run-D.M.C. or Grandmaster Flash. 
As you got older, did the Superstar stay with you?
I grew up with '80s hip-hop influence, then I moved to Dorset when I was 10, and then it was about rave culture. I was 11 years old with a Walkman listening to old Dreamscape cassettes that were relevant at the time. There was an illustrator called Dave Nodes who did all the art for Suburban Base Records, a big rave record label, and all of the illustrations had Superstar-esque footwear. Baggy jeans, Superstars, a rave record label T-shirt. It became a rave scene reference for me. 
Gonz Super Skate
Run D.M.C.-signed adidas Original Superstar
adidas Original Superstar OG
I don't know how accurately that fitted the culture back then, but it shows how the Superstar is such an easy shoe to draw; if you're illustrating a person it's very easy to draw a Superstar on them because it's such an iconic shape. The derby quarter panel, the shell toe, and three stripes. It's a shoe that anyone can draw. 
In the mid-late '90s it was a skateboarding shoe for me, too. Seeing people in Thrasher or Four One One videos [and others before Sidewalk Surfer], then I was skating and it was before skate shoes even existed for me — I didn't really have access to Vans and stuff like that. Superstars, a Campus, or a Gazelle, were those shoes. The Superstar meant three things to me at any one given point in time. 
When I came to adidas, the Superstar became a classic. I never thought about it as a classic, retro basketball shoe until I came here. Now it has four meanings, and there aren't many products that do that. 
Superstars are having their year, again. Many collaborations have been indebted in skateboarding too — à la Blondey, Jonah Hill, Sean Wotherspoon — what does the Superstar define for you now?
That is an interesting question. Shoes become classics through how you grew up with them. I imagine there is a whole generation of people that grew up with Superstar in Supercolor and Pharrell Williams, it was for many people their first understanding of that model. I think what's happening now is a follow-on from that moment, but I do think it was Supercolor that reinvigorated Superstar again for the first time since when Missy Elliott did a shoe. 
For so many people, you say "adidas" and they think Superstar. On many levels, it's the easiest shoe to talk about within the company, and also to people outside who would talk to you about how they're a collaborative product.
However, I don't think Superstar is the best blank canvas for partners or artists to work on, because I feel it's a shoe that works the best in white, with an off white toe, and black stripes. Or black, with white stripes, and an off white toe. It is so iconic, that it's quite hard to do something new and amazing with it. I don't think there have been many collaborative Superstars that have bettered the original — some standout, the first BAPE superstars in Superstar 35, I believe that was the first killer classics collaboration that any brand did. 
Do you think Superstar has found a new lease of life?
It's easy to say this in sneaker or youth culture, but that underestimates the shoe. They're design objects in their own right, I think it completely transcends sneaker marketing — it's an iconic product, like a Volkswagen Beetle, a Porsche 911, a Rolex Submariner. 
It was something I was talking about a lot when working in football. If you ask a group of people to draw a football, they draw a Telstar, the OG adidas black-and-white hexagon-pattern ball. If you ask someone to draw a football shoe, they draw a Copa Mundial. Quilted toe, three stripes, collar, laces. I think Superstar is in that territory. There are things that represent the object itself. 
Run D.M.C.-signed adidas Original Superstar
Gonz Super Skate
adidas Original Superstar OG
Pharrell Williams x adidas Original Superstar Supercolor
You compare the Superstar to a Beetle or a Submariner. Like these had an impact on their industries, how did the Superstar have an impact on you and sneaker culture?
There's no other shoe like it. It's a great, highly-innovative performance shoe, it became an iconic sneaker and I think it very seldom operates in the other direction. I think that is one of the reasons why Superstar works because it's kind of odd — it's not intuitively what you think would be a really big, high-volume, high-commerciality shoe. 
It has an impact on footwear design, that a purpose-driven new look can become very iconic afterward. If you took the rubber toe off, it'd be Stan Smith, right? It would be a generic product without what makes it awkward. But what makes it awkward is what makes it unique and have staying power. I think it's the shoe that taught the industry a game plan, the game plan of performance innovation, music activation, collab activation, I think it did everything first and wrote the blueprint. 
The people who worked on the shoe wrote the blueprint. I think it is the blueprint. From a great innovation-driven basketball shoe to Run D.M.C. writing a song about it, to Superstar 35 and partner activation, that's how you have a sports brand nowadays, and that happened — 10 years ago. Run D.M.C. was 35 years ago. There's something very interesting in the cadence in that as well. 
So has the Superstar made a culture in itself?
Yes, that's how everyone does it now, right? It's an old recipe and it's the best recipe. Rooted in innovation, adopted by culture, and sustained and reactivated with partners long after the original innovation has been obsolete.
Click here to view full gallery at HYPEBEAST