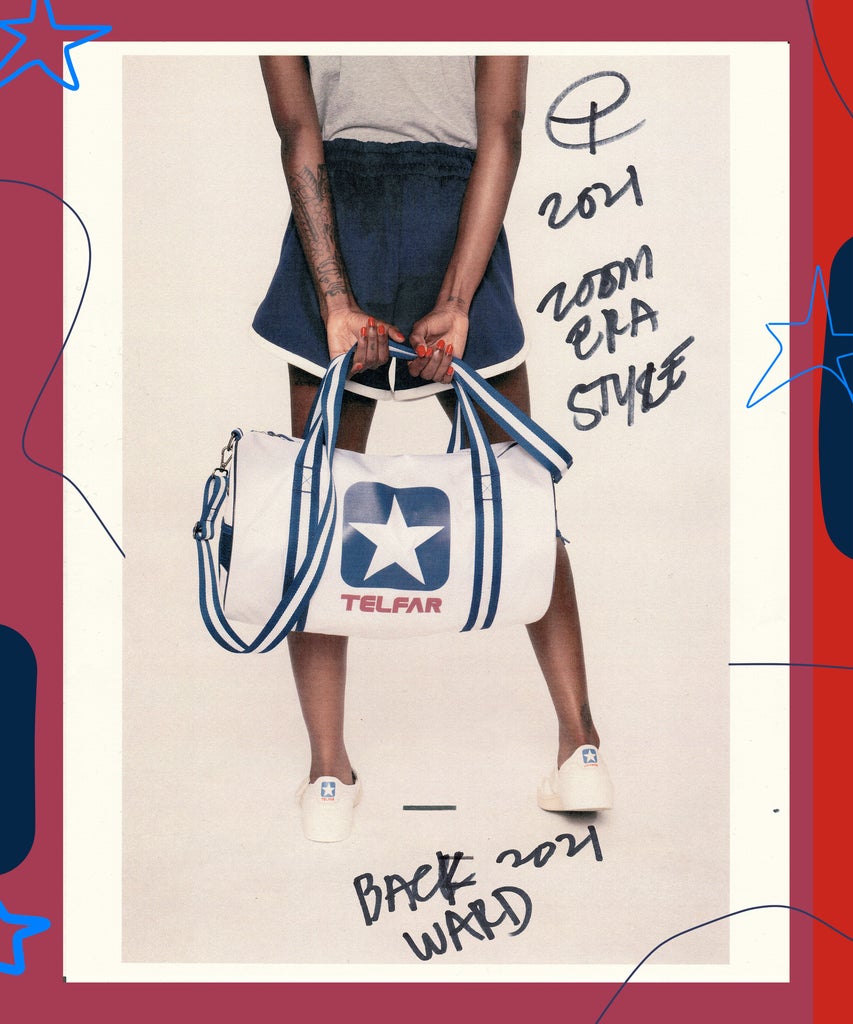 Telfar is stepping further into activewear with a new partnership with Converse. 
On Tuesday, the New York-based label known for its totes teased the collaboration with the sportswear brand — which will feature activewear apparel, accessories, and Telfar's take on the signature Converse Pro Leather sneaker — dropping on July 6. 
According to the press release, Converse allowed designer Telfar Clemens to reimagine its basketball staples, including the brand's first leather shoe made for the court. Clemens recreated the style into a unisex ballet flat with a white sneaker sole (see photo). "For Converse and Telfar, sport is for everyone," reads a press statement from the brands. Prior to the full launch, the pair will drop a co-branded duffel bag (pictured here) on July 2 that will prove if Telfar's It-bag capabilities can translate to activewear. 
This collaboration is fitting. Earlier this month, The New York Times reported that Telfar will be expanding into sportswear in September, following the announcement that the brand would be making uniforms for Liberia's Olympic delegation. While most designers prefer the opening and closing ceremonies stages, Clemens will put his designs on the race track, dressing all five Liberian field and track stars for competition. The designs will also be available to shop on Telfar's direct-to-consumer platform in July.
The Liberian-American designer has had a stellar year after his viral unisex shopping bag became the It bag of 2020 and a favorite of Congresswoman Alexandria Ocasio-Cortez, Bella Hadid, and Lizzo, among others. Last year, Clemens also took home the CFDA's Accessories Designer of the Year award. Although this line is a new(ish) category for Telfar, the brand has already partnered with fast-food chain White Castle and American footwear brand UGG for collaborations. 
Retailing from $60 to $140, the full collection will be available to shop on July 6.
Like what you see? How about some more R29 goodness, right here?
Telfar Moves Into Sportswear, But Why Now?
The UGG x Telfar Collab Is Almost Here
People Are Customising Their Telfar Bags