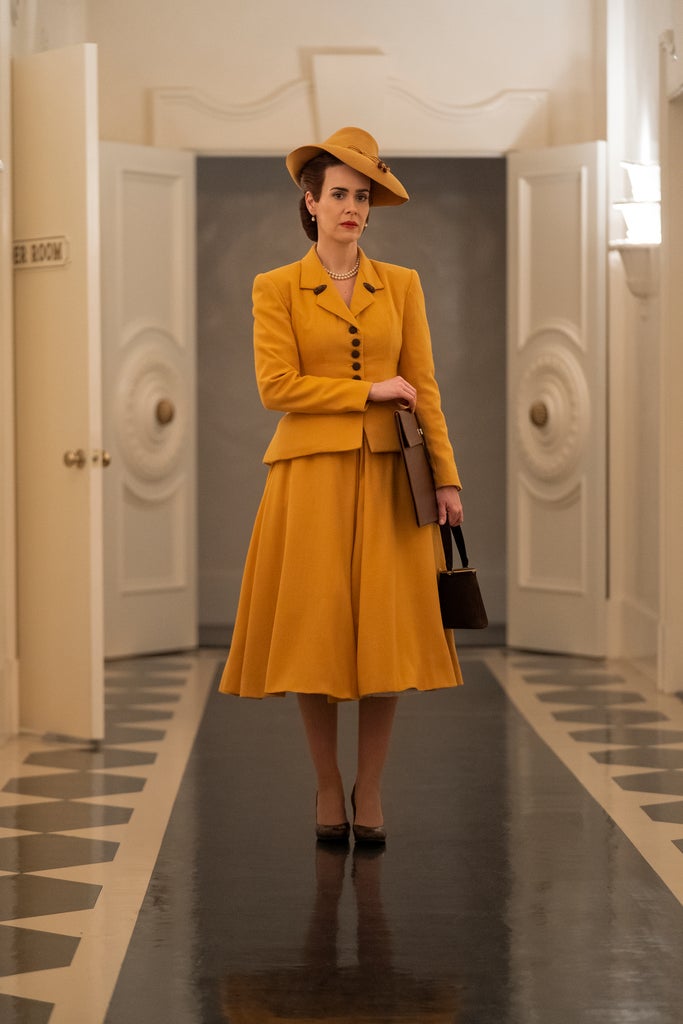 From Pose to The Politician, every Ryan Murphy project is a fashion delight, the costumes as intricately put together as the storylines. And yet with Ratched — an origin story of sorts for asylum nurse Mildred Ratched, the infamous character from Ken Kesey's 1962 novel ​One Flew Over The Cuckoo's Nest and the 1975 film of the same name — Murphy has outdone himself, showcasing vibrantly colored costumes that steal every scene, thanks to costume designers Lou Eyrich and Rebecca Guzzi. 
The frequent Murphy collaborators say that, with every new project, the writer-producer sets a tone and a color palette before starting work — Ratched being no exception. "I think more so than any other show, though, this was the tightest color palette directive that he's given us for something. Up front he said, 'No red, no orange, no purple. The only red is lipstick and blood,'" says Guzzi. From there, the two used mostly cool colors, with a lot of greens. "Green became this color that was used in a variety of ways. Because to Ryan, green represents lust, envy, oppression, violence, many different things," she says. "So we used that to foreshadow and indicate characters' moods."
For the silhouettes and styles in the series, set in the years following World War II, Eyrich says they were inspired by '40s films, like Now, Voyager, for the "film noir" feel. "Rebecca and I were trying to stay true to the '40s silhouette of a strong shoulder and cinched in waist and women in dresses; always gloves, always hats," Eyrich says. 
Right from the first episode, we see Mildred (Sarah Paulson) in a striking yellow skirt suit as she requests a job at the psychiatric hospital, whose stunning production set included ornate doors and floors, velvet furniture, and plush carpeting. "From the moment we started working on the show, we've been talking to our production designer, Judy Becker, and we were in there a couple times a day just looking at all their boards, looking at their upholstery swatches, what colors they were picking for the hospital set. And once we saw the coral and the cornflower blue and the alabaster walls, we knew that Mildred needed an entrance for that scene that was about going out for this job interview, that she was not going to take no for an answer," says Guzzi. "She had to be a visual force to reckon with, too. And so, of all the colors we looked at amongst the set, that mustard yellow popped the most."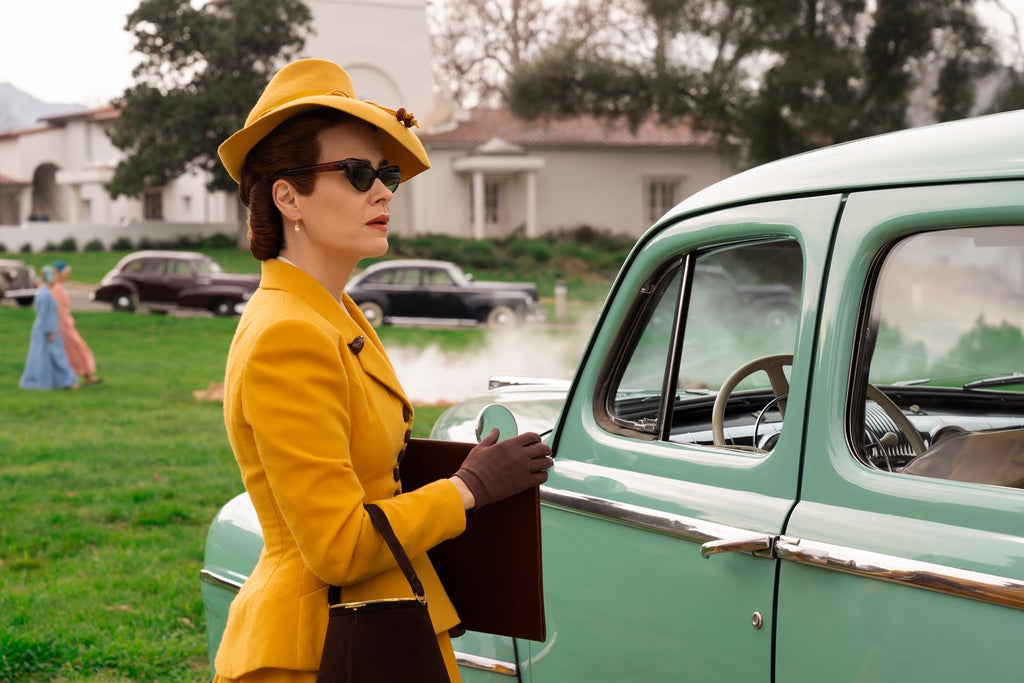 Once Mildred gets the job (through less than ethical means, of course — fitting for a workplace that horrifically experiments on patients), she is most often seen in her green nurse uniform, one of the many worn by the hospital staff. "Again, Ryan had a very strong sense of what he wanted here. He wanted not just the starched, pure white uniforms that they wore in the '60s, '70s of One Flew Over the Cuckoo's Nest, but that were still clinical-looking, but less severe," says Eyrich. "And he wanted movement on the women's dresses when they walked down the hall, and he wanted some kind of flow or shine. So, we played around a lot with different fabrics and different colors. He had referenced either a blue or a green, so Rebecca and I had a lot of different sketches made up and then tested a lot of fabrics, and finally landed on one that we could find enough yardage on, because we needed hundreds of yards of the fabric."
While Mildred and head nurse Betsy Bucket (Judy Davis) wear the long-sleeved, belted, buttoned dresses, the orderlies wear a shirt and pants in two different shades of green, while trainee nurses don a lighter-colored apron over short-sleeved styles — all in slightly different variations of the hue for visual interest. "We didn't want just monochromatic everything in the exact same shades, so you do get a little bit of color texture with different tones of blue-green," says Guzzi. "Picking different shades also sort of helped distinguish a hierarchy — lighter colors for the orderlies and the training nurses, versus the more saturated colors of the nurse dress itself. Even [head doctor Richard] Hanover's lab coat is a slightly different shade of blue because he, as a character, wouldn't want to quite be in the same shade that the nurse's uniform is, because he runs the hospital and has a very egocentric view of himself." They additionally distinguished Mildred's look by adding a pin on her collar lapel to signify her time in World War II with the Army Nurse Corps.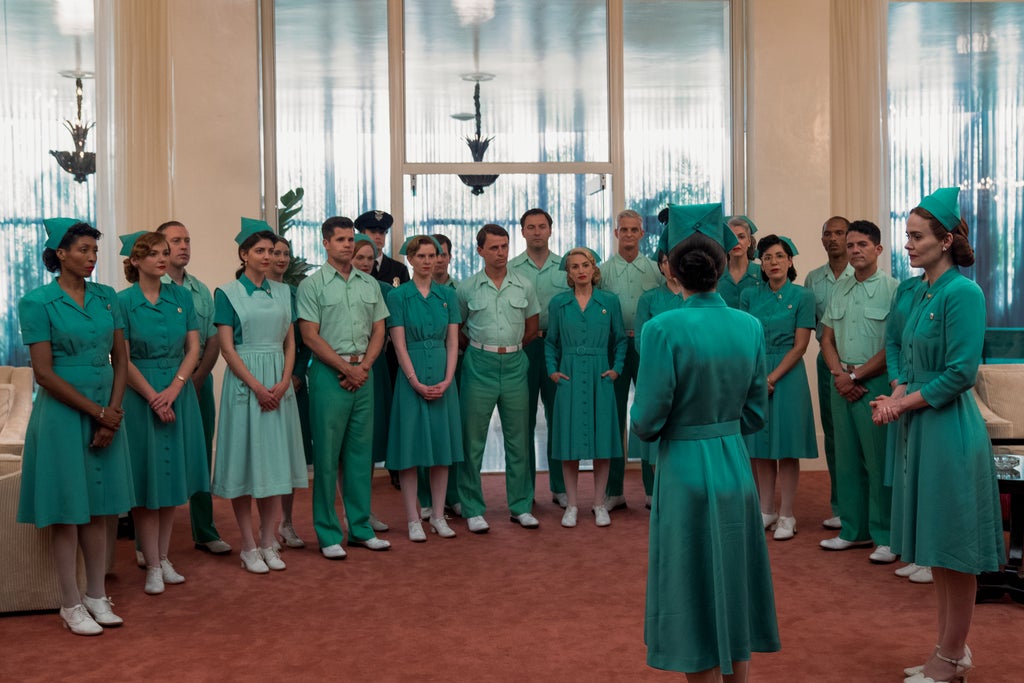 Outside the hospital, many of the characters pair striking color combos like pink and red, and yellow and brown, for their looks. "One other thing that Ryan discussed early on in one of our prep meetings, was not only this tight color palette, but also giving Lou and I reign to explore unexpected color combinations that really helped heighten the sense of drama. And we actually found that to be very period-accurate when we started digging into the research and looked at a lot of Vogue covers of the mid- to late-'40s," says Guzzi. "You have a khaki suit, but then bright canary yellow gloves, hat, and scarf. So, we took a lot of those monochromatic looks and topped them with an accent color."
For one particularly standout look, Mildred wears a navy blue dress and cape paired with a bright green bag, gloves, and brooch. "In the fittings, we would find the suiting and the silhouette and then just pop the colors together," says Eyrich. "We had different scarf fabrics and an array of colored gloves and such, and we just really loved the navy and green, and that was a big color combo in the '40s. So we had found a navy hat that had green trim around the flower, and then we found the green bag and the green shoes, and all the pieces just came together. We loved how strongly it popped. When she walked down those white stairs, it just was a strong entrance."
Capes and statement outerwear are recurring themes throughout the show. "This is a gloomy, foggy, cool northern California coastal town. So everybody's got layers to help set that mood and that film noir vibe. And everybody had a very specific coat silhouette. Charles Wainwright has the trench coat that's very Humphrey Bogart [in] Casablanca, and Gwendolyn has her short, cropped driving coat," says Guzzi. "Mildred wears several different types of things, but we saved the capes to mirror this idea that she's trying to be the perfect nurse and that she's, in her mind, trying to care for people in the way that she thinks is appropriate." Once again, the two added a wink in the form of a brooch in the shape of the letter "R" on one of the early looks. "Sarah Paulson always loved those little touches that they would've done back in the day," Eyrich says. "They would embroider their initials into their clothing, and she just loved that 'R' that stood for 'Ratched' and it also matched the scarf and the gloves perfectly."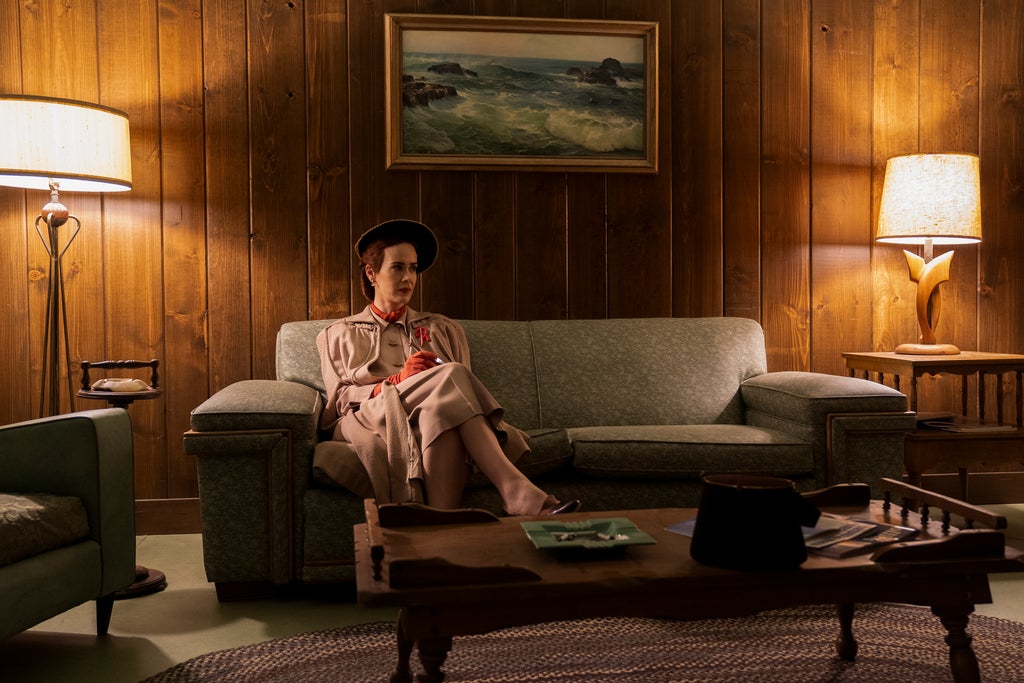 Gwendolyn's (Cynthia Nixon) standout looks extend beyond the aforementioned coat. As the press secretary for the Governor of California, she is often seen surrounded by men. As such, her suits, in muted shades of brown and navy and in plaid patterns, appear more masculine, though both Guzzi and Eyrich say that it wasn't intentional, but rather just typical of the working clothing of the time. "Clothing, for the most part, in the '40s did have a masculine tone because the suiting for both men and women was so structured and so tailored with those really strong shoulders and accentuated waist for both men and women," says Guzzi, noting that Gwendolyn's looks are softer when she's not at work. "Ryan had thought of a Carole Lombard, Katharine Hepburn casual inspiration for her when we see her [outside work]. But when she's at work, she's more of a Rosalind Russell type, or even Double Indemnity."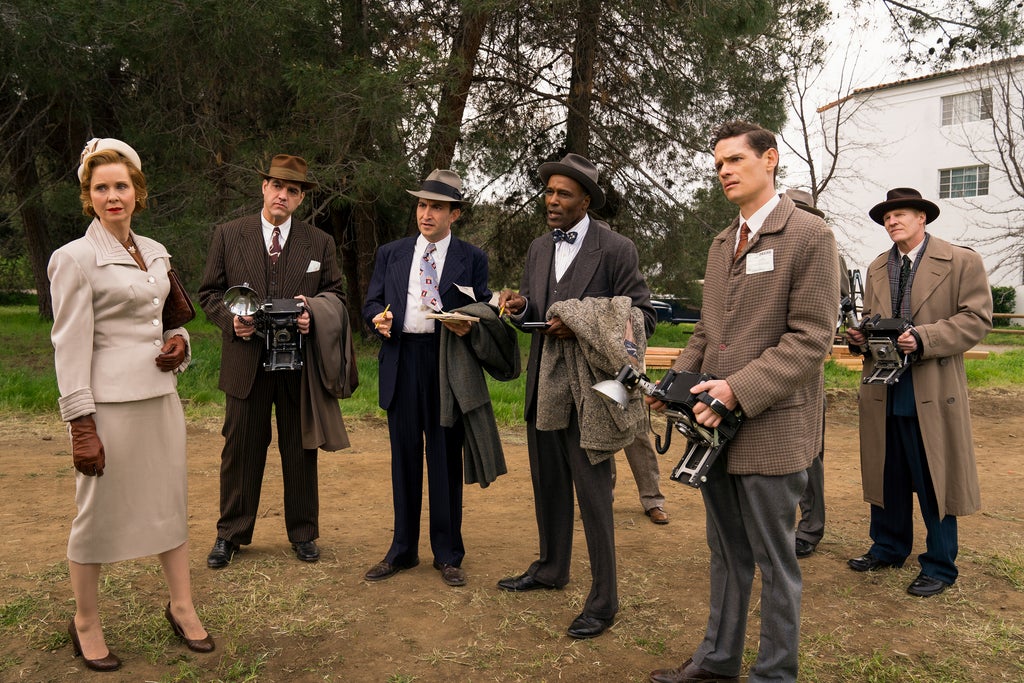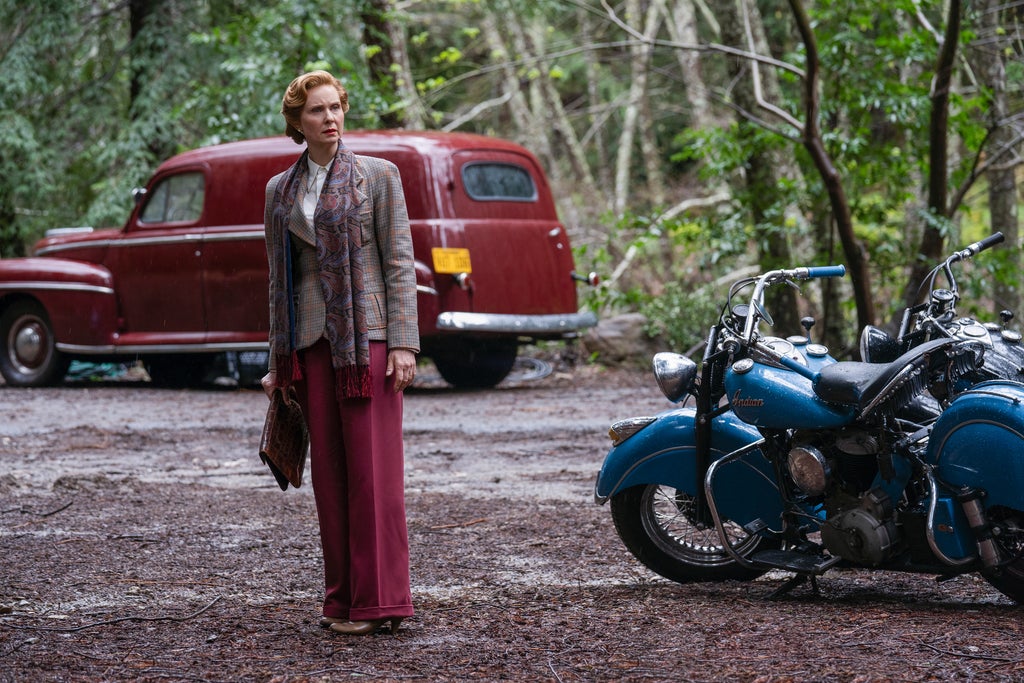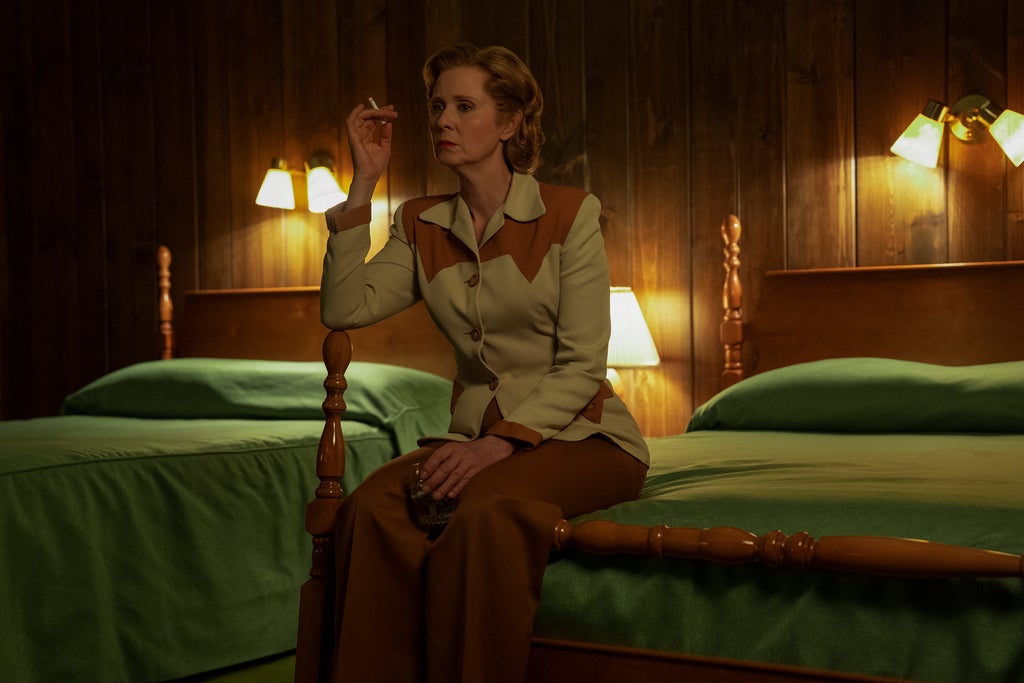 In contrast, there is Lenore Osgood (Sharon Stone), an heiress whose wealth is only matched by her desire for vengeance. Covered in fur, jewelry, and the type of white silk clothing that only the rich can afford to wear, she is the epitome of indulgence — and her fashion reflects that. "With her, it was 'more is more' — accessories, fur, she just would layer it on," says Eyrich. "Ryan said she should be dripping with diamonds even in the bath." (And, in one scene, she is.)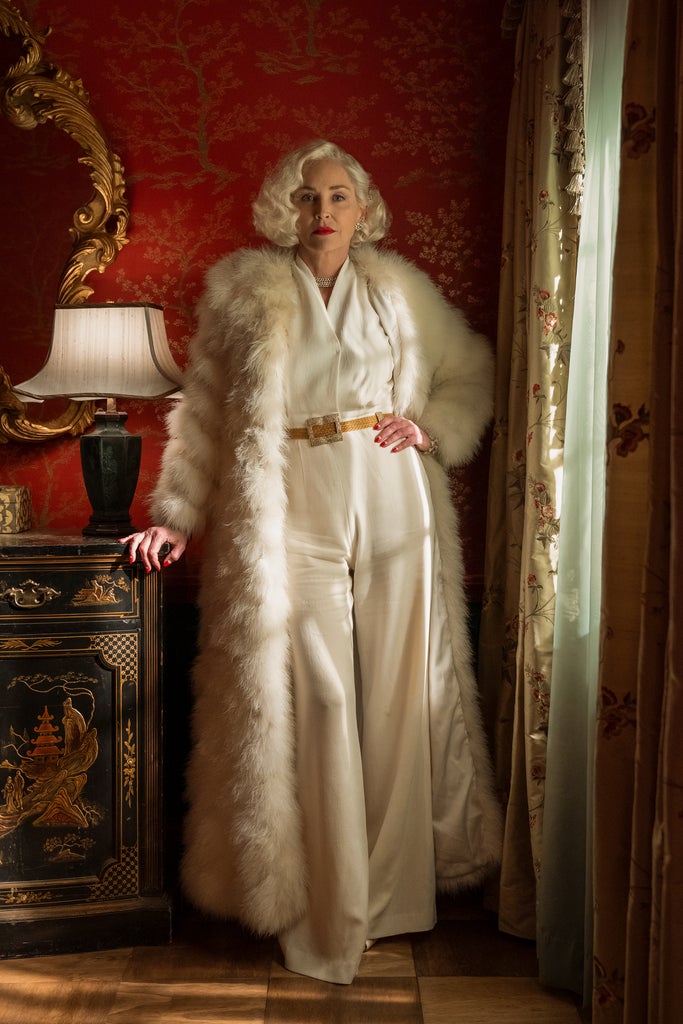 "The '40s can be pretty austere, obviously because of the war and rationing, and so there was not a lot of decoration in the clothing for at least the middle years of the decade. Ryan wanted to keep things very clean and austere and even going so far as to not having a lot of feathers or decoration really on any of the hats," says Guzzi. "But when we got to Lenore, Ryan said that she was the one character — because she is this wealthy, eccentric heiress — that we can lean into with embellishments, because it would be period-accurate. Sequins and beading and fur and leopard patterns and just jewels upon jewels and layering all of that texture for her." That also goes for Miss Petunia, Lenore's beloved pet Capuchin monkey, who Guzzi and Eyrich said they treated like "the daughter Lenore didn't have," by dressing her and Lenore in coordinating outfits. "Once we decided whatever Sharon was in for a scene, we would then go out and get silk-satins and organzas and little miniature rhinestone- or diamond-vintage belt buckles to then design the monkey party dresses," says Guzzi, laughing.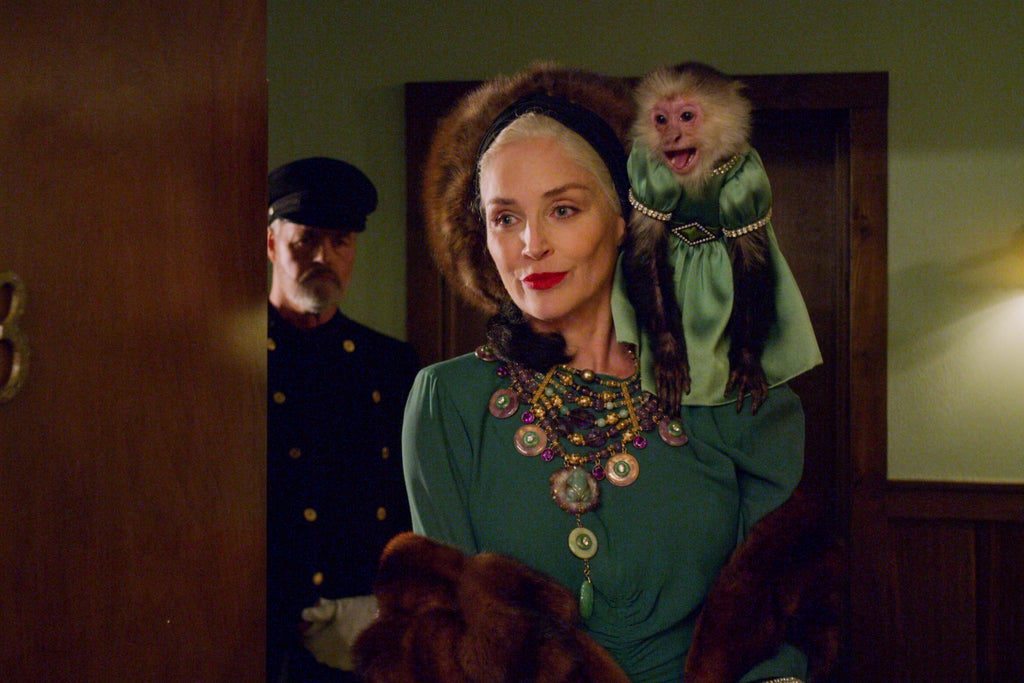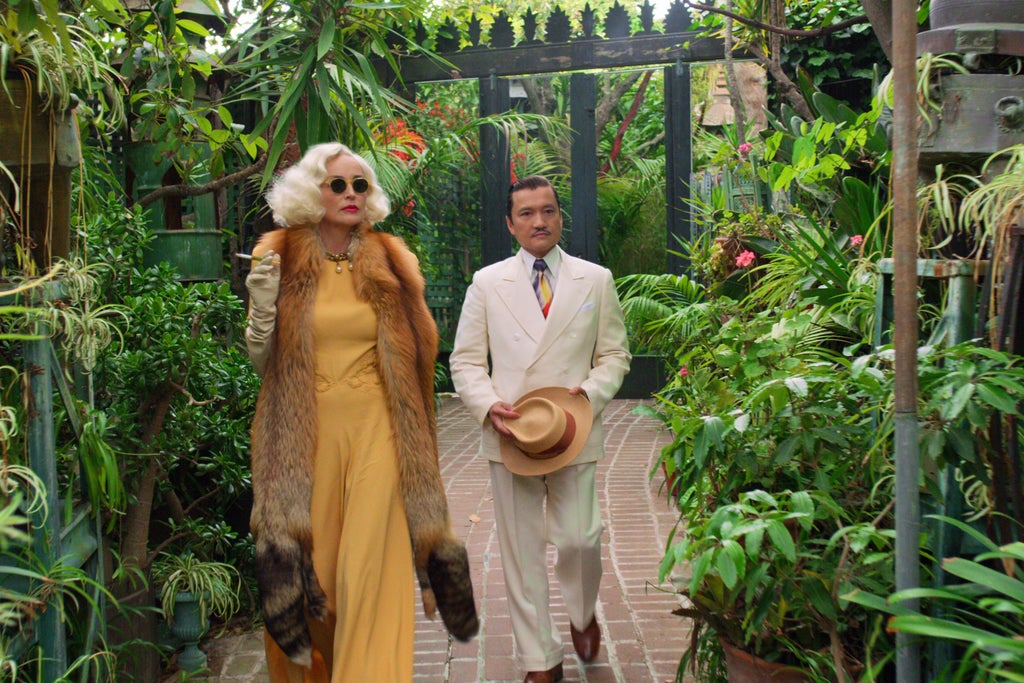 Speaking of parties, for one of the series' most pivotal scenes, Mildred (again through less than ethical means) convinces Dr. Hanover to throw a party for the asylum's patients and employees. While Mildred dons a dress in a green hue that's not a far cry from the uniform colors, Gwendolyn wears a rich blue dress. Meanwhile, Betsy and Dolly (Alice Englert), who we hadn't yet seen in normal clothes, appear in much warmer colors — coral and pink, respectively. When actress Judy Davis expressed her love for coral, Guzzi and Eyrich settled on the shade for her after also seeing traces of it in the production set. "It's a color that was peppered throughout in upholstery, and we just loved how it read in that hospital," says Eyrich.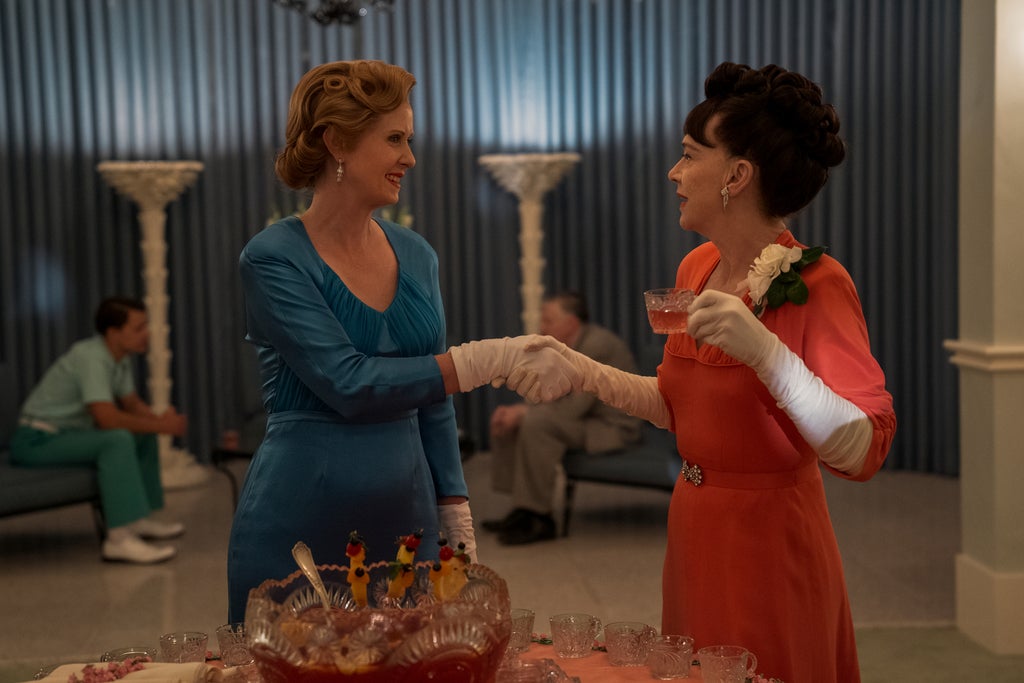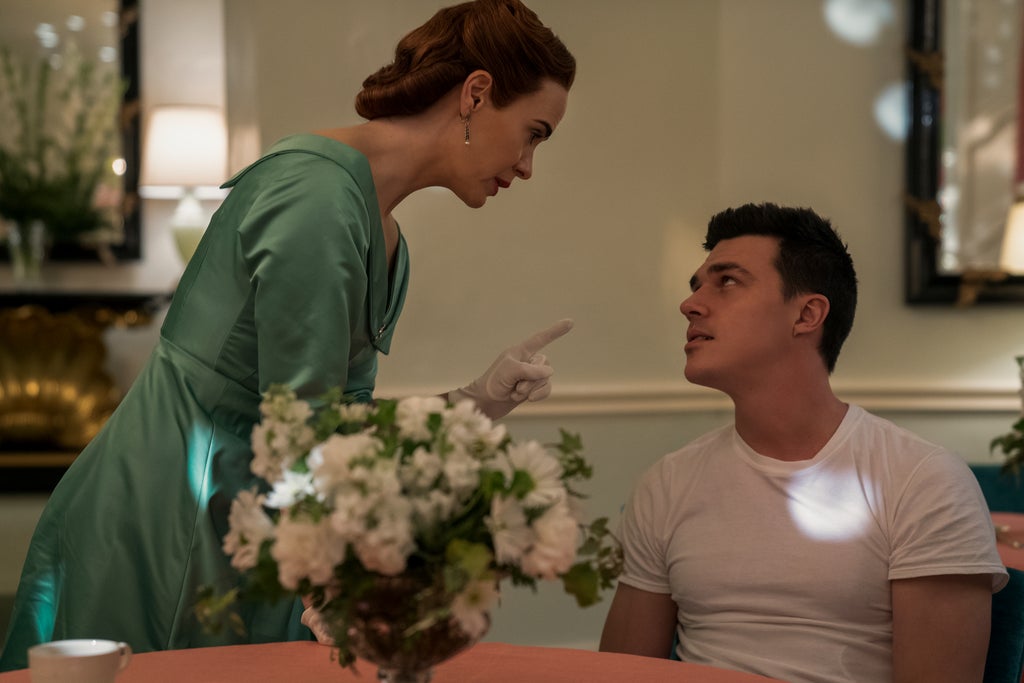 For Dolly, one of the youngest characters at the hospital, the color choice was even more significant. "We had only seen her in her nurse's uniform, and that is a very definitive moment for her and her relationship with Edmond, and there's a lot of aspiration and hope for their future together," says Guzzi. "So, we wanted to give her this very — as if it's her first time at a dance, first time on a date with a boy — super-feminine but still childlike [look], with the flower in the hair and the little necklace and cupid heart earrings."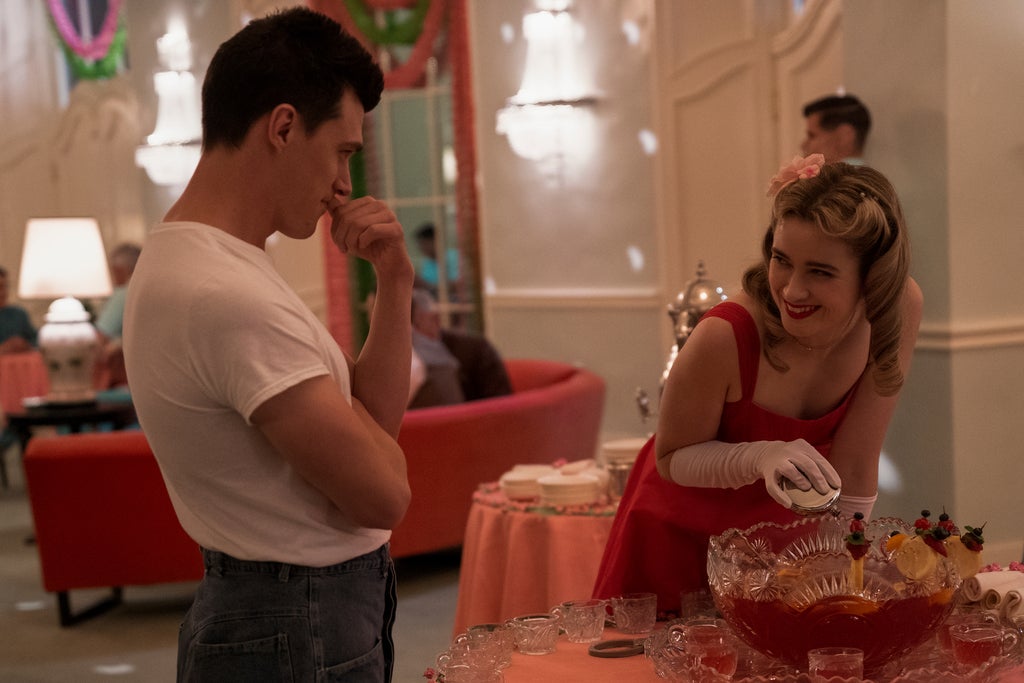 It's these types of details that make Ratched a fashion must-watch, as well as serve as a reminder that even the most chilling things can have touches of true beauty.
Like what you see? How about some more R29 goodness, right here?
Julie And The Phantoms Is Full Of '90s Trends
Astrid Sloan Is Gen Z's Carrie Bradshaw
'Baby-Sitters Club' Features '90s Trends For Gen Z