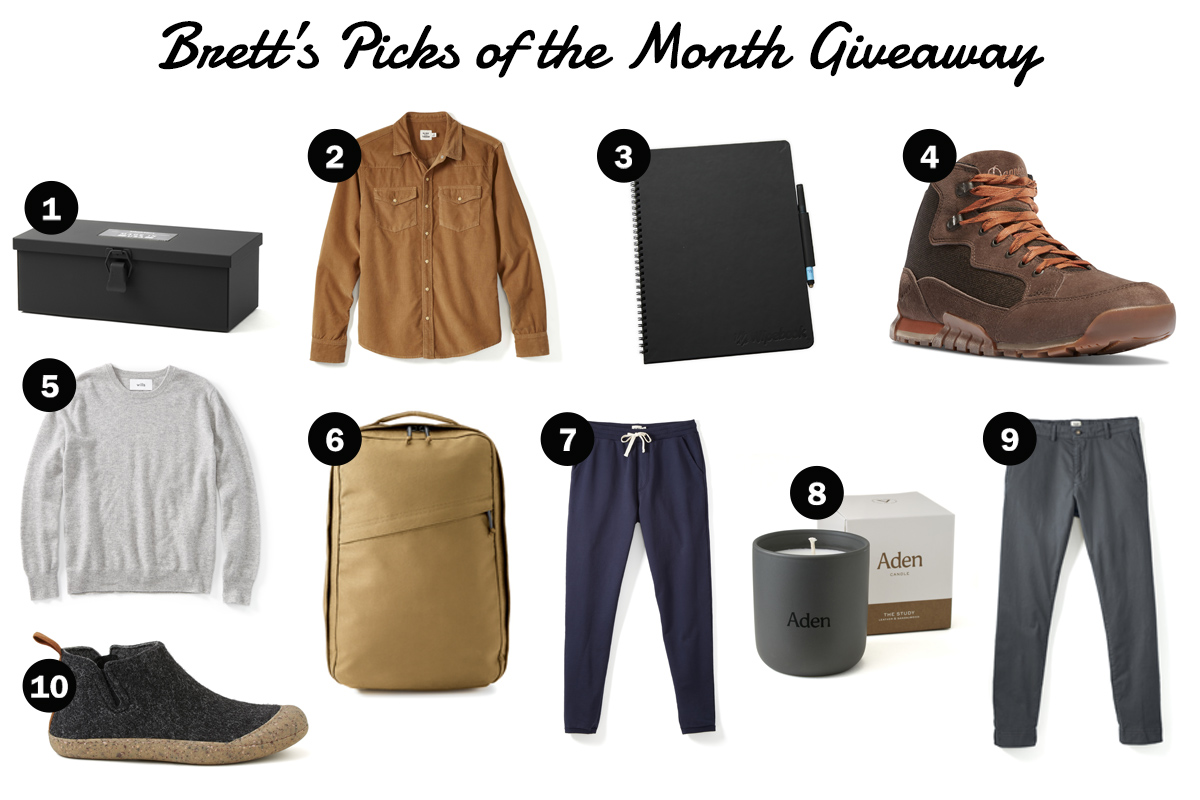 Below you'll find some of my favorite recent offerings from Huckberry. Enter the giveaway to win any of these items, or anything else available in their store (up to a value of $500).
My Picks This Month
1. USA-Made Gear Box. This heavy-duty powdered steel tool box is ideally sized for carrying your essential tools, mid-sized gear, and/or various tech gear and accessories. It's a tough-as-nails organizer, built in a third-generation American factory. 
2. Flint and Tinder Western Corduroy. Born on the American frontier where there was nary a tailor in sight, the signature feature of a solid Western shirt is the use of snaps rather than buttons, which are far more durable and less prone to be torn off than a sewn-on button. Combine that classic style with a modern cut and fabric (super soft corduroy), and you get a handsome shirt that'll fit in just about anymore.  
3. Wipebook Pro. Bring the wonders of a whiteboard anywhere you go with this ultimate reusable notebook. Featuring 20 pages that are made of erasable whiteboard material (which can then be scanned and uploaded to any number of apps), you can get the benefits of writing out notes and doodles without the waste of paper. 
4. Danner Skyridge Boots. When that legendary Danner durability is combined with soft, lightweight materials that are comfortable right out of the box, you get a shoe that can be worn anytime, anywhere, for however long you need. Also features the Danner "dry barrier," which makes it 100% waterproof but still allows moisture to escape. 
5. Wills Cashmere Sweater. This handsome crewneck sweater is made with the most luxurious natural fabric on earth — 100% Mongolian cashmere. While the fabric feels fancy, the design and cut is modern enough to wear for even casual occasions.
6. Huckberry X GORUCK GR1 Slick. For the first time in nearly ten years, GORUCK revamped the Slick GR1 — an understated, streamlined version of their world renowned GR1, and it's only available on Huckberry for a limited run. With materials and construction that are durable enough for Special Forces, this is a bag you'll have on your back for years to come. 
7. Flint and Tinder French Terry Sweatpants. Flint and Tinder took the original fit, comfort, and durability of classic sweatpants (like the ones Rocky Balboa trained in), and cast 'em in a super-soft mid-weight fabric. The ideal lounging pant for any situation where comfort is king.
8. Aden Candle. With scents that evoke adventure from the comfort of your office or couch, these might just be the perfect home office complements. The candles from Aden are handpoured in California into handsome ceramic vessels and boast an impressive 60-hour burn time.  
9. Flint and Tinder 365 Jogger. Flint and Tinder's bestselling fabric — the very same stretch-infused goodness that's in the 365 Pants — now comes in a more laidback jogger silhouette. It's not only the easiest way to step up your WFH attire, but looks way better than sweatpants when needing to leave the house for a quick errand. 
10. Greys Outdoor Slipper Boot. Made of a cozy wool blend that feels like you're wrapping your feet up in your favorite blanket, and yet is temperature regulating, moisture wicking, and odor resistant. The rubber sole provides some grip and allows you to venture out of the house. 
The Prize
Any item currently available on Huckberry (up to a value of $500). Be sure to check out the current line-up of items as it changes every week.
Enter the Giveaway 
If you are an email subscriber, do not reply to this email to make your entry. You must click on the title of this post, which will take you to the post on our web page where you can make your entry. Use the form below to enter. Don't forget that you have multiple ways to enter! The more of them you do, the better your chances are! 
Deadline to enter is February 9 at 11:59pm CT. We'll then select one random winner. Good luck!
The post The Huckberry Giveaway: February 2021 appeared first on The Art of Manliness.