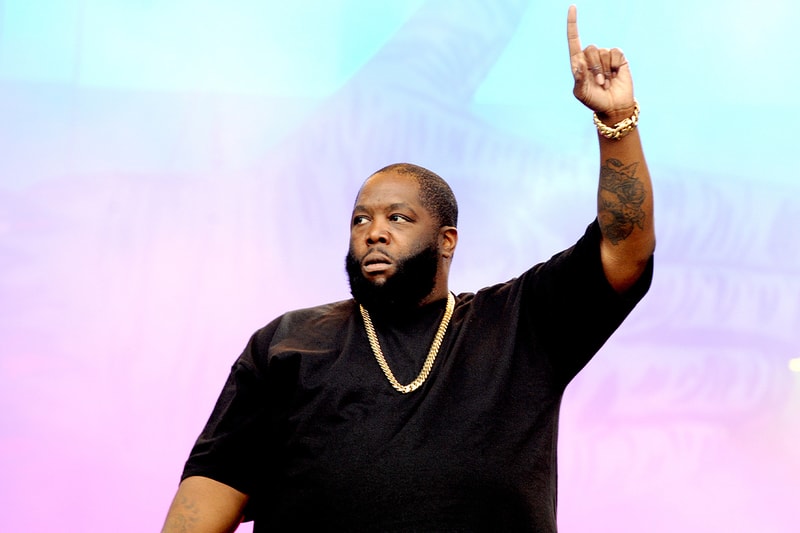 The music industry observed "Black Out Tuesday" on June 2 in response to the murders of George Floyd, Breonna Tyler, Ahmaud Arbery and countless other Black Americans. Major labels, publishing and public relations companies and artists took a day to provide a space for the voices who need it most, sharing the message of solidarity in the fight against racism. Everything from music and video releases to publicity updates were put on hold, allowing individuals to focus more on the issue at hand.
On top of aligning with the industry shutdown, many artists have taken initiative to further support the Black Lives Matter movement by sharing their personal statements, joining the street protests in their local communities and donating to relevant organizations. For the individual, here are resources on how to stay informed, vocal and safe.
Killer Mike
Run The Jewels member Killer Mike, who is the son of and is related to several Atlanta police officers, spoke an emotionally-driven speech at the Atlanta mayor's press conference. He began with the story of how the first few African American police offers in Atlanta had to suit up at the local YMCA because the white police officers didn't want them to get dressed in the same area. Fast forward to 80 years later, the world watched how a white police officer murdered George Floyd. Killer Mike continued his speech in tears, asking the police department to bring back the review board in order to stay ahead of the curve. "We don't need an officer that makes a mistake once, twice, three times and finally, he kills on national TV, and next thing you know the country is burning down," he said. The following week, Killer Mike appeared on The Late Show With Stephen Colbert and further explained his speech, adding, "No, we don't need you to stay out of the way, What I need you to do is send financial help to some of the organizations I just named, because those are the organizations on the ground. Then get your butt down there and help those organizations in the physical."
The Weeknd
The Weeknd donated a total of $500,00 USD to several organizations supporting the movement, including the Black Lives Matter Global Movement, The Colin Kaepernick Know Your Rights Camp Legal Defense Initiative and the National Bail Out. Taking to Instagram to spread the word, the XO Records founder shared his donation receipts and encouraged "everyone with big pockets to give and give big." He also urged major labels and streaming services to publicly announce the donations they've made and will make as an act of solidarity.
Tyler, the Creator
Although Tyler, the Creator's GOLF store on Fairfax sustained damages, he continued to join the protests in LA alongside Odd Future co-founder Jasper. The IGOR artist shared a Black Panther Party image from 1969 on Instagram, and followed it up with a comment that read, "and the store is fine, but even if it wasnt, this is bigger than getting some glass fixed and buffing spray paint off, understand what really needs to be fixed out here. stay safe, love." He also uploaded a photo from his area of the protests on Twitter that reminded people to stay safe.
Tyler, the Creator & Jasper joining the protests in LA. pic.twitter.com/fuSD8Uw2vd

— sim (@nugmob) June 1, 2020
PROTESTERS AT THE GOLF STORE, Hopefully they realize this is a store ran by a black artist. Either way, the store can be rebuilt but the lives of those lost cannot. #JusticeForGeorgeFloyd #LosAngelesriots #golfwang @tylerthecreator pic.twitter.com/KQ0CMDysmU

— ??? (@SECTIONGOLF) May 31, 2020
beeee safe out huur pic.twitter.com/gQybaBDZeH

— Tyler, The Creator (@tylerthecreator) May 31, 2020
JAY-Z
JAY-Z's Roc Nation took out full-page ads in major newspapers like the New York Times, Los Angeles Times, Minneapolis Star Tribune and the Atlanta Journal-Constituion in support of the Black Lives Matter movement. The ad features a speech that Martin Luther King, Jr. made in March 1965 in Selma, Alabama with signatures of other supporters, organizations, lawyers and family members of DJ Henry and Antwon Rose.
View this post on Instagram
Travis Scott
Travis Scott shared Nike's "Don't Do It" video ad on Twitter as well as a personal statement. The Cactus Jack founder demanded accountability and police reform, writing, "We have to change and reform police policy in our U.S. cities, and there needs to be accountability immediately! Especially when officers abuse power to the point where it callously takes a life."
Let's all be part of the change #UntilWeAllWin pic.twitter.com/OrlhlHZLPR

— TRAVIS SCOTT (@trvisXX) May 29, 2020
View this post on Instagram
A$AP Rocky
A$AP Rocky took to Twitter to write a strongly-worded statement wherein the rapper revealed that he was out on the streets protesting with no press and no cameras. "I DONT POST MY EVERY MOVE, NOT MY THING," he wrote, but also shared several videos and photos of his presence at a protest on the AWGE Instagram account.
WE PROTESTED N DEEZ STREETS, NO PRESS ,NO CAMERAS ,NO INSTAGRAM .NOT 4 NO BRAGGIN RIGHTS OR PHOTO OPPS, SHIT WAS JUST GENUINE. 4 ONCE ITS LIKE DA WHOLE ?SHARED THE SAME PAIN, I DONT POST MY EVERY MOVE, NOT MY THING BUT WE FAR FROM SILENT N ITS STILL FUK12!

— LORD FLACKO JODYE II (@asvpxrocky) June 1, 2020
View this post on Instagram
View this post on Instagram
Drake
Both Drake and The Weeknd were encouraged by Mustafa the Poet, who urged them to match his $400 USD donation and add three zeroes. This led to Drizzy donating $100,000 USD to the National Bail Out fund. He also expressed his condolences for George Floyd, sharing a powerful poem from Assata Shakur entitled Affirmation.
View this post on Instagram
Big Sean
Big Sean uploaded a three-minute video on his IGTV, calmly talking about the deep-rooted racism in America. Comparing it to the human body, the rapper explained that the country has this huge gash across its chest and the organs are rotting on the inside. "We can put makeup on top of it or concealer and sh*t to make it look like it's not so bad, but it is that bad and we're experiencing it in real time," he continued. He ends his video by reminding everyone that systematic change can only really happen if there's a major overhaul in both the government and society.
View this post on Instagram
SAINt JHN
Black Out Tuesday was meant to disconnect from work, but SAINt JHN had a very good reason to talk about music. He revealed that he and Future were scheduled to film a music video for "Roses (Remix)" in two days, but they've decided to instead donate the budget several bail funds and black-owned businesses affected.
Hit-Boy
Hit-Boy penned a lengthy, straightforward and thought-provoking statement that took a deep dive at the systematic problems African Americans in the music industry. The producer/rapper called for fair deals and updated contracts rather than just one day of a shutdown. "As someone who's generated millions for multiple corporations through my gift I have to say it's gonna take a lot more than 1 Tuesday to reverse what's been going on for all these years," he wrote. Hit-Boy continued, "Most of us have watched the stories of musicians we grew up admiring and had no idea they were being exploited for their talent and taken advantage of with bad contracts, etc. to see a "music industry blackout" in 2020 when there are still companies handing out contracts they know aren't any good for the talent and who don't care about their black talent as much as they say they do just doesn't add up."
J Balvin
The Colombian reggaeton star offered a more introspective statement. He notes that as a non-Black POC, he understands that he has a responsibility to "educate myself on the plight of Black citizens in America — to learn about their struggles and the ongoing, systematic racism they face each day; and more importantly, to learn how I can be a better ally and help change the system through my voice and actions." J Balvin also announced that he will be making a donation to Colors of Change as a sign of his commitment.
View this post on Instagram
Click here to view full gallery at HYPEBEAST