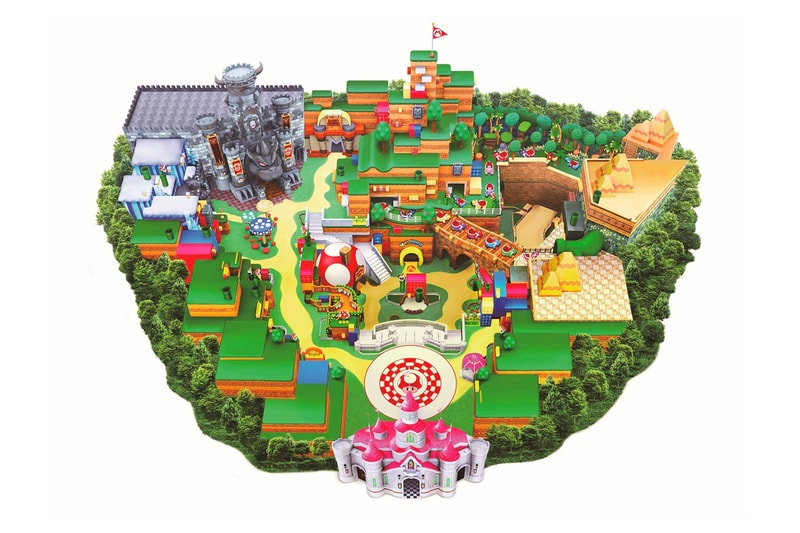 Universal Studios Japan has unveiled the first-ever Super Nintendo World amusement park area map to hold fans over for the widely anticipated 2021 opening.
With the map, Nintendo aficionados can plot their forthcoming trip to the Super Nintendo World, including visits to the different iconic characters' universe. This theme park is set to be the most complex area within Universal Studios Japan (USJ). From the map, fans can get a better understanding of what to expect at the real-life Mushroom Kingdom. The comprehensive depiction of the theme park includes fan favorites such as rideable attractions at Mario Kart: Koopa's Challenge and Yoshi's Adventure inside of Koopa's Castle and Mount Beanpole respectively.
The entrance to the Super Mario universe begins at Peach's Castle where zealous visitors can opt for a Mario and Luigi Meet and Greet. Visitors can also purchase Power Up Band wristbands upon entering the fantasy world and further integrate themselves into the Key Challenge activity at the Piranha Plant and Koopa Troop locations.
In the newly released map, USJ has given fans an inside look at the food items available at the Kinopio Cafe. Kinopio, a Japanese play on the word mushroom and Toad's name, is the central theme and key ingredient of the restaurant. Amusement park goers can enjoy a bacon, cheese and mushroom Mario Burger, a Piranha Plant Caprese with sliced mushrooms and a Super Mushroom Pizza Bowl, shaped exactly like its name. For dessert, the restaurant serves up a rendition of the tiramisu in a Question Mark Block. Circling back towards the exit is the 1-Up Factory, where fans will find the Super Nintendo World souvenir shop decorated with the same conveyor belts and giant gears fans have become accustomed to from the games.
As the park gears up to open in February 2021 and continues to generate more buzz closer to the date, stay tuned for more information about the Super Nintendo World at Universal Studios Japan.
In case you missed it, take a virtual tour of the Super Nintendo World.
Click here to view full gallery at HYPEBEAST