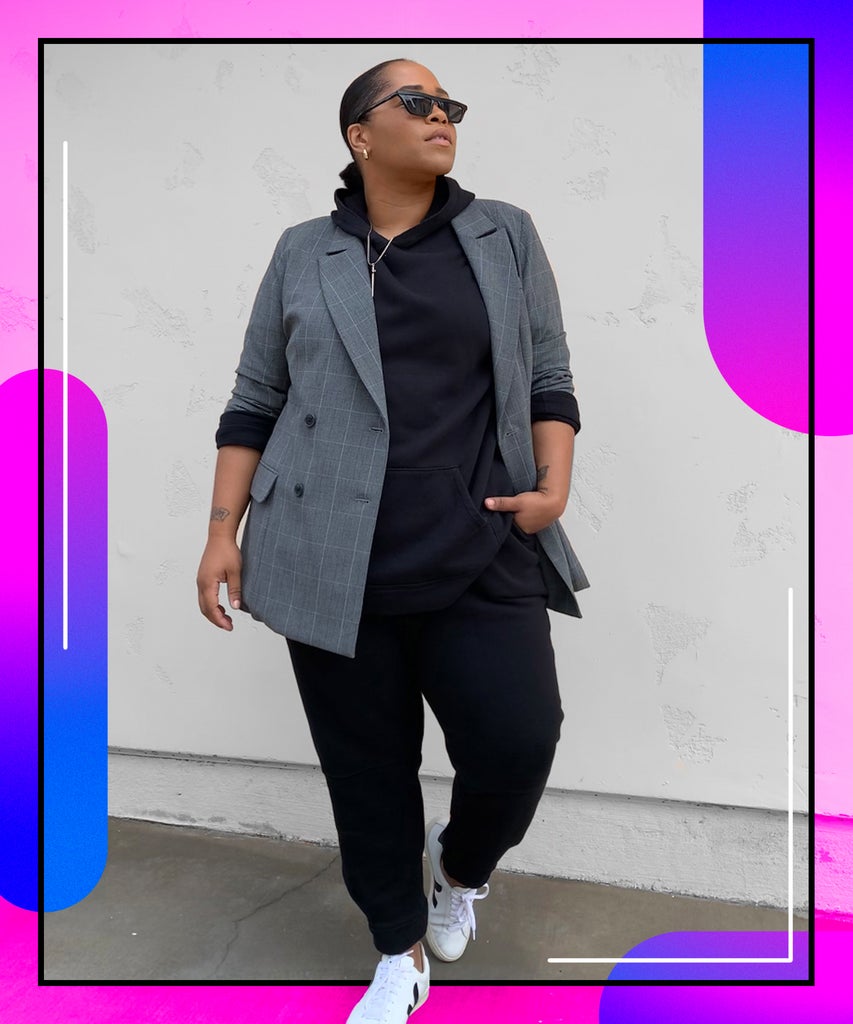 COVID-19 has changed almost every aspect of our day-to-day lives, and for lovers of fashion — who rely on the endorphin hit that comes from discovering, coveting, and showcasing new duds — 2020 can feel like a permanent timeout from one of our favorite pursuits. Sequestered in our homes for days on end and isolated from our social circles, what has once been the highlight of our day — getting dressed — seemed like a frivolous endeavor. Many of us wondered, Without a need to be "seen," would all recreational shopping would cease?  Would the creative pleasure of outfit-making have no place in society?
Now, more than six months into quarantine and staring down a fall fashion season stripped of IRL artifice, we're realizing that, while we're still shopping and putting together looks, the face of fashion consumption has changed drastically. How we shopped had changed. With this in mind, we turned to our friends across the fashion spectrum — everyone from 11 Honoré fashion director Danielle Williams Eke to jewelry designer Robin Mollicone to some of the best-dressed folks at R29 — and asked how they shopped differently during the beginning of the pandemic, what they bought, and what they have their hearts set on for fall.
The most important takeaway is that — despite some very splashy big-box retail downfalls and small-business closures — people who love fashion haven't stopped shopping. And they aren't opting for sweats, either. In fact, designer Tyler McGillivary snagged an oversized daisy-emblazoned T-shirt, and journalist Roxanne Fequiere opted for a throwback navy unitard from Staud's candy-colored collaboration with New Balance.
Even more interestingly, due to a variety of circumstances, they're investing in pieces that are, as creative consultant Amanda Murray puts it, "emotionally transformative" — those fanciful garments that spark more than a little joy. Pre-pandemic, these purchases might have been reasoned off the wish list due to impracticality or frivolity, but there's no sense in holding back when the future is uncertain and happiness is in short supply. "Quarantine is rough for everyone," says comedian Youngmi Mayer. "If I'm going to go down, I should go down in flames wearing a heart dress that I can't afford."
Even though fall is going to look starkly different than it did a year ago, these people have their wish lists at the ready, undeterred — and possibly even bolstered — by the changes that 2020 has brought. Read to find out how people are shopping differently.
Interviews have been edited and condensed for clarity. At Refinery29, we're here to help you navigate this overwhelming world of stuff. All of our market picks are independently selected and curated by the editorial team. If you buy something we link to on our site, Refinery29 may earn commission.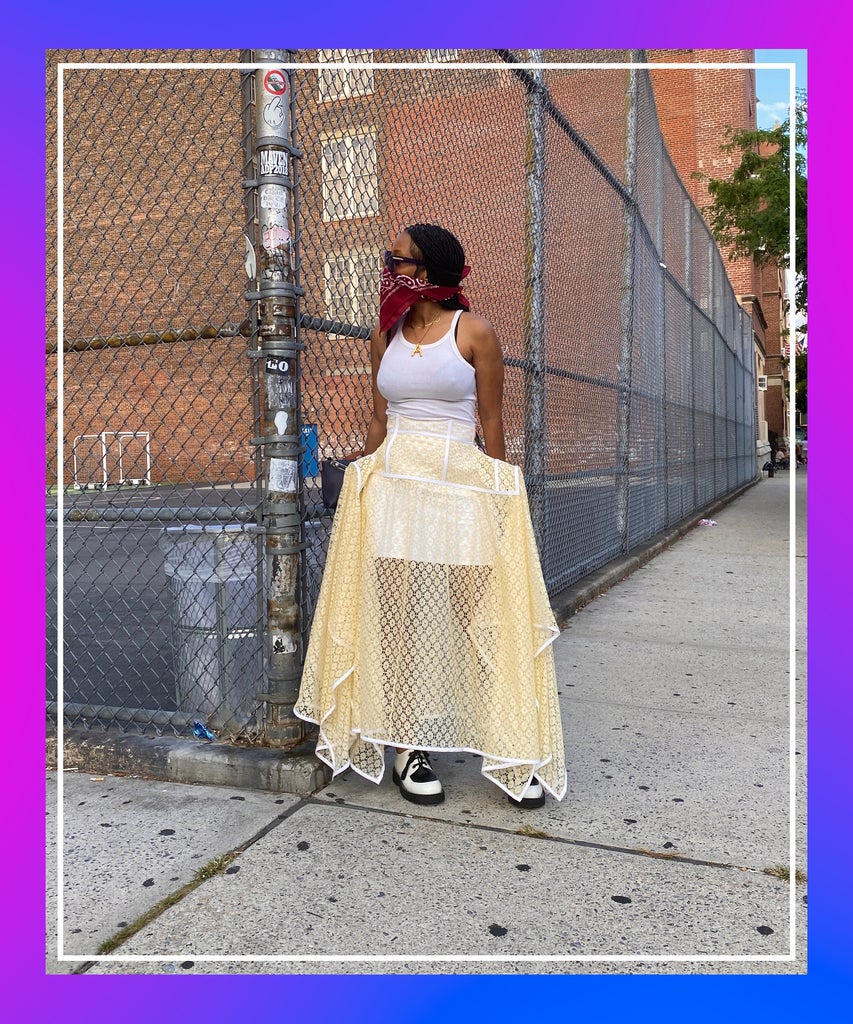 "I wouldn't necessarily say my shopping habits changed, but [I'm putting] even more of an emphasis on buying pieces that are special and emotionally transformative — pieces that remind me why I fell in love with fashion. I bought this amazing yellow lace Loewe skirt that's perfect for social distancing because of its pannier — I've had it in mind since their show last September. I pre-ordered a billowing Christopher John Rogers top that arrives in the fall, and a few amazing politically activated slogan T-shirts from Andre 3000 and Shop Crafted.
I have a feeling that I'll be spending most of my time indoors this fall, so I won't be doing much shopping. However, I bought a Molly Goddard beanie with a big bow. It's very whimsical. I'll be amusing myself with that for trips to the grocery store. Rosie Assoulin has the most amazing convertible knit that brings me joy every time I think about it, so it's on my list. I always buy clothes that make me feel something, and I need to feel something other than despair in these trying times."
— Amanda Murray, creative consultant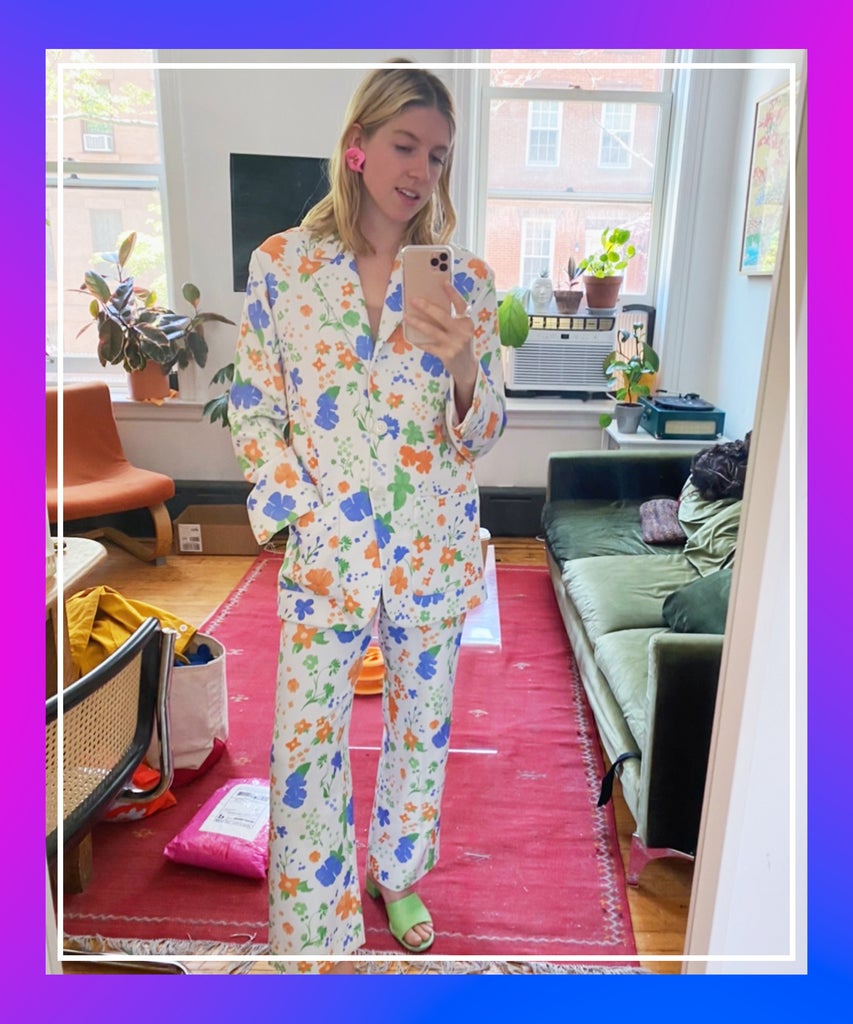 "I started buying bigger items than I would have in the past. I'm like, 'Oh this is a little bit out of my price point,' but I justify that by being like, 'Well, I'm not going out at all.' For example, I went full in on this very crazy white suit that's covered in dotted wildflowers from Stine Goya. I had to have it. I'm buying almost wild things with the idea that when this ends, I'm going to be like, coming out. 
The realistic side of me is like, 'I need to buy things that I can wear around the house, to wear [to] not do anything.' I bought this very oversized T-shirt from Chickees Vintage — it's literally just a plain white shirt with a huge yellow daisy on it. I'm trying to find other versions of it because I feel like it's my ideal uniform. I bought blue Chacos, and my life has actually changed. They go with everything. It's like walking on foam. I have also been living in a pair of Patagonia men's Baggies shorts. They are sold out everywhere and I had to find them from a very random website in the vein of Bass Pro Shops. So I've been looking like a 12-year-old camper, wearing oversized t-shirts, Patagonia shorts, and Chacos.
For fall, I'm planning on buying these oversize, parachute-type pants from Ed Curtis — they have an amazing black line graphic on it. I'm also hoping to get on the waitlist for these really beautiful dresses that are pieced together from this amazing designer Nadine Mose. I missed the first drop, but she's going to re-open pre-orders. " 
— Tyler McGillivary, designer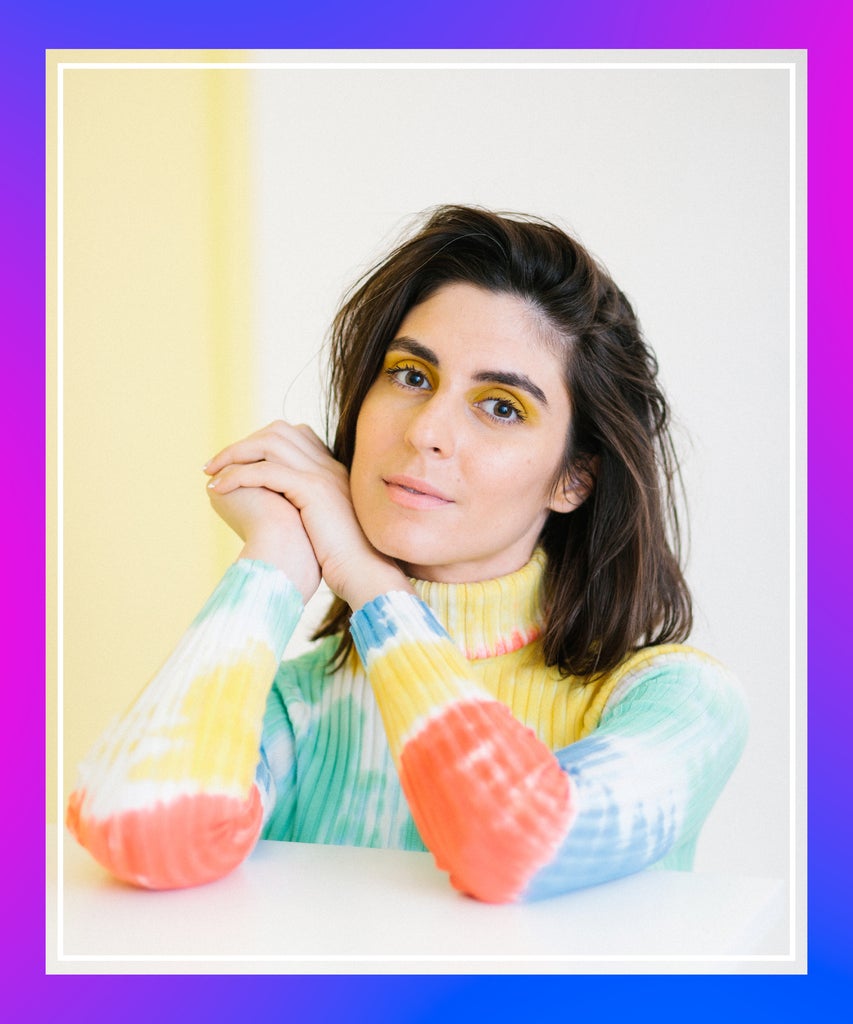 "[Before the pandemic] I was like, 'I need a hot dress to go to this thing!' I have this one Victoria Beckham red dress — I just love it. It makes me happy to put it on. I'll never sell it.
I got this really awesome tie-dye turtleneck from Nonna. I like the tie-dye, it's obviously everywhere right now. I feel like we're trying to find ways to express that we're happy. I'm almost at this point where, when I go out, I want to try even more than I did before. 
[I'm buying] things like sweatpants and biker shorts and sweatshirts — I'm just really into being comfortable, because we're all stuck at home. I like Entireworld's sweats a lot. I like their cozy knits. And I like that they're so plain and neutral that it's not a whole thing. But you can still be colorful. 
I'd really like to get a nice hiking boot [for fall]. I just want them to be kind of sleek. I don't like to draw attention to my feet unless they're in a high heel. I have big feet. I have a size 10. And hiking boots are clunky."
— Vanessa Lovarato, founder of Marigold Sweets and The Edible Club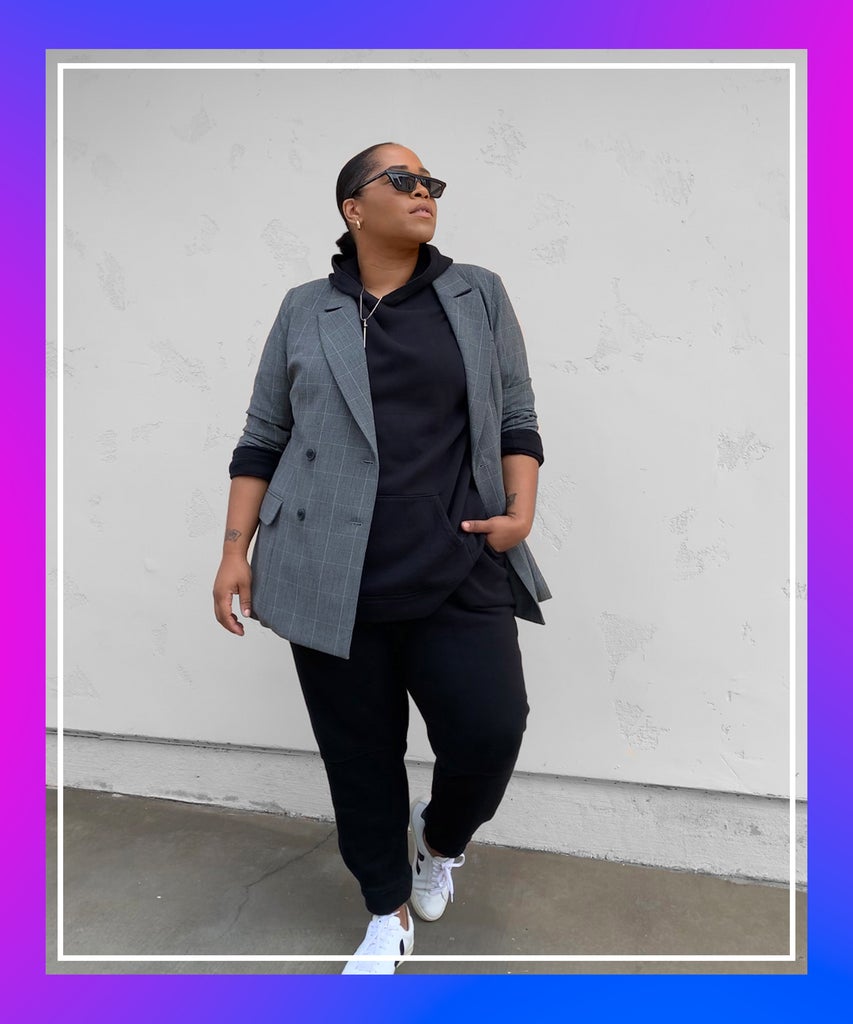 "At the beginning of quarantine, I cleaned out my closet. I was like, 'Let me purge some stuff.' That allowed me to see what holes were in my wardrobe — what I was missing to complete it, and what were the things that I no longer needed. So with that in mind, I think I'm definitely shopping more strategically, to fill those voids in the closet. Which was more blazers and transitional workwear — cause I didn't know quarantine would last this long. I was like, 'Yeah, it'll be over soon.'
But now, being in this space a little bit longer, [I'm looking for] items I can wear at home, but also wear out in public, that are comfortable, that are easy to throw on, that I don't have to think too hard about. What I'm loving is even mixing and matching a blazer over a hoodie and a sweatpant, which is kind of my vibe all the time anyway. I've seen it on street style and Pinterest — I'm like, 'Yup, that's the look.'  That can instantly make you feel a little bit more put-together than just lounging around in your sweatpants.
For fall, I'm excited about things with color. We have all already checked our box of black, gray, and cream. So what is that thing that's going to make the loungewear or being at home feel a little bit more fun? The chartreuse/citron color was on the runway a lot, so we wanted to inject that into the 11 Honore collection. You'll see that in sweatpants and a sweatshirt — that pop of color of things that you don't have."
— Danielle Williams Eke, fashion director, 11 Honoré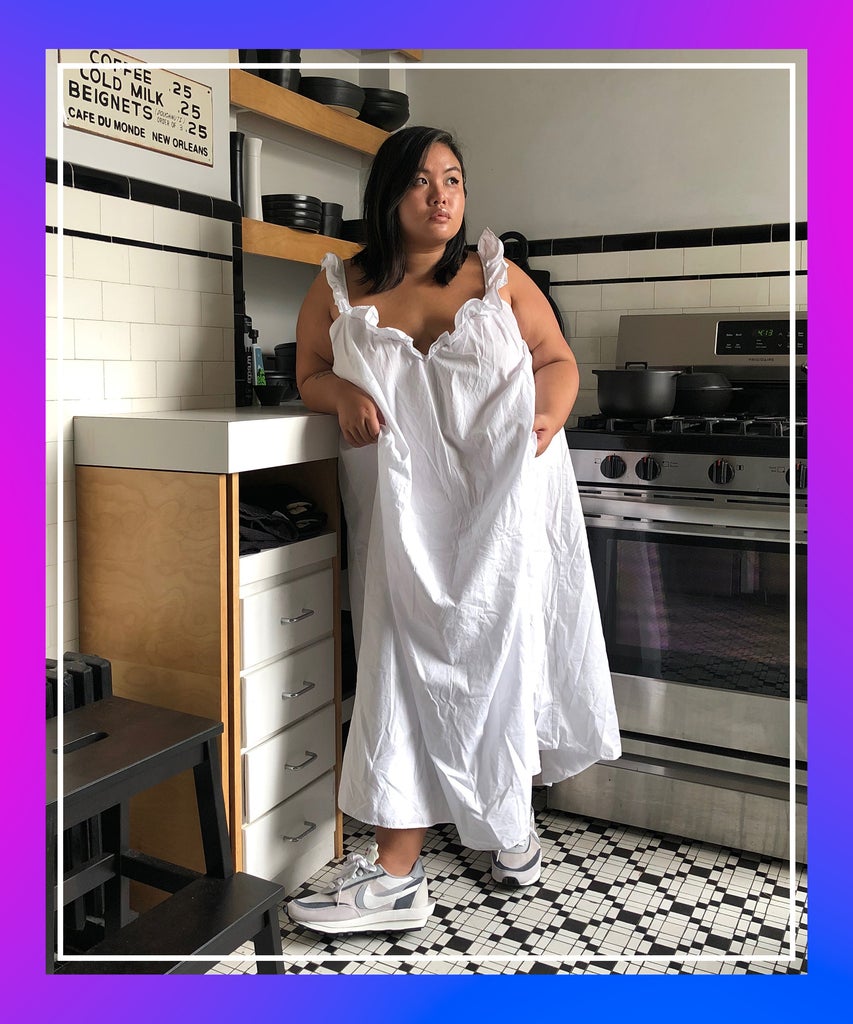 "I feel like I'm definitely still buying a lot of clothes. I recently bought a Staud dress on sale — it's a beautiful halter with a cutout on the sides, and it's backless. I feel like I haven't really stopped shopping because I still have occasions — it's just that the occasions have changed. I still want to dress up because it's still something I look forward to on the weekends. Before [the pandemic], I was buying a lot of stuff for the office — I'd buy tailored wide-leg pants and tunics. And right now I've pretty much only bought dresses. The H&M dress with the ruffle tank straps — I bought three of those in different colors. It keeps going in and out of stock. I have it in white, black, and beige. 
I've been buying a lot of sneakers. Even though I'm not wearing them, I'm going to wear them. I've bought a lot of Nike collaboration sneakers, like Stussy and Comme de Garcons. I am a big sneaker person, but I never bought into collaborations until I had the time to sit at home and wait to buy them. A lot of websites or retailers will have raffles, and on Nike.com, you just have to be there at the right time. 
I ripped my leather jacket last year. It was a Schott Perfecto imitation jacket, and it was buttery, beautiful leather in this oversized fit. For fall, I'm looking for something in that vein. I'm really particular about the leather — leather can be really tough and structured and I'm more into softer, lays-there type of leather. I think I'm going to bite the bullet and buy it online — if there's a good return policy."
 — Sue Tran, associate creative director, Refinery29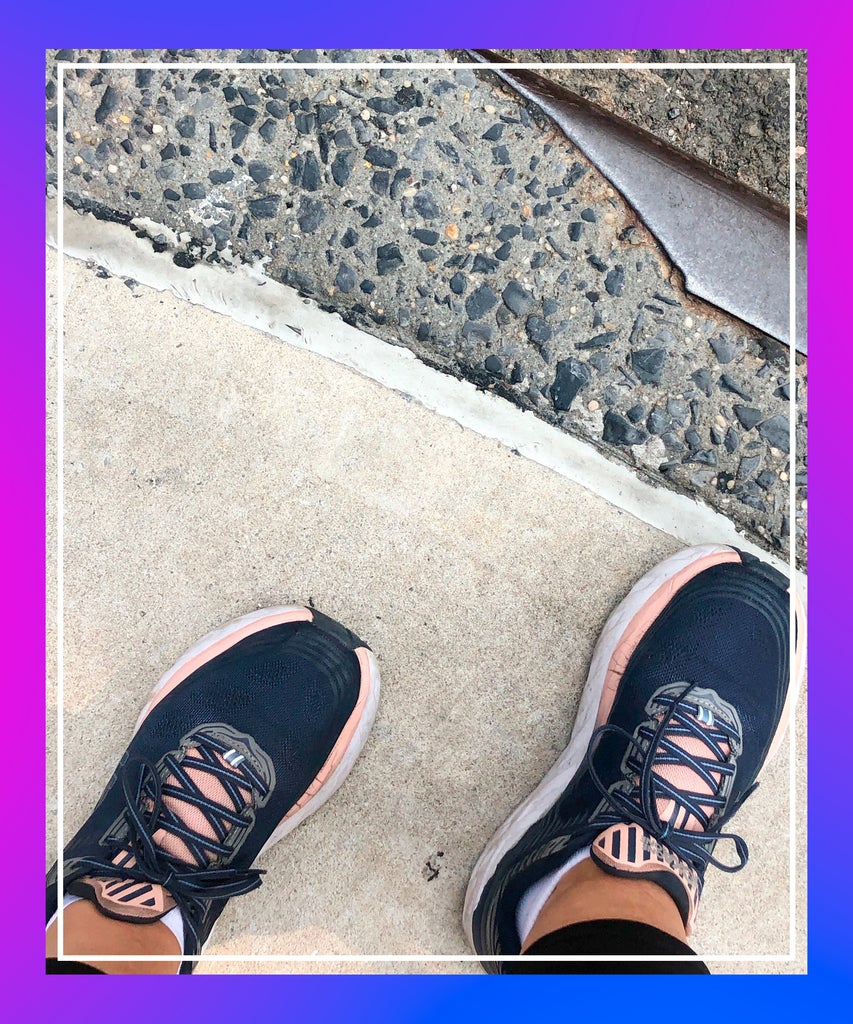 "I haven't really bought much outside of sneakers to walk the dog in. On average I walk about seven miles a day, from [my apartment in] the East Village up to 60th Street. At the beginning of the pandemic, there was no one out and no cars on the street, so you could walk anywhere in the city and be the only person around. I bought a pair of sneakers in March that I really loved — the Hoka x Opening Ceremony collaboration. And I walked so much the first three months of quarantine that I wore all the treads off the bottom. I am gonna buy another pair of the Bondi 6 sneakers for fall.
Part of it for me is that I like the hunt. I like to be sifting through things and finding things, and I'm not a huge online shopper. There's eBay and TheRealReal, but it's not the same thrill. You don't get the same high from it. So I've just been wearing things that were in my closet that I didn't even probably worn before. Those vintage purchases where I'd think, Someday I'm going to wear this. Now is the time!
I feel like the way I live and dress is pretty boring and basic right now. I'm not getting dressed up. The thing that I want to buy is jewelry. All the time. I think being on Zoom, even if you're not getting fully dressed, you still want some flair. I don't care about what shirt I'm wearing or what pants I'm wearing — I want to wear jewelry. 
I have my eye on a ring — a 14K gold ladybug cocktail ring from TheRealReal. It's a size 3.5, which fits my pinky. I'm waiting for it to go on sale, and then it's mine.
— Robin Mollicone, jewelry designer
"When quarantine started, I was so broke. I was scared that the $200 I had in my account was the last $200 I'd ever have in my life. So I wasn't buying anything — or paying rent. I was stressed out. Now that I'm working again, and have a paycheck, it's interesting. Quarantine means that I don't spend any money, so recently I've been online shopping a lot. It's so new to me. Even before quarantine, I would never really shop, because I felt sort of guilty about spending money. And I would never shop online. But now it's become a fun thing in my head — like, 'Oh, I got a good deal on something.' It's kind of like an outlet.
I bought vintage Gucci mules from TheRealReal. I'm so excited about them. They were so cheap — I mean, not so cheap, but such a good deal. I got [my dress] at Net-a-Porter, and it was half-off. It was ridiculous. I was like, 'This is a silk simple dress that I'm always going to wear,' so I just got it. 
Like everybody else in the world, I've been seriously debating buying that strawberry dress. But I don't want the strawberry dress; I want the corseted heart-print dress from the same designer [Lirika Matoshi]. It's way above what I feel comfortable letting myself spend right now — if I'm still okay financially in the fall, that will be my little gift. I don't know what my financial future looks like. If I'm going bankrupt, might as well wear a $400 heart corset dress.
I got the strawberry mask, and it was $50. I'm too embarrassed to wear it, because I feel like people will be like, 'Oh, that's the strawberry-dress mask, huh?'"
— Youngmi Mayer, comedian and co-host of Feeling Asian podcast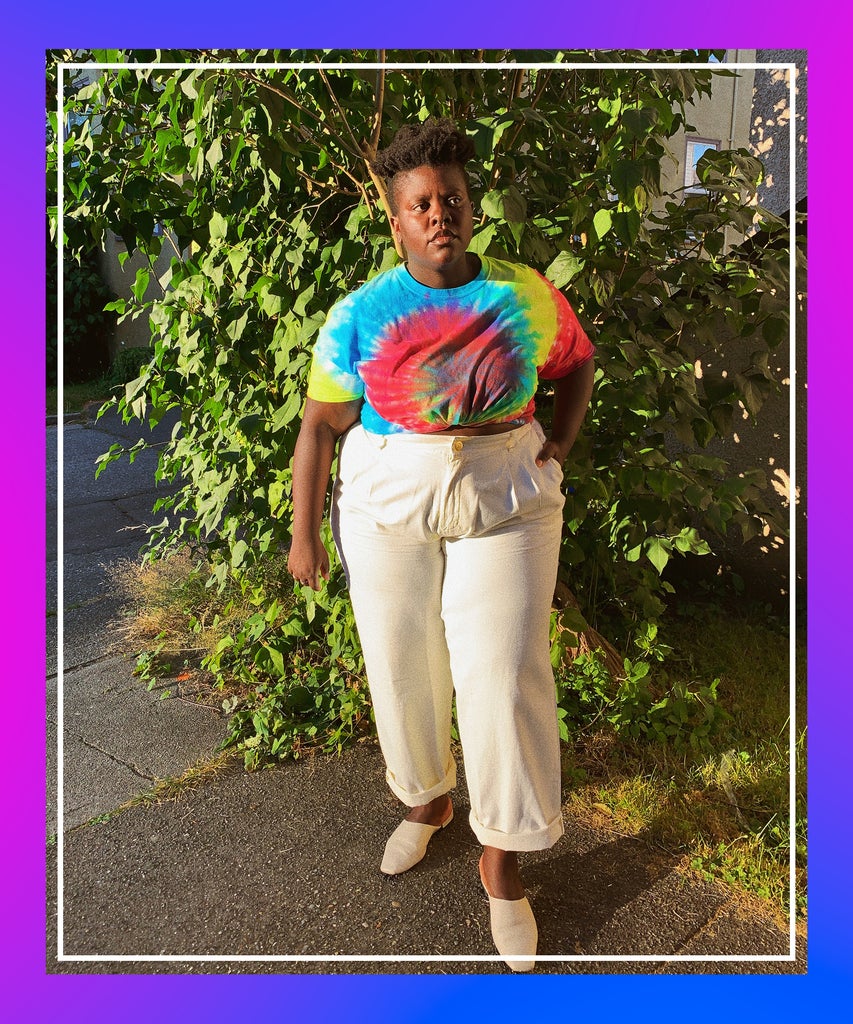 "The first two months of stay-at-home orders, I definitely bought things impulsively. I went maybe five or six weeks of feeling very restricted and just being like, 'We can't buy anything, we can't do anything.' And then something happened — a switch flipped, and I was like, 'I am going to cater to all of my whimsies!' And if I want something, I'm just going to buy it. Which I think was a stress response, honestly. That was the timeframe where I bought a tie-dye shirt, which I probably would have bought anyway, but I definitely bought it in a COVID haze of like, 'What about tie-dye? Will that make me happy?'
I bought a pair of linen pants from Elizabeth Suzann, at one of their last sample sales. They are kind of shut down right now, which is really, really sad. I loved everything they stood for. I also bought pink Red Wings. It's a very practical shoe in a very ostentatious color, which is a perfect shoe to me. I have wanted this style for a long time, I've seen how well they wear. It's not an entirely frivolous purchase, but I was also like, 'I'm buying pink boots in June.' 
Moving into fall, the one thing I'm looking for — which I might end up spending too much money on, but it's okay — is an oversized cashmere sweater. I managed to thrift one last year, and it's so comforting and it's so easy to wear. I wore it a ton last year, so I'm hoping I can Etsy-eBay-resale and find something similar. I'm praying to the thrift gods."
— Lydia Okello, writer, model, and fashion person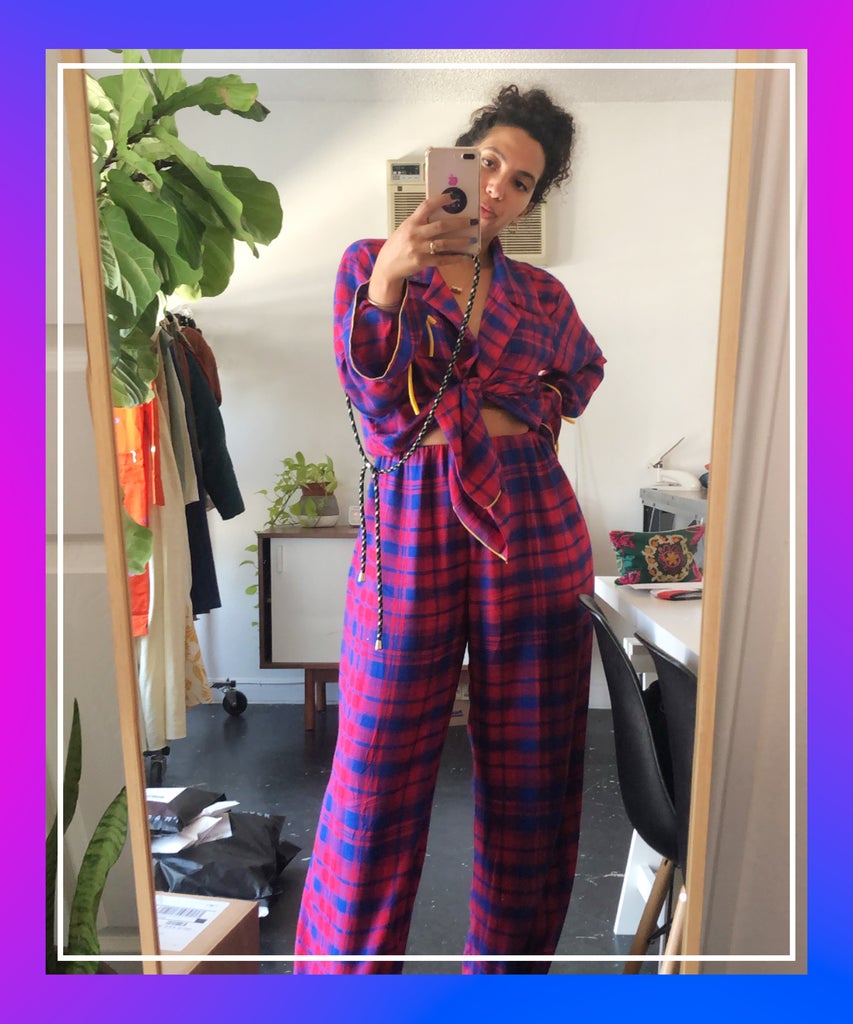 "[Kristen and I] are women of color and [Selva Negra] is a small business, so I've been super conscious of trying to pay it forward to other businesses. Actually what I'm wearing right now is amazing — it's a set by this awesome Black designer named Samantha Black. It's flowy and it's lightweight. I just made this purchase, and I am really happy with it.
As far as fall goes, I'm looking at our collection a lot. I took one of our bright blue fall corduroy jumpsuits home, and I've worn it three times in one week. I'm trying not to do too much shopping, but I'm trying to have some more statement colors and pieces."
— Sam Romero, co-founder, Selva Negra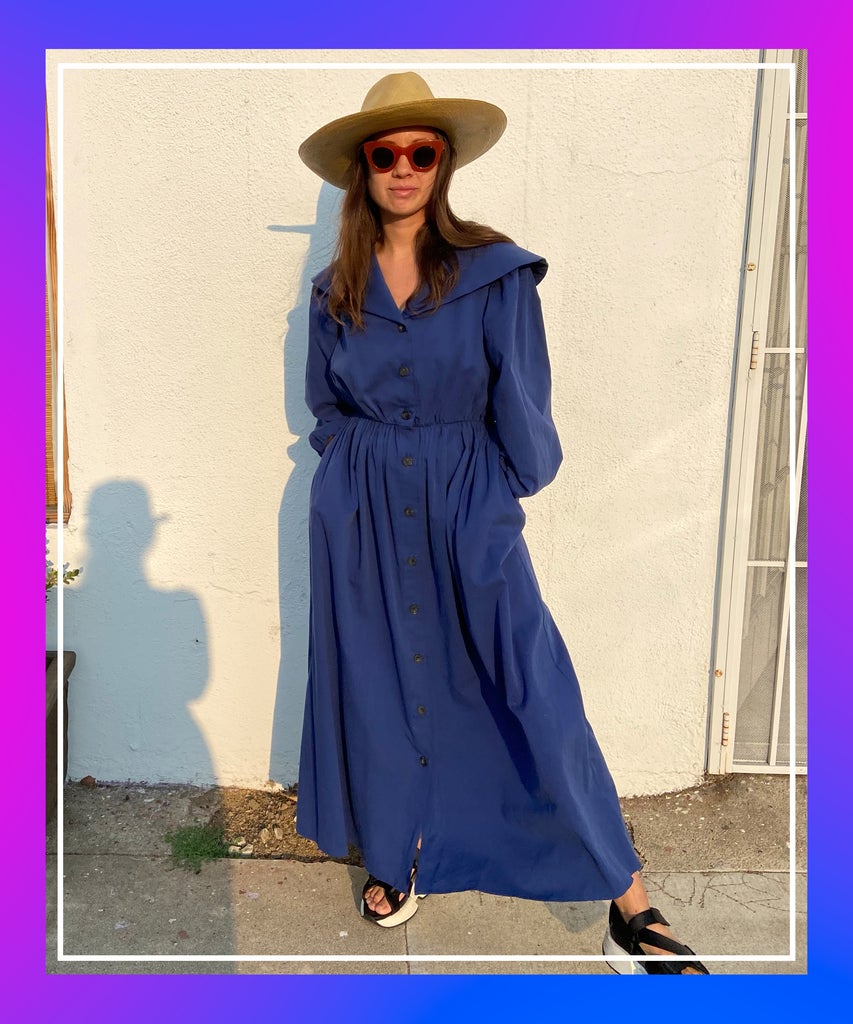 "I really need a good fanny pack. I think that will be my big fall purchase. A nice leather one, like brown or black or a bright color, or a woven, printed one. There's this Rachel Comey one that I am thinking of — it's almost like crocheted on the outside. There's also this dress from our fall collection that I'm obsessed with. It's called the Thelma — it's named after my Filipino grandmother because it has a really traditional Filipino collar. It's really really comfortable." 
— Kristen Gonzalez, co-founder, Selva Negra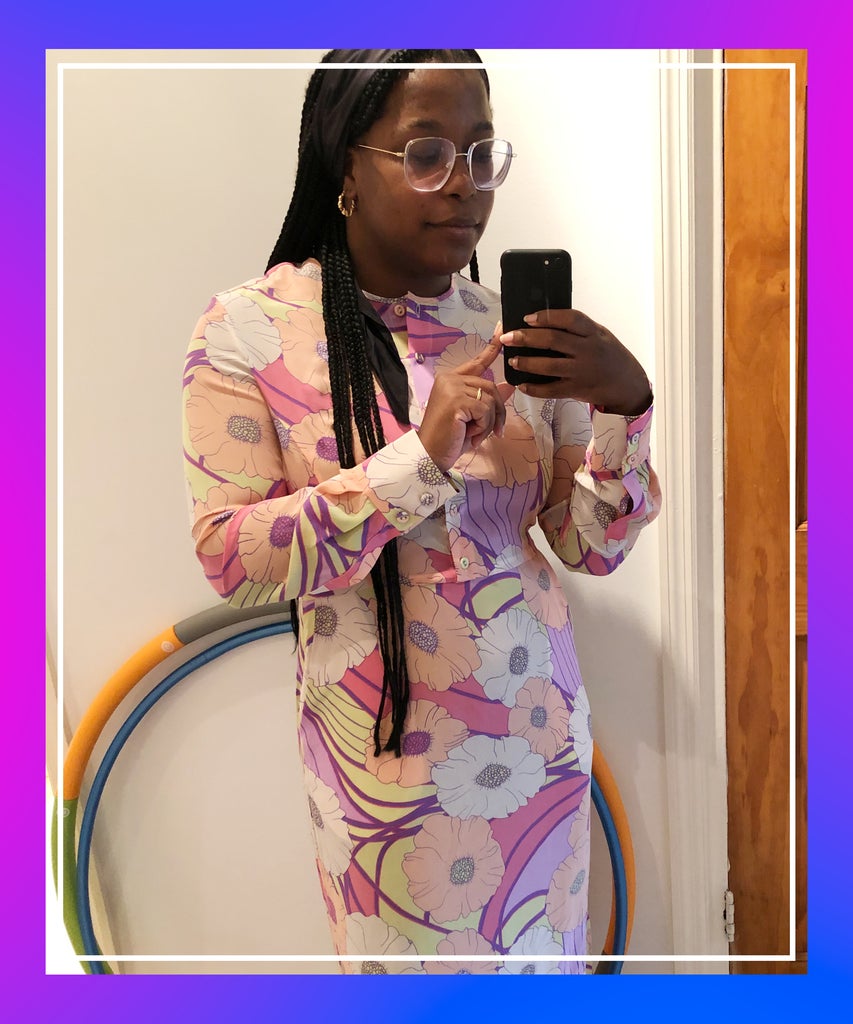 "At the very beginning of the pandemic when I was fully at home for weeks and weeks, I would open my Promotions tab [on Gmail] and look at all the stuff and feel like, 'This is utterly useless.' I was like, 'I can't believe this used to bring me so much joy, and all of the sudden, I can't leave my house. Nothing matters, it's so expensive.' The prices hadn't changed, but now it felt really, like, frivolous to be shopping or thinking about [fashion]. I know that in the beginning I started leaning towards buying things that were helpful, or useful, or home-based.
When I'm in my apartment for days at a time, the highlight of my day is checking the mail. It feels very Little House on the Prairie-ish, like, 'What has come today?' When I would go down and find a package, it would be a joyful thing. 
So then I think I started to warm up to the idea of buying clothes, and it didn't take me long before I started buying vintage again. There's a store called Wayward Collection, she's based in Philly — I shop there once or twice a week, it's like a problem. She has really reasonable prices. And then recently the Good Buys sample sale went down, and they were donating all of the proceeds to charity, and I did way too much there. I got a Rachel Comey dress.
For fall, I did get a pair of black Carhartt overalls that I'm really excited about, because one thing that I've been wearing all summer long is a pair of denim shortalls — I feel like a cartoon character, because I've been wearing them so much. [Over the summer,] I would be like, 'Can I wear my black overalls today?' And [my husband] will be like, 'No! It's like, 85 degrees.'"
— Roxanne Fequiere, freelance writer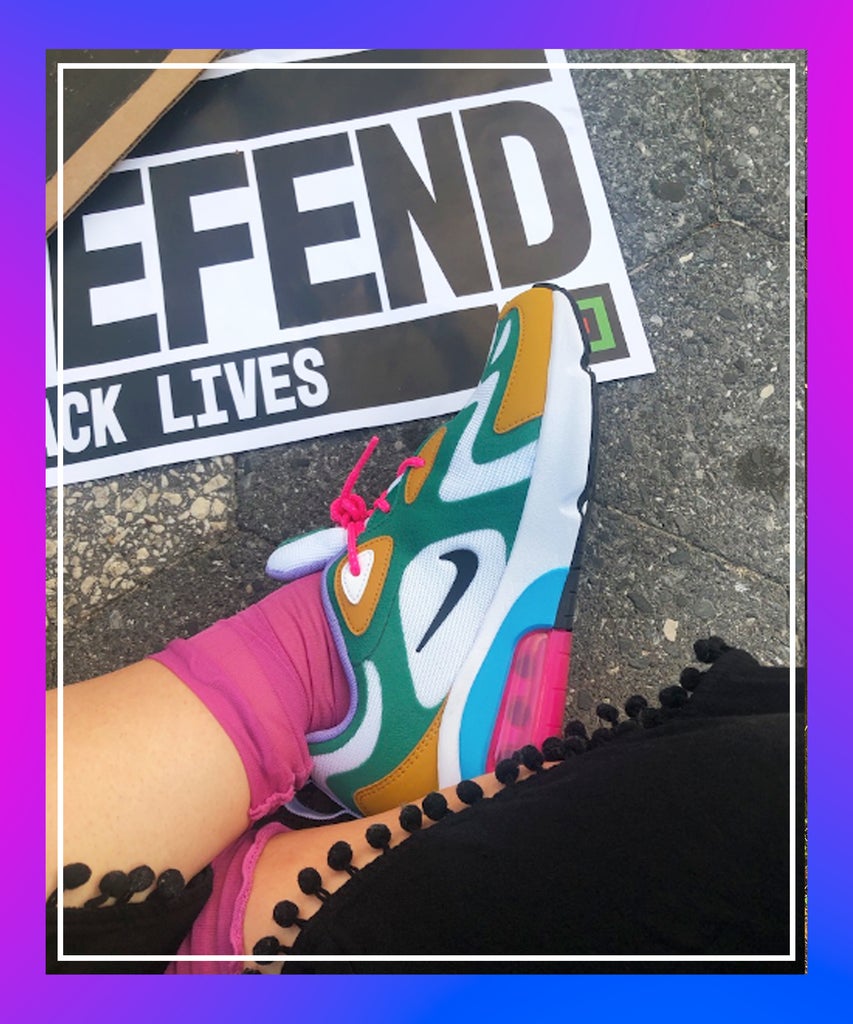 "I bought a Dusen Dusen dress with a matching mask. I've been wanting to match my mask to an outfit, so I had to get it, even though it was 100-something dollars. The dress is black-and-white, and it has flowers in a grid — I'm obsessed with it. Usually, I'm like, 'There's no reason for me to spend so much money,' but I didn't even think twice about it. I need it to make me happy during these times.
I'm buying a lot of is accessories rather than clothing. Like, these chunky hairclips that I can wear for Zoom. Some earrings from a weird Instagram website. It's French. I saw an ad for it, and I was like, 'I need this.' I know people are investing in comfortable loungewear, but I'm not ready for that point in quarantine yet. I'm not ready to accept that I'm going to be here for a year.
I still want to buy shoes, even though I notice that it doesn't make any sense. We stood in this line at the Nike store at Woodbury Commons, and I bought these sneakers for 70% off. After an hour in line, I was like, 'I need to buy something, because I stood on line.' It was a great sale, so I'm happy I did it.
I haven't prepared myself for fall at all, but I guess I'll need to eventually stop wearing dresses. I need a comfortable, wide-leg stretchy pant. So, like, loungewear, but make it cuter."
— Paula Volchok, associate graphic designer, Refinery29
Like what you see? How about some more R29 goodness, right here?
How Food Habits Have Changed Throughout Quarantine
An Ode To Inside Shoes, A Quarantine Fashion Trend
21 Sweatsuits For Your Best Stay-At-Home Life