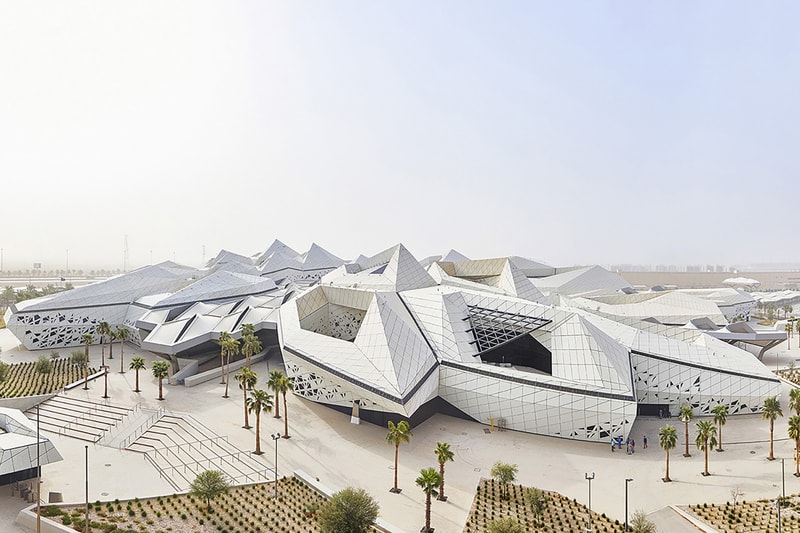 Zaha Hadid Architects design a prismatic energy and environmental research campus, the King Abdullah Petroleum Studies and Research Center (KAPSARC), in Riyadh, Saudi Arabia.
KAPSARC is a non-profit institution founded by the Saudi Council of Ministers, in order for an international group of expert researchers to advance studies of domestic and global energy challenges and opportunities. ZHA created a 750,000 square foot structure to house these opportunities for researchers to explore the potential of effective and productive energy use.
With sustainability in mind, the campus is made into a honeycomb cellular structure with courtyards. ZHA worked with Arup to form buildings that "turn their back to the sun" in order to minimize heat and take advantage of the desert winds. The campus features five main facilities such as the Energy Knowledge Centre, the Energy Computer Centre, a Conference Centre with an exhibition hall and 300-seat auditorium, a Research Library, and the Musalla for prayers and contemplation.
The self-shading courtyards, building shape, and orientation are intentionally designed to maximize natural daylight throughout the interiors. The idea of using geometric honeycomb formations is to soften the Saudi Arabian light and heat.
Renewable energy can be generated on-site from a photovoltaic array and all potable water is treated, recycled, and reused on-site. 40% of the materials used for the project are composed of recycled content and 40% are sourced within a 500-mile radius.
KAPSARC's new research center will be an iconic landmark that has also become ZHA's first project to be awarded the LEED Platinum certification by the US Green Building Council.
In case you missed it, Brazil's newest statue of Christ will surpass Rio de Janeiro's Iconic 'Christ the Redeemer'.
Click here to view full gallery at HYPEBEAST